Reduced flight levels and longer journey times across alternative flights routing where services remain operational will be just some of the implications on travellers.
Russian invasion prompts instant spike in flight cancellations to and from Russia…
The latest data from travel trends specialist ForwardKeys has revealed that the Russian invasion of Ukraine prompted an instant spike in flight cancellations to and from Russia.
The company, which analyses global ticketing data from online bookings, travel agencies and airlines, says that on 25-Feb-2022, the day after the start of the invasion, every booking that was made for travel to Russia was outweighed by six cancellations of pre-existing bookings.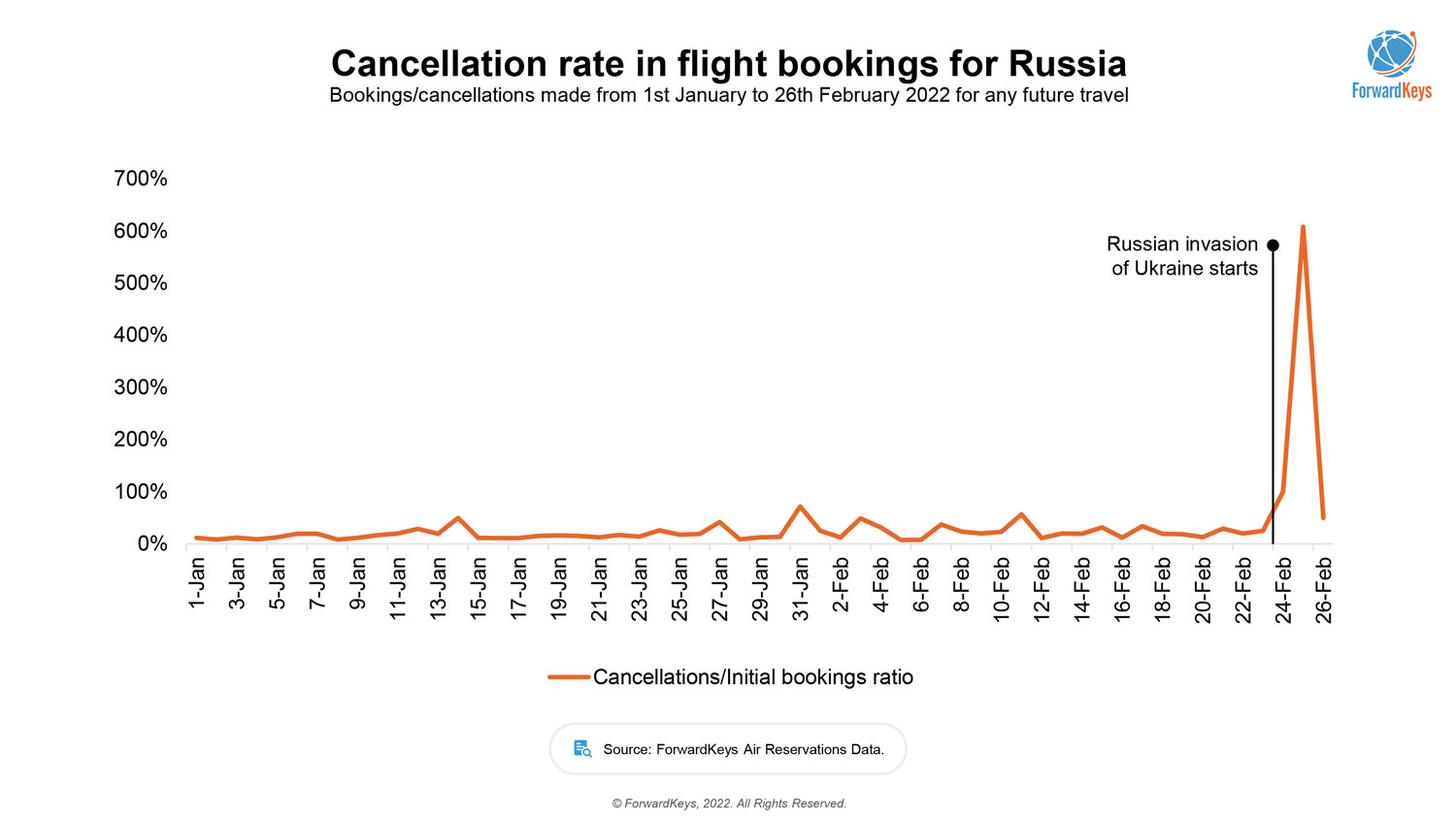 The source markets exhibiting the highest cancellation rates, in order of volume, were Germany 773%, France 472%, Italy 152%, the UK 254%, India 285% and Turkey 116%.
… and collapse in Russian outbound travel
The Russian invasion also triggered a collapse in the market for Russian outbound travel. Destinations that suffered the highest immediate cancellation rates, in the period 24th – 26th February, according to ForwardKeys analysis were Cyprus (300%), Egypt (234%), Turkey (153%), the UK (153%), Armenia (200%), and Maldives (165%).
Russia's strong domestic market and helped speed travel recovery
In 2019, Russia accounted for approximately 10% of Europe's seats – a share it has exceeded since the start of the pandemic (reaching as much as 25% on occasions) due to the buoyancy of its large domestic market.
This had also been extending to international markets too, according to ForwardKeys. Prior to the outbreak of war, Russian outbound flight bookings for Mar-2022, Apr-2022 and May-2022, had recovered to 32% of pre-pandemic levels, with some holiday hotspots doing particularly well.
Its analysis shows Mexico had been leading the way with flight bookings 427% ahead of 2019 levels. It was followed by Seychelles (279%), Egypt (192%) and the Maldives (115%). The outlook for travel during the summer months of Jul-2022 and Aug-2022, was also significantly stronger, as flight bookings stood at 46% of 2019 levels with destinations like the Maldives 78% ahead and Seychelles and Egypt 275% and 216% ahead, respectively.
Russian travel had become dominant share in many markets
For some of the countries mentioned, such as the Seychelles, Maldives and Cyprus, Russian arrivals now represent a high percentage of all international arrivals; so, a collapse in Russian travel will have "damaging consequences on their tourism-dependent economies," says ForwardKeys.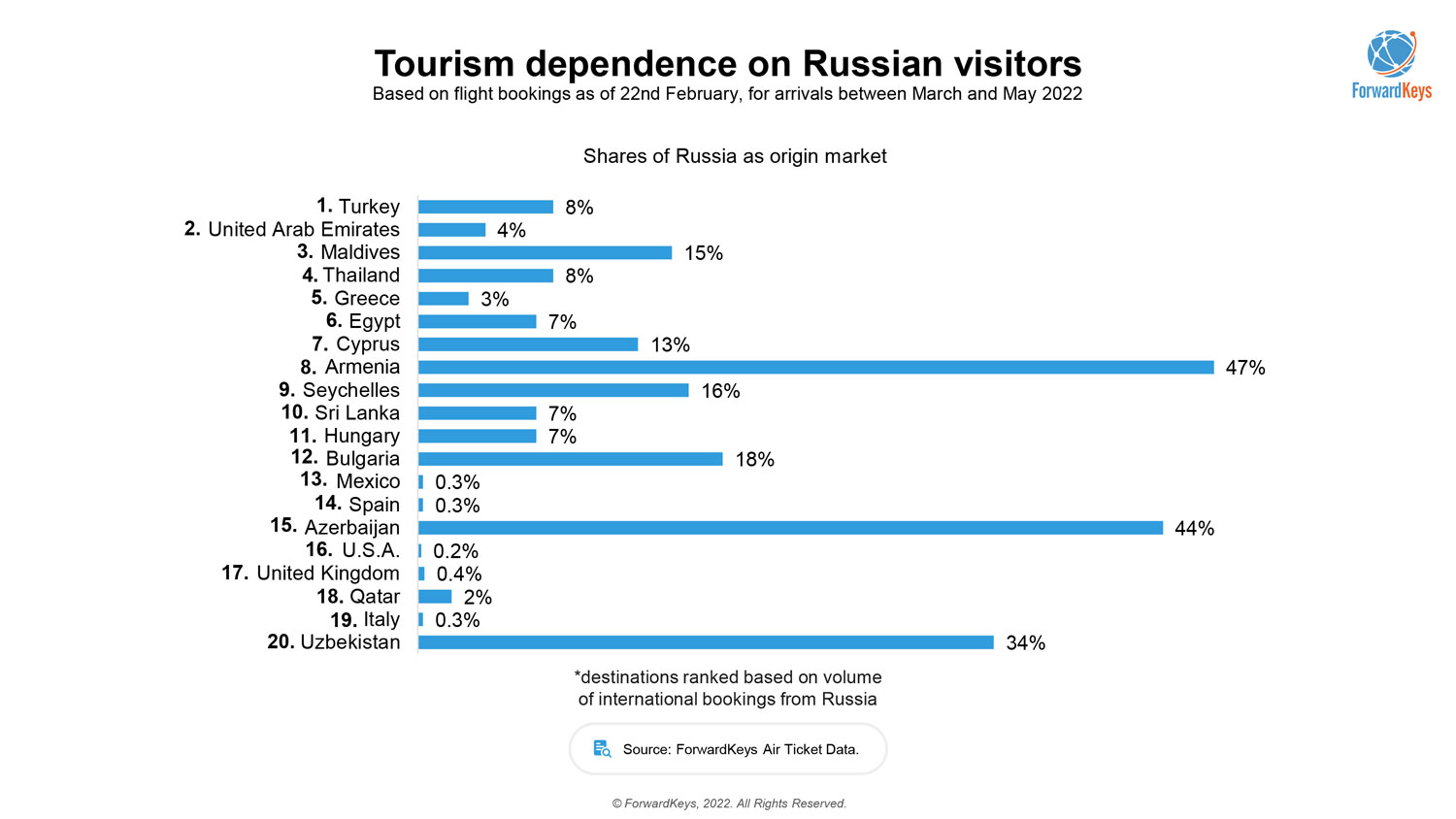 The Spanish company's data suggests the countries that currently stand to suffer the biggest impact from the crisis include Armenia, which depends on Russia for 47% of all visitors, Azerbaijan (44%), Uzbekistan (34%), Bulgaria (18%), Seychelles (16%), Maldives (15%) and Cyprus (13%).
As Russian international travel collapses; domestic recovery also stalls
Coinciding with the collapse in international air travel, a strong recovery in domestic air travel, immediately stalled, reports ForwardKeys. Up to 23-Feb-2022, Russian domestic flight bookings for Mar-2022, Apr-2022 and May-2022 had been running 25% ahead of pre-pandemic levels. However, new bookings have dropped by 77%, analysed on a week-on-week basis, according to its analysis.
Looking along recovery path becomes more difficult
A recent CAPA – Centre for Aviation report highlighted that current schedules indicate that total Europe capacity in the week of 28-Feb-2022 is at 72% of seat numbers in the equivalent week of 2019. This is projected to increase to almost 94% in the week of 1-Aug-2022.
If all capacity to/from/within the Russian Federation and Ukraine were to be removed from this, the first week of Aug-2022 would be reduced to just over 83% of 2019 levels. This is probably an "extreme scenario," acknowledges the report.
Wider implications stretch far beyond just Russia
The outbreak of war always has a hugely damaging impact on travel and this current data does not yet contain the impact of sanctions, which is bound to make the picture worse and spread much wider.
A further factor to consider is the impact on flights that fly through Russian or Ukrainian air space and are being diverted, and even cancelled. For those that operate in this route region, the impact is proving significant whether that is for an airline like Finnair flying across Russia between Europe and Northeast Asia or US majors flying between North America and India.
In the case of Finnair, which has a higher percentage of ASKs on Europe-Asia than any airline outside Russia, has suspended a number of Asia routes rather than fly uneconomic longer routes to avoid Russian airspace.
Disruption spreads to Asia-Pacific airlines' operations
Another recent CAPA – Centre for Aviation report highlights that some Asia-Pacific airlines are experiencing major disruption to their European networks due to the Ukraine crisis, which is causing cancellations and route changes to avoid overflying Russia. Russian overflights are important to many of the Asian carriers for their Western European routes, particularly those airlines from Northeast Asia.
There have been a wide variety of responses to the war in Ukraine by Asia-Pacific airlines. These have included cancelling most flights to Europe, cancelling Moscow flights, or rerouting services to avoid Russia. Others are continuing to fly through Russian airspace, but are watching the situation and making contingency plans.