Objections were strong: the Russian Association of Air Transport Operators warned on the "risks" involved in "opening up the skies" at Pulkovo International, and that that signing an Open Skies agreement would provide foreign carriers with a one-sided advantage over Russian carriers. One interpretation of that was that as St Petersburg lies on intercontinental Europe – North Asia flight paths in a similar way to what Helsinki's Vantaa airport does foreign carriers they could gain more benefit by operating a hub there, or simply by taking fifth freedom rights.
Well, as it happens, the Ministry of Transport (MoT) has now approved an "open skies" regulatory environment for Pulkovo, but not as previously imagined. Instead, it has approved a more liberal scheme with the award of seventh freedom rights to foreign airlines from 30 countries for services to St Petersburg, commencing 01-Jan-2020.
Pulkovo Airport thus becomes the first Russian airport to receive such seventh freedom rights for foreign airlines, an unusual development anywhere, not just in Russia, and potentially a benchmark setter globally.
In detail, the MoT approved 21 countries to operate seventh freedom rights services to Pulkovo Airport without any restrictions on airport point of origin, including Belgium, Denmark, Ireland, Switzerland and Portugal. The nine remaining countries are approved to operate seventh freedom rights services to Pulkovo, with the following restrictions on points of departure or arrival:
Austria: all cities except Vienna;
Bulgaria: services from/to Sofia only;
UK: all cities except London;
Germany: all cities except Berlin, Munich, Düsseldorf and Hamburg;
Spain: all cities except Barcelona and Malaga;
Italy: all cities except Rome and Milan;
Cyprus: all cities except Larnaca and Paphos;
France: all cities except Paris and Nice;
Czech Republic: all cities except Prague.
By way of brief explanation, the Seventh Freedom of the Air was not one of the original two freedoms agreed in Chicago in 1944 when the Chicago Convention was signed. There were only two of those – the right to overfly, and the right to land in, the territory of another country. The third, fourth, fifth…etc freedoms were agreed afterwards or have evolved more recently as air travel became more complex.
The seventh freedom (there are now nine of them) permits an airline to operate 'stand-alone' services outside the territory of its own state, to carry passengers and freight between two foreign states.
So, seeking out possible examples from the list above, Irish-registered Ryanair could fly from, say, Manchester to St Petersburg (the two cities are twinned) or from Hamburg; Greece's Aegean Airlines could fly from Cyprus (though the framework makes this difficult because Larnaca and Paphos are only two functioning commercial airports in Greek Cyprus); TAP Air Portugal from Alicante; and Vueling from Marseille. In some ways this can be seen as an extension of European open skies, which will continue irrespective of the UK, or any other subsequent country leaving the EU.
Some of those examples (Cyprus, Alicante) were chosen because they are particularly where Russian holidaymakers like to visit and to buy or rent villas and apartments but where there are inadequate Russian airline services to help them do that. The seventh freedom option opens up the playing field to any airline which thinks it can drum up enough business to operate profitably.
Russian domestic carriers dominate at Pulkovo and account for 80% of seat capacity there, and over two-thirds of capacity is on domestic routes. Furthermore, only 15% is on low-cost carriers (LCCs).
CHART - Aeroflot is the largest operator at St Petersburg's Pulkovo International, where Russian airlines dominate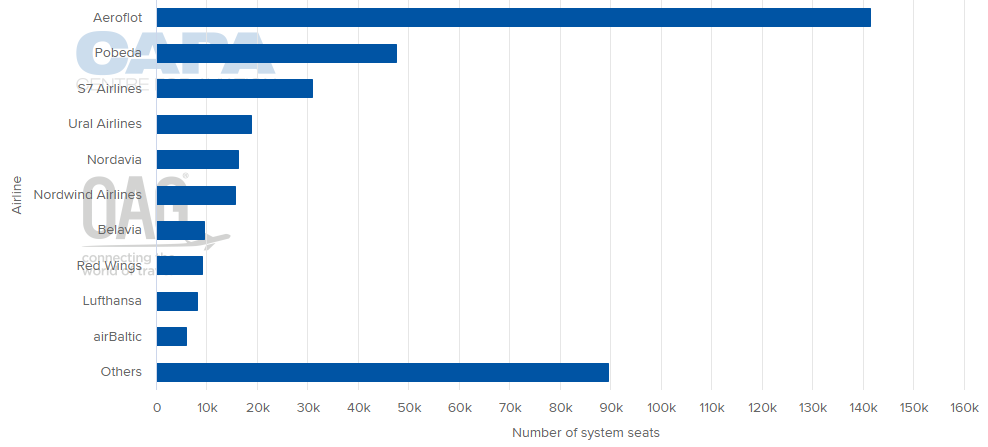 Source: CAPA - Centre for Aviation and OAG (data: w/c 30-Dec-2019)
That is not a positive business mix and Russian carriers are not known for their sense of adventure. Often, Russian nationals have to resort to 'in-season' (only) charter flights to get to anywhere the sun shines. Even though passenger traffic has grown by +8.2% in 2019 (Jan-Nov), and every year since 2017 has seen growth, in order to develop further, Pulkovo needs foreign scheduled airlines, preferably low-cost operators.
And that impacts on inbound travel as well. When Wizz Air opened its London Luton – St Petersburg route in Oct-2019 (taking advantage of an existing regulatory circumstance and jumping the gun on the open skies announcement) it became only the second direct service from anywhere in the UK – including London Heathrow airport – to the city (The other is operated by Rossiya, to and from Gatwick airport). A quick glance at the route map shows Pulkovo is connected directly to only 23 cities in Western Europe.
And yet the potential for leisure visits to Russia's most aesthetically pleasing city, home to the world-famous Hermitage Museum and luxury shopping Russian-style as well as the country's President, is immense. It isn't hard to see why the MoT wants to encourage more action from foreign airlines and if this move is successful it is likely Moscow will be next to benefit from an open skies regime.