---
Summary:
For investors, Moscow and St Petersburg stand out as the leading airports but there are few opportunities remaining;
Increasingly, smaller airports in Russia are being privatised and three companies have taken the most promising ones;
There is little direct inward foreign investment, or outbound from Russian investors, who mainly eye ex-Soviet assets.
---
Overall, it appears that not as much pre-tournament money, or urgency, has being thrown specifically at airport infrastructure as occurred in Brazil in 2014. There, at least much of that investment led to enduring transport sector benefits. The World Cup airport construction scenario in Russia was investigated in this CAPA report in Jan-2018: Russia's airports prepare for the World Cup: CAPA Global Airport Construction Database.
Investment opportunities tend to be concentrated on smaller airports in provincial cities and those companies seeking to make investments in them tend to be Russian, though occasionally from the CIS countries and from neighbouring states to the west, for example the Baltic States. There is a great deal of this activity within and between Russian companies. An arcane set of rules and regulations, a frequent insistence that all documents must be in Russian and other factors, collectively legislate against the smooth transaction of deals where non-Russian investors are concerned.
However, in a surprise move in Apr-2018 the Federal Antimonopoly Service (FAS) proposed to reduce administrative barriers for foreign firms seeking to invest in Russia's airports. Russia has 91 airports of federal significance. The Government commission for control over foreign investment in Russia approved three airport related transactions in 2015, six in 2016 and four in 2017. The volume of foreign investment in airports permitted by the commission was USD552 million in 2015, USD399 million in 2016 and USD949 million in 2017.
Similarly few Russian companies are seen directly to invest in western airport assets as operators or lead investors though they may do so indirectly as minority shareholders.
Lurking in the background is the deteriorating political and economic relationship between the Kremlin and many western governments, including and not limited to the United States of America (USA), the United Kingdom (UK) and France. This has been expressed by way of depressed oil prices through sanctions (though they are rising and could do further following the US cancellation of the Iran nuclear 'deal' and the re-imposition of sanctions there). In addition, other politically generated economic sanctions and rising tensions over a host of actions such as the annexation of Crimea, war in eastern Ukraine, claimed war crimes in Syria and the alleged attempted murder of Russian citizens in the UK.
Millions of dollars have been spent already by both the public and private sectors in Moscow to improve the airports there and agreements have been signed to continue both the privatisation efforts and consolidation of management and operations. Both Vnukovo and Sheremetyevo airports are well over two-thirds in private hands. Domodedovo Airport has been a privatised entity for many years and its ownership structure is vague.
In Jun-2017 the private strategic investor Sheremetyevo Holding, and the state represented by Federal Property Management Agency, became the primary owners of Sheremetyevo International Airport JSC stock at 66% and 30.43% respectively. The remaining stakes in Sheremetyevo International Airport JSC are owned by Aeroflot PJSC and VEB Capital. In Jan-2018 Sheremetyevo Airport said it would consider the sale of 10% of its shares to a large, international investor.
CHART - The breakdown of Moscow Sheremetyevo Airport's current ownership highlights the dominant share of private strategic investor Sheremetyevo Holding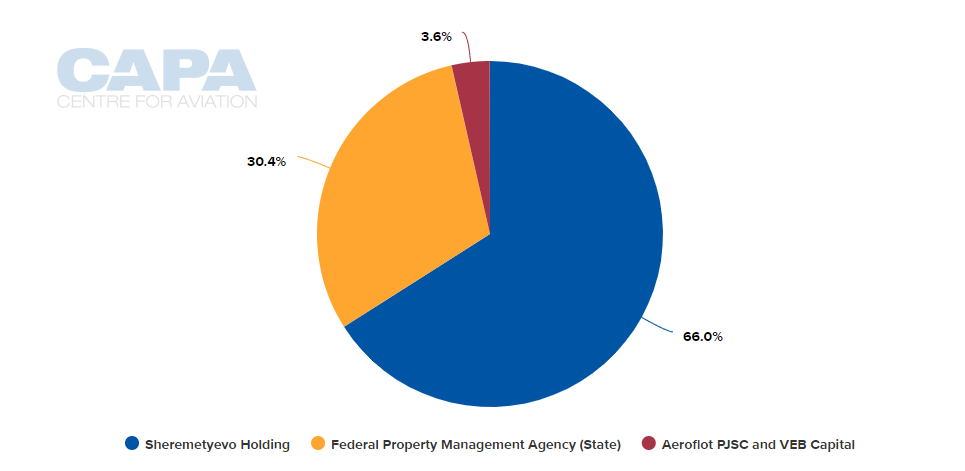 Source: CAPA - Centre for Aviation
At Vnukovo, a MoU to sell a 25% stake in JSC International Airport Vnukovo to Qatar Airways was signed in Apr-2018, pending the authorisation of the Federal Antimonopoly Service and the Russian Government Commission on Monitoring Foreign Investment. Subsequently, the Russian Direct Investment Fund said it was considering various airport investments, including Vnukovo Airport.
Moscow's fourth airport, the low-cost Zhukovsky Airport, is operated by Ramport Aero, a 75% subsidiary of Lithuania's Avia Solutions Group. In Oct-2017, the Lithuanian private investor Gediminas Ziemelis - who is also the Chairman of Avia Solution Group - and partners offered to invest USD20 million for the expansion of the passenger terminal there.
In Russia's second city, St Petersburg, Pulkovo International Airport is thought of as being a Fraport airport, but Fraport now owns only 25% of the equity; other investors such as the UAE's Thirty Seventh Investment Company and the Qatar Investment Company hold equivalent stakes. Despite some early problems with this asset the concession has gone on to be extensively on-traded.
CHART - Traffic at St Petersburg Pulkovo International Airport grew at its highest year-over-year rate since the start of the decade in 2017, surpassing the 15 million passenger per annum figure
Source: CAPA - Centre for Aviation and Saint Petersburg Pulkovo Airport reports
In the regions, the privatised airports (which are freehold concessions) are mainly controlled by the three main investors. The Basel Aero consortium (Basic Element, Sberbank and Changi Airports International), which is mainly active in the south of the country, has seven airports; the Airports of Regions consortium for which Ekaterinburg is the main asset also has seven; and Novaport, which has interests across the country, has 14. Both Airports of Regions and Novaport bid for the Belgrade Airport concession in Serbia.
VTB Capital is one of few Russian investors to have been involved regularly in bidding for foreign airport assets in recent years. In Jan-2017 Serbia confirmed interest from VTB Capital in the 25-year concession of Belgrade Nikola Tesla Airport and VTB entered into a consortium with Incheon International Airport Corporation as a shortlisted candidate. However, the bid was unsuccessful.
Airports that are not in private hands will be renovated by the state according to Presidential sources and their development will "go hand in hand" with the increase in the number of Russian aircraft in service.
The above is a brief synopsis of a Russian section in the soon-to-be-published Airport Privatisation & Finance Review, 2018. This unique CAPA report covers airport privatisation and financing activities globally and offers opinion on future developments. It also covers significant airport construction and capital expenditure projects irrespective of ownership.