The east African carrier is initially positioning two Boeing 737s in Cotonou for its expanded operations, but the Governments of Benin and Rwanda have signed a Memorandum of Understanding (MoU) that could eventually lead to the establishment a new joint venture airline jointly owned by the two countries.
CHART – The market from Cotonou Cadjehoun Airport will return to growth in 2017 after a 14.3% decline in system capacity in 2016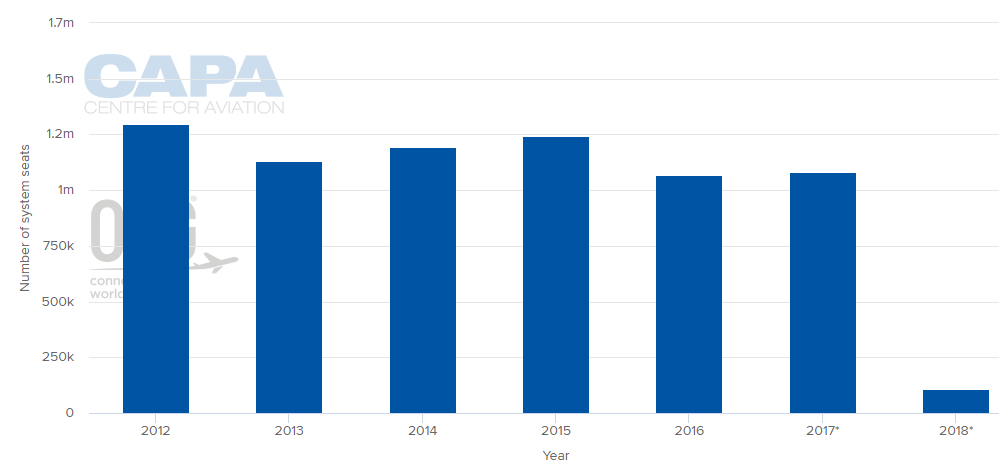 Source: CAPA – Centre for Aviation and OAG
RwandAir already serves the Benin market via Libreville (Gabon) in conjunction with its services out of Kigali and has already committed to adding flights to Abidjan (Cote d'Ivoire) from the start of September. The seventh freedom rights allow it now to operate as a west African carrier and opens the door to enhanced connectivity within the region and across into east Africa as the Cotonou network is synchronised with the existing Kigali originating operations to allow seamless connections.
Dakar, Bamako, and Conakry are some of the largest cities in west Africa and RwandAir is also exploring links from Cotonou into both Brazzaville (Republic of the Congo) and Douala (Cameroon) to develop Cotonou's Cadjehoun Airport into a mini-hub for the sub-region.
"These latest additions are further proof of our commitment to improve connections on the African continent, and the will to create new opportunities for economic exchange, trade and tourism between countries with the aim of fostering economic development," says Chance Ndagano, the acting chief executive officer of RwandAir.
CHART – Highlighting the gap of additional local connectivity, France is currently the largest market from Cotonou by capacity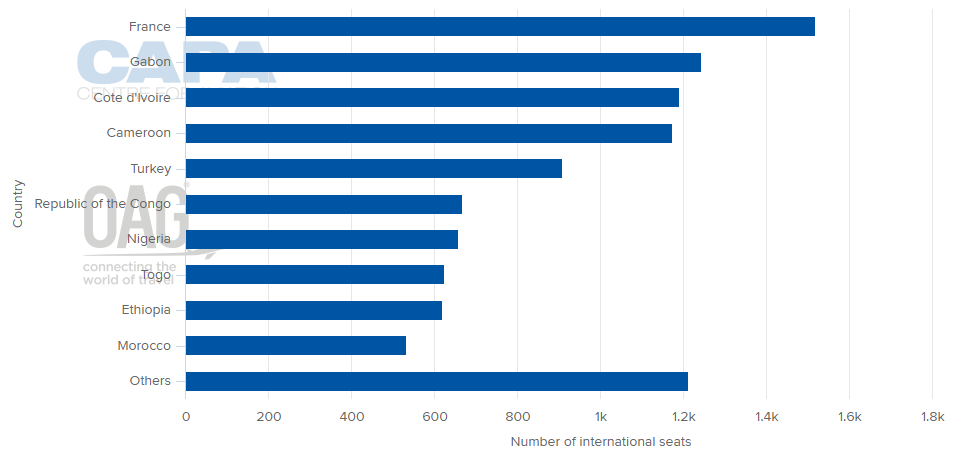 Source: CAPA – Centre for Aviation and OAG
The new routes from Cotonou will boost the RwandAir network to 26 destinations and continues what has been a busy year for the carrier with new flights already launched to Harare (Zimbabwe), Mumbai (India) and expansion into Europe with first London (UK) and more recently Brussels (Belgium) flights. This year, RwandAir started flights to Mumbai, Harare, London (Gatwick) and Brussels. Later this year, the airline's network will spread to Guangzhou and in 2018 it plans to enter the US market with flights to New York.
READ our The Blue Swan Daily analysis into the African aviation sector during the first half of 2017 which highlights how Eastern and Northern regions are driving overall growth: Eastern and Northern regions lead the way as Africa H1 international capacity grows; but major hurdles remain.