In Oct-2018 SAS will switch its Hong Kong service from a Stockholm departure to Copenhagen, and move the service to an overnight flight in both directions.
SAS' Hong Kong route was unusual from the start.
When SAS announced its Hong Kong service, it had unusual details. The daylight return from Hong Kong bucked the trend of European airlines flying overnight returns from Hong Kong to Europe. KLM was an exception, and Austrian now operates a daylight return (Finnair has supplementary daylight return services in addition to its main overnight service). The Hong Kong home airline Cathay Pacific has daylight services from Hong Kong to London and, on some days of the week, to Paris.
Most interesting at the time of the original announcement was SAS choosing to serve Hong Kong from Stockholm. SAS' Asian routes had been served exclusively from Copenhagen since 2009. Between 2007 and 2009, Bangkok and Beijing were served from Stockholm as well as Copenhagen. Hong Kong was SAS' first dedicated Asian service in recent memory.
Data from OAG Traffic Analyser showed at the time that Copenhagen-Hong Kong had 16% more passengers (42,000 bi-directional O&D) than Stockholm-Hong Kong (36,100) in 2014. Further, Copenhagen has been a larger hub for SAS than Stockholm.
SAS top 10 hubs/ bases/stations/focus cities: week commencing 25-Jun-2018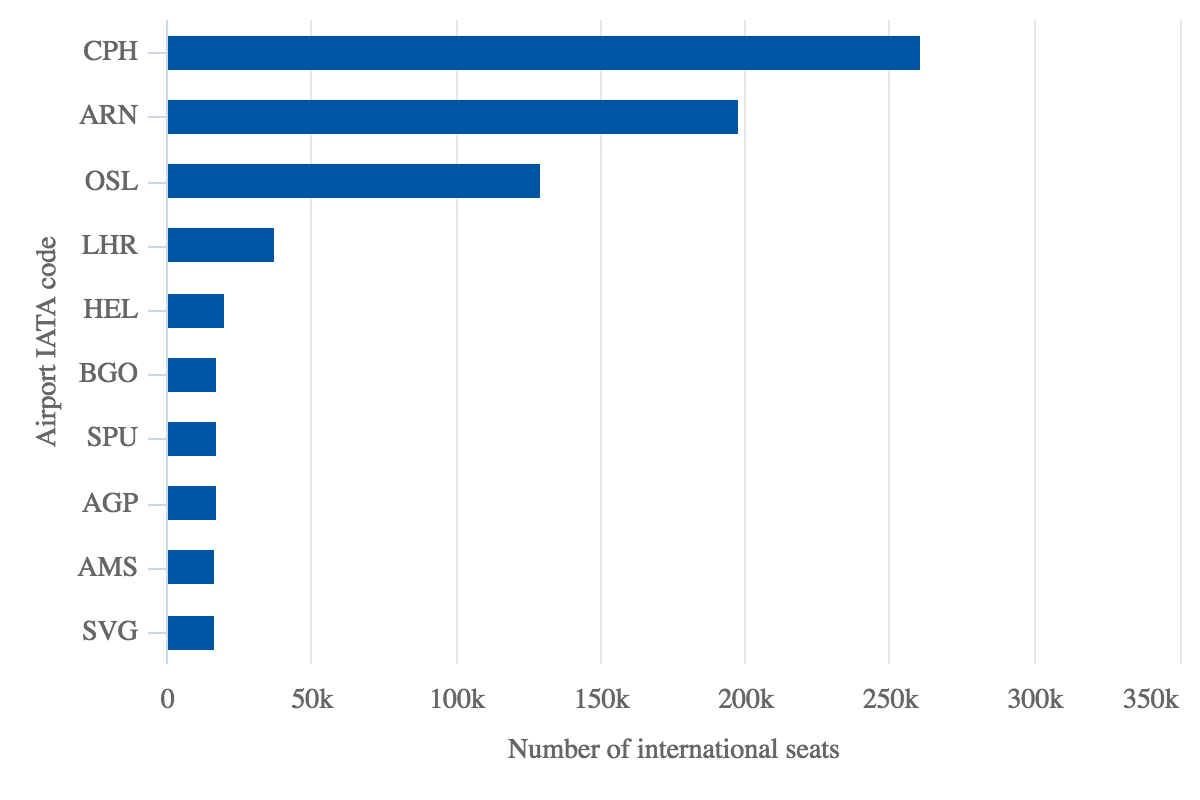 Source: CAPA – Centre for Aviation and OAG
Offering the Hong Kong route from Stockholm meant that SAS had a smaller O&D pool but would stop market leakage to Finnair. In the year before SAS opened Hong Kong, Finnair had a 26% share of the one-stop Stockholm-Hong Kong market. Sweden accounts for 9% of Finnair's source traffic on Asian markets whereas Denmark is only 4%, according to OAG.
On Finnair's Hong Kong route, Sweden has a higher share at 13% of all traffic (the largest market after Finland), while Denmark has 8%.
If SAS offered the Hong Kong service from Copenhagen it would still compete with Finnair for the large Swedish market, and in Denmark would compete with the much larger Lufthansa, which has a large reliance on Denmark.
SAS re-balances yield versus utilisation equation
In moving the Hong Kong service to depart overnight from Hong Kong, SAS is rebalancing the debate between prioritising yield and aircraft utilisation. An overnight departure is usually more favourable to the corporate market, which is high-yielding. But this schedule sacrifices aircraft utilisation.
Whereas before, SAS had a nearly minimal layover in Hong Kong, the aircraft will now have an approximately 10 hour layover – a ground time longer than the airborne time.
However, SAS says this schedule is being implemented because it now has access to improved slots at Hong Kong, an airport that has been slot constrained but is now experiencing incremental movement growth due to a new ATC system.
Asian growth for Copenhagen – but is it too much?
It is being asked whether Copenhagen can sustain its revitalised and growing Asian network. Singapore Airlines is garnering attention in Copenhagen through switching the service from an old 777-200ER to its new A350-900. SIA's service is not without its quirks: market expectation had been that Singapore Airlines would connect Singapore with Scandinavia via Oslo. Oslo and Singapore have large ties due to their common oil and gas industries, industries where premium travel is lucrative.
With SAS serving Hong Kong-Copenhagen, Cathay Pacific could be under pressure. Relatively nearby, Helsinki is home to Cathay's oneworld partner Finnair, but Cathay is unlikely to move its Copenhagen service to Helsinki.
See related Blue Swan post:
Should Cathay Pacific switch its Copenhagen route to Helsinki and partner with Finnair?