Norwegian, SAS and Finnair CASK excluding fuel, RASK, and Yield change (%): 2Q2012 vs 2Q2011
| | CASK excl fuel | RASK | Yield |
| --- | --- | --- | --- |
| Norwegian Air Shuttle | -1% | +2% | +5% |
| Scandinavian Airlines | -4% | +0.3% | -2.7% |
| Finnair | +0.2% | +6% | +7.4% |
Norwegian's strong traffic increase drives 16% revenue growth
Norwegian Air Shuttle sustained its high expansion rate and reported once again double-digit revenue and passenger growth in 2Q2012 compared to the year-ago period, despite strikes by security personnel in Norway. Security guards walked off the job in Jun-2012 in protest over staffing levels forcing some airports in the country to close and airlines to cancel flights. Norwegian said the third party industrial action reduced traffic and seat load factor by 3-4ppts. Nonetheless, passenger numbers rose a robust 11% to 4.47 million and passenger traffic increased 12% on a 15% increase in ASKs. At the end of the first quarter, the carrier's total fleet, including aircraft on maintenance and excluding wet lease, comprised 65 aircraft.
Commenting on the company's 2Q2012 results Norwegian's CEO, Bjørn Kjos said results had been, as expected, considerably affected by high oil prices and additional costs owing to the strike of security personnel in Norway. However, the underlying 2Q2012 result is, "significantly better than last year. I am happy that more passengers choose to travel with us and that we can offer them new aircraft with free WiFi on board," Mr Kjos noted.
Group revenue in the Mar-Jun quarter was NOK 3.17 billion (EUR435.4 million), an increase of 16% on the year-ago period, driven by its international network. Revenue generated on international routes increased 24% year-over-year in 2Q2012 while domestic revenue inched up 4%. Domestic revenue still accounts for one third of Norwegian Air Shuttle's total revenue.
Ticket revenue per unit produced in 2Q2012 was NOK0.44 (EUR6.04 cents), up 2% on the year-earlier period. The RASK development compared to last year reflects higher yield (+5%) and reduced load factor, the latter as a consequence of third party industrial actions in Jun-2012. 2Q2012 yield was NOK0.57 (EUR7.83 cents).
Nearly 11% of Norwegian's revenues was attributed to ancillary revenues. Ancillary revenue was NOK76 (EUR10.4) per passenger.
Norwegian Air Shuttle selected financial results (NOK million): 2Q2012 vs 2Q2011
| | 2Q2012 | 2Q2011 | % change |
| --- | --- | --- | --- |
| Revenue | 3170 | 2725 | +16% |
| EBITDAR* | 680 | 347 | +96% |
| EBIT | 322 | 73 | +341% |
| Profit / (Loss) after tax | 91 | 54 | +69% |
Norwegian Air Shuttle selected operating results: 2Q2012 vs 2Q2011
| | 2Q2012 | 2Q2011 | % change |
| --- | --- | --- | --- |
| Passengers (million) | 4.5 | 4 | +11% |
| ASKs (million) | 6357 | 5518 | +15% |
| RPKs (million) | 4861 | 4322 | +12% |
| Passenger Load factor | 76% | 78% | -2ppt |
Norwegian pursues planned fleet renewal and expansion
Europe's third largest LCC in passenger numbers reiterated its 2012 target to boost ASKs by 15% although it cautioned that the production increase will depend on the development in the overall economy and the marketplace. It intends to open a second base in Las Palmas, Spain at the end of Oct-2012 with new routes from 10 Nordic airports.
Norwegian will realise most of the planned full-year capacity increase by adding Boeing 737‐800s while phasing out older and smaller-gauge 737-300s. It has taken delivery of eight new 737s equipped with Boeing's SKY interior in 1H2012 and a further five will be delivered in 2H2012. By the end of 2012 Norwegian will deploy 68 aircraft, up from 62 at the end of 2011. But the carrier's year-end 2012 fleet composition will include 58 186/189-seat -800s and 10 148-seat -300s, compared with 46 737-800s and 16 -300s ad the end of 2011.
The company aims to add a net of 12 aircraft in 2013, when it will start taking delivery of its 787s and launch long-haul flights. These will threaten Finnair's and SAS' long-haul flights although Norwegian thus far has remained tight lipped on gateways and has only said it will possibly operate to New York and Bangkok. On 24-May-2012 Norwegian announced an expanded order for the 787 of two additional aircraft, bringing its total to eight.
"The establishment of the long haul operation is going ahead in accordance with plans and the organisation is preparing for the first long haul flight which will take place in the first half of 2013. Norwegian will during the second half of 2012 start the sale of tickets on long haul flights," Mr Kjos said.
Norwegian Air Shuttle fleet: 2002 – 2014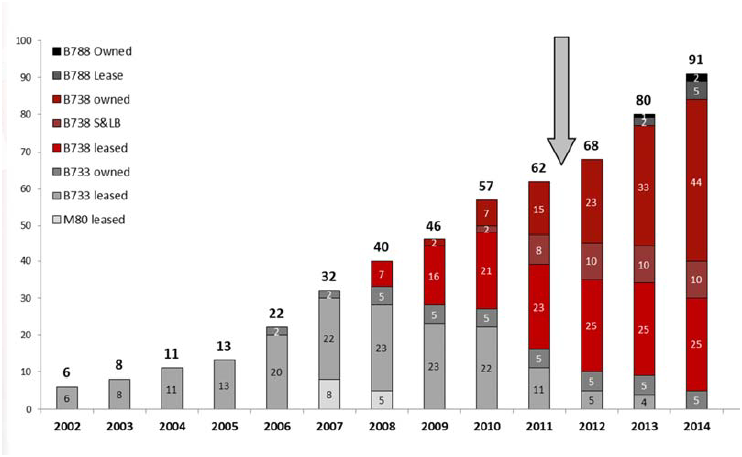 Following the summer, the average age of the Norwegian fleet will be 4.9 years. Norwegian's fleet renewal programme enables the company to lower underlying unit cost considerably. During the presentation of the 2Q2012 results to analysts, Mr Kjos said the unit fuel costs of a 737-800 compared to a -300 is 4% lower and Norwegian saved NOK38 million (EUR5.1 million) in 2Q2012 by flying more fuel efficient -800s.
Norwegian's 2Q2012 fuel expenditure rose 19% year-over year to NOK966 million (EUR132.7 million) driven by a 15% production increase and a increase in the realized fuel price per ton denominated in NOK including an increased hedge loss of NOK13 million (EUR 1.8 million).
Operating expenses excluding leasing and depreciation grew only by 5% to NOK2.5 billion (EUR 343.4 million) in 2Q2012 despite the 15% hike in capacity and the increased fuel expenditure. This reflects the company's inherent focus on permanent and stringent cost control. CASK excluding fuel and hedges was reduced 1% year-over-year in 2Q2012 to NOK0.31 (EUR4.26 cents). The underlying cost excluding fuel and term contracts was NOK0.34 (EUR4.67 cents) in 2Q2010 and NOK0.38 (EUR5.22 cents) in 2Q2009.
Mr Kjos said Norwegian is aiming for a full-year CASK excluding fuel and hedges of NOK0.30 (EUR4.12 cents).
Restructuring of Finnair is showing positive results
Finnair Group's bottom line improved markedly in 1Q2012 on a year-over-year comparison and this positive development was maintained in the three months to 30-Jun-2012. RPKs rose 11.3% on a much lower 2.7% increase in ASKs, consequently improving seat factor by a noteworthy but necessary 5.9ppts to 77.5%. Revenue grew by 10.2% in 2Q2012 on a 10.6% rise in passenger numbers to 2.6 million and a 2.2% higher yield. Total revenues came in at EUR594.4 million.
The company's RASK increased 9.7% to EUR6.60 cents while CASK increased 4.5% to EUR6.66 cents. Finnair drove CASK excluding fuel down by 4.7% to EUR4.48 cents.
During 2Q2012 Finnair Group narrowed its consolidated net loss year-over-year by 14% to EUR19.8 million, while operating loss for 2Q2012 contracted 28.2% year-over-year to EUR18.1 million despite a EUR11.9 million non-recurring charge related to the company's restructuring. The 2Q2012 operating result was also impaired by EUR20.9 million change in the fair value of derivatives and in the value of foreign currency denominated fleet maintenance reserves based on IFRS accounting rules.
Finnair's operational result, which refers to the operating result (EBIT) excluding non-recurring items, capital gains and changes in the fair value of derivatives and in the value of foreign currency denominated fleet maintenance reserves, turned positive in 2Q2012 and amounted to EUR14.7 million
For Finnair CEO Mika Vehviläinen this is, "a result with which we are satisfied in this difficult competitive environment – particularly when taking into account the price of fuel that has remained high in the second quarter".
The company's fuel costs in 2Q2012, including hedging and costs caused by the inclusion of aviation in the EU's emissions trading scheme as of 01-Jan-2012, rose 20% compared to the year-earlier period to EUR157.9 million. Total operational costs grew by 5.2% year-on-year and were EUR586.1 million.
Operational costs excluding fuel increased by 0.6% year-on-year while capacity increased by 2.7%. Mr Vehviläinen remarked that the progress of the structural change and cost reduction programme at Finnair could be seen as costs increased at a slower pace than capacity. He nonetheless cautioned more restructuring is needed.
"We have taken definite steps forward, although the majority of cost savings are still being realised. We will continue to develop our competitiveness determinedly in line with the goals we have set by surveying new cost reduction measures and by seeking opportunities to further increase our turnover. Work to secure our future will continue," Mr Vehviläinen said.
Finnair Group selected financial results (EUR million): 2Q2012 vs 2Q2011
| | 2Q2012 | 2Q2011 | % change |
| --- | --- | --- | --- |
| Revenue | 594.4 | 539.4 | +10.2% |
| EBITDAR* | 64.2 | 33.8 | +89.9% |
| Operating profit (loss) | (18.1) | (25.2) | -28.2% |
| Profit / (Loss) after tax | (19.8) | (23) | |
Finnair Group selected operating results: 2Q2012 vs 2Q2011
| | 1Q2012 | 1Q2011 | % change |
| --- | --- | --- | --- |
| Passengers (million) | 2.3 | 2 | +10.6% |
| ASKs (million) | 7346 | 7151 | +2.7% |
| RPKs (million) | 5694 | 5117 | +11.3% |
| Passenger load factor | 77.5% | 71.6% | +5.9ppt |
Finnair has not yet found a partner for its European medium-haul
Finnair is aiming to return to profitability through a strategy focused on Asian traffic, leadership in the Nordic region and partnerships. The group's turnaround plan includes permanent annual cost savings of EUR140 million by 2014, of which a cumulative EUR80 million should be realised by year-end 2012 (EUR 10 million in 2011 and EUR70 million in 2012). The programme is focused particularly on improving the profitability of short and medium-haul flights, and in order to achieve this Finnair in May-2012 concluded a MoU with Flybe to transfer 12 Embraer aircraft and one third of its European network to Flybe Nordic, the Flybe-Finnair JV.
The cooperation under which Flybe would operate the 12 Embraer 190s is scheduled to begin in Oct-2012; but before a binding agreement can be signed, employee consultations between Finnair and its cabin attendants need to be concluded. Negotiations with Finnair's pilots in relation to the business transfer and cost savings concluded in Jun-2012.
The Finnish flag carrier also is looking at outsourcing its European network that is currently operated with its Airbus narrowbodies to a third party. In 2Q2012 Finnair continued the analysis of opportunities to improve efficiency of the European Airbus traffic falling outside the Flybe partnership, but it admitted a suitable partnership solution could not be found within the original target schedule.
Mr Vehviläinen said that "a radically changing competitive environment, numerous bankruptcies and challenging market conditions have made it more difficult to find the right solution. Nevertheless, the company is still committed to identifying any and all means to significantly reduce the cost level of European traffic and seeks different alternatives with potential partners and its own labour groups."
But Finnair's divestiture of non-core units is moving ahead
As part of the structural reform and cost savings programme and Finnair's partnership strategy, Finnair and LSG Skychefs signed a MoU on 12-Mar-2012 for LSG Sky Chefs to acquire Finnair's catering operations. The deal fell through at the end of May-2012 because the Lufthansa board decided not to approve LSG Sky Chef's acquisition plans due to an investment freeze at Lufthansa. However, the parties continued analysing partnership opportunities and in Aug-2012 Finnair and LSG signed a partnership agreement.
Finnair in Jul-2012 signed a 10-year cooperation agreement with SR Technics of Switzerland following on a MoU in Apr-2012, which led to strikes at Finnair's MRO unit. Under the terms of the final agreement, Finnair will discontinue its own engine maintenance operations and fully outsource them to SR Technics while making adjustments to its component services. Finnair will keep certain parts of these operations as part of its line maintenance organisation that looks after the daily airworthiness of aircraft.
Finnair: overview of strategic partnerships as of Aug-2012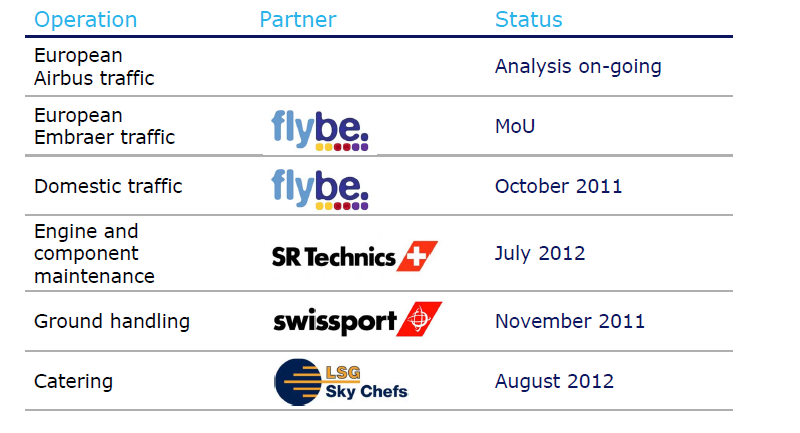 SAS Group needs to up its restructuring pace
During an analyst call to discuss the company's 2Q2012 results, SAS Group president and CEO Rickard Gustafson reiterated comments made during the group's 1Q2012 results presentation and said SAS Group posted an "unsatisfactory earnings level" for the quarter ended 30-Jun-2012.
Pre-tax earnings halved year-on-year to SEK371 million (EUR45.1 million) despite a one-off SEK346 million (EUR42.1 million) capital gain attributable to property transactions. The company's consolidated net profit decreased 42% to SEK320 million (EUR38.9 million) and operating income fell 31% year-over to SEK632 million (EUR76.9 million) as the increase in total operating expense outpaced the rise in revenue.
Total group expenditure rose year-over-year 6% to SEK10.16 billion (EUR1.24 billion) due to the spiraling cost for jet fuel, which nullified most cost savings generated under its 4Excellence restructuring programme. SAS Group's fuel costs increased by SEK800 million (EUR97.4 million) compared to the year-ago period to SEK2.79 billion (EUR 340 million). Fuel costs represented 25% of total operating costs of SAS Group in 2Q2012, compared to 18% a year earlier. Conversely, the share of payroll expenses dropped year-over-year by 1.4% to 29% in 2Q2012.
SAS Group's 2Q2012 revenue increased just 3% despite a 5.9% increase in passenger traffic and an increase in load factor after currency adjusted yield at Scandinavian Airlines (including Blue 1) fell 2.7% year-over-year. SAS Group comprises two airlines, Scandinavian Airlines and the regional carrier Widerøe.
Scandinavian Airlines is the only major network airline in Europe to report a declining yield in the quarter ended 30-Jun-2012, but management points out that this was the result of its deliberate strategy to increase its presence in the leisure segment combined with the yield pressure resulting from a new long-haul route. The airline launched a five-times weekly service from its hub at Copenhagen airport to Shanghai Pudong on 01-Mar-2012 aboard 245-seat A340-300.
"We have observed the clear effect of 4Excellence on revenue. This is gratifying since continuously increased capacity and intense competition was noted during the entire second quarter. Efforts to improve our offering – aimed at delivering value for time and money to our customers – will continue," Mr Gustafson told analysts.
SAS is opening 38 new routes in 2012. This includes 29 new leisure routes during summer-2012 including Barcelona, Dubrovnik, Palma, Keflavik and Nice.
During the 2Q2012 results presentation, Mr Gustafson asserted that, "despite an unsatisfactory earnings level, we now see that our 4Excellence strategy is beginning to generate results. Unit revenue rose 0.3% during the quarter, driven by a positive load factor. Our unit cost, excluding jet fuel, declined 4% during the quarter."
SAS Group selected financial results (SEK million): 2Q2012 vs 2Q2011
| | 2Q2012 | 2Q2011 | % |
| --- | --- | --- | --- |
| Revenue | 11,3921 | 11,319 | +0.6% |
| EBITDAR* | 1,199 | 2418 | -50% |
| Operating profit (loss) | 632 | 911 | -31% |
| Profit / (Loss) after tax | 320 | 551 | -42% |
SAS Group selected operating results (scheduled passenger traffic): 2Q2012 vs 2Q2011
| | 2Q2012 | 2Q2011 | % |
| --- | --- | --- | --- |
| Passengers (million) | 7.6 | 7.4 | +3.1% |
| ASKs (million) | 10,300 | 9848 | +4.6% |
| RPKs (million) | 7936 | 7494 | +5.9% |
| Passenger load factor | 77% | 76.1% | +0.9% |
While the first results of SAS Group's comprehensive 4Excellence strategy, which targets to increase revenue by SEK1.5 billion (EUR183 million) and decrease costs by SEK3.5 billion (EUR426 million) by 2015, are starting to show, progress is slow. Dealing with over 30 unions in three countries is a challenging task but as Mr Gustafson noted, the competitive pressure is mounting. Norwegian will launch long-haul flights in 1Q2013 and this will affect the profitability of SAS' intercontinental routes. The pressure by Norwegian on both SAS and Finnair will only continue as the LCC builds on its cost and revenue advantage while the two legacy airlines work to complete the overhauls of their respective businesses.