This translates to over 160 flights weekly, enabling more travellers to fly between Singapore to various parts of China. Of the 22 destinations, 13 are flown exclusively by Scoot, including Fuzhou, Hangzhou, Nanchang, Qingdao, Shenyang and Xi'an.
The launch of the four destinations has resulted in a capacity growth of over 38% for Scoot's China routes, as compared to Apr-2019. In Singapore, Chinese travellers can also connect on Scoot's flights to popular Southeast Asian destinations such as Bali, Ho Chi Minh City and Luang Prabang; Australian destinations such as Melbourne, Perth and Sydney; or even Athens and Berlin in Europe.
"China is one of Scoot's most important markets. The launch of the four new cities, Wuhan, Changsha, Kunming and Fuzhou, not only strengthens our China network, but also allows more Chinese travellers to conveniently travel abroad to more than 40 exciting destinations with Scoot at affordable prices," says Mr Lee Lik Hsin, Scoot's Chief Executive Officer.
CHART - China is the largest destination market in the Scoot network from Singapore accounting for almost one fifth of its weekly capacity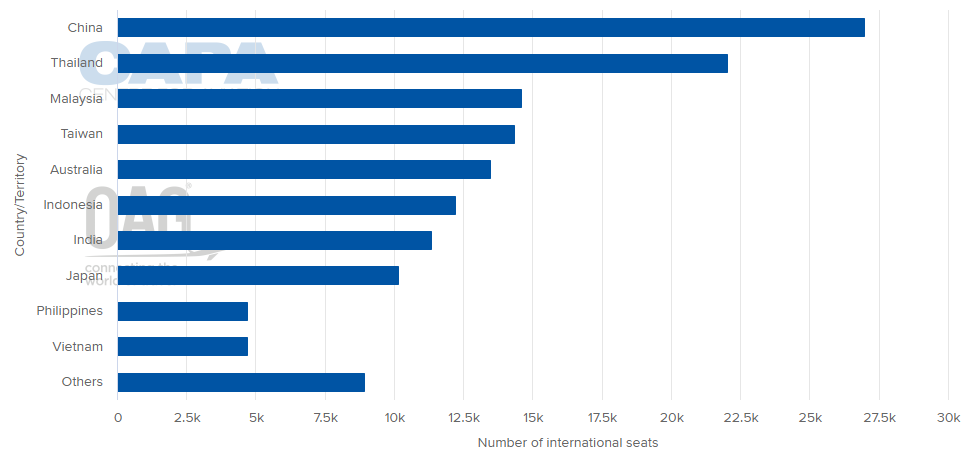 Source: CAPA - Centre for Aviation and OAG (data: w/c 16-Dec-2019)
Besides China, Scoot has also recently launched three new points – Coimbatore and Visakhapatnam in India, as well as Kota Kinabalu in Malaysia. This brings the total destinations served by the airline to 68 across 15 countries.
Earlier this year, its network was widened with the launch of Trivandrum in India, Luang Prabang and Vientiane in Laos, as well as Kota Bharu in Malaysia. In 2020, Scoot will be launching six more new destinations in Indonesia – Balikpapan, Lombok, Makassar, Manado, Semarang, and Yogyakarta, giving travellers more options for intrepid weekend travel!