While we are no closer to accurately progressing the rise of the industry, this research, based on an Apr-2021 survey of over 200 high-level global executives across the US, Europe, Middle East, Africa and the Asia Pacific, about business travel, its changes and its role for the future of their organisational growth, provides some valuable additional insights to add into the equation.
The lack of travel has clearly hurt business: acknowledged by almost all the executives surveyed, with the pandemic having limited business travel for 90% of companies. Those that still travelled generally did so privately with private aviation demonstrating its value "as a critical mobility solution, ensuring continuity in business management and global trade," notes the report.
We were forced to quickly substitute in-person meetings for video conferencing and a move that many see continuing to be normal practice to a certain degree into the future and especially for specific meeting types moving forward. Some respected business leaders have put this level as high as high as 50%, but many believe that is a vastly inflated level.
The executives surveyed by VistaJet and WSJ Intelligence agree. Many business leaders feel that video conferences have failed to generate the same results as in-person meetings, and the report indicates their intuition is borne out by the experiences of executives from many countries, in many industries.
Businesses around the world have suffered from the COVID-19 pandemic. Only 10% of respondents in the report said their companies had not restricted business travel, versus 27% who said their companies allowed none at all. Yet, 97% said their companies experienced negative impacts directly related to business travel restrictions.
The health crisis disrupted supply chains, manufacturing, sales and marketing, business development and company strategy, not to mention forcing a sudden shift to remote work for employees and a scramble for protective equipment for essential workers. All this on top of a global patchwork of restrictions, rules and lockdowns, notes the report.
Among respondents whose companies had restrictions on travel in the past year, virtually all (87%) had a massive or substantial disruption in at least one area of business, and 24% indicated massive or substantial disruptions across all eight areas measured, specifically as a result of business travel restrictions.
Travel restrictions also diminished opportunities, "illustrating that some transactions need to be done in person," explains the report. Development of international business and product launches were each cited by 37% of respondents as taking a hit because of a lack of in-person presence. A third of the companies also saw missed opportunities (34%) and fewer deals closed (33%).
But, positively, the research implies that after a year of lockdowns, there is built-up anticipation for travel as restrictions ease. Six in ten respondents said they expected more in-person meetings in the future, compared to a typical year before the pandemic.
Among those who are intense users of private aviation, taking eight or more private flights a year, 60% plan to significantly increase in-person meetings, compared with 38% of total respondents. Additionally 81% said business travel will be more important than ever to driving success.
The top reasons were general business development – each with 34%, are visiting partners and vendors for strategic alignment and attending industry events and conferences, ahead of attending events and meetings to drive company innovation (23%).
A similarly important category for in-person attention, notes the research is relationships with clients. "Making a trip demonstrates to current and potential clients that they are worth a top executive's attention beyond simply squeezing another video conference into a day's agenda," notes the report.
"Bad optics are exacerbated when the pitfalls of video calls occur — interruptions by family or grogginess in a late-night meeting with a client on the other side of the world — a signal of a lack of importance toward the client. At the same time, body language, humour and tone can be hard to ascertain through a screen, especially with people one doesn't already know well," it adds.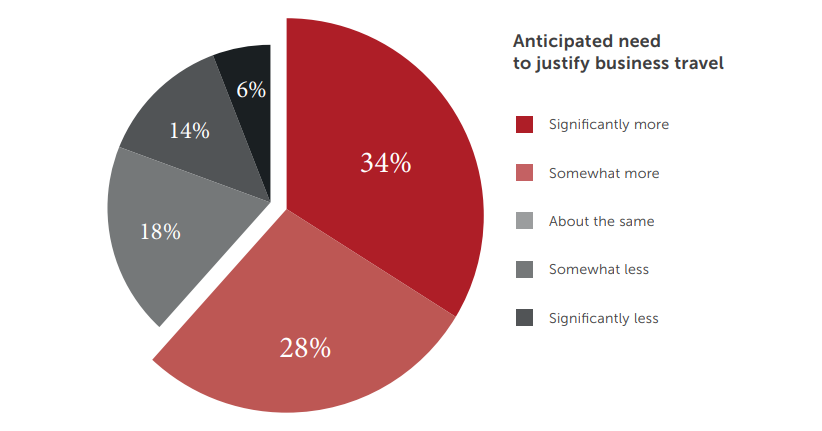 These all positive signs for the recovery, but there are still notable hurdles for the recovery, none more so than the closer attention on business travel: approaching two-thirds (62%) of the executives surveyed said they expect to be asked for more justification for business travel in the future. Of course, any recovery still largely hangs on regulations.
Approaching a half of respondents (46%) are waiting for destinations to reopen; and (42%) want updated COVID-19 data and regulations for their destinations, while more than a third (36%) want support in case regulations change while they are on a trip; and the same number are waiting for their companies' travel policies to relax, according to the research.