---
Summary:
The Blue Swan Daily continues a series investigating long haul flights from secondary airports, this time focusing on North America;
'Low cost' airports, dominated by LCCs, came into fashion, of sorts, in the mid-2000s in the US but do not necessarily have widespread public support there even if there are actually some large examples in Florida and California;
In Canada, many passengers in cities like Montreal and Vancouver seek out alternative budget flights just over the border while in Mexico a border airport has a terminal in USA;
The most successful example across North America is probably New York's Stewart International, after years of languishing in the doldrums.
---
The same principles apply as previously. Which are the most successful 'secondary' level city airports in North America as measured by passenger traffic figures, which of them are 'low cost' airports, how far are they from the centre of the major city they claim to serve, and how accessible are they by road and rail?
While low cost and ultra low cost carriers have made their mark there, North America, and in particular the US, is not known for public approval of European-style 'budget' airport facilities, at least at bigger airports. A number of secondary airports were identified however by the short-lived Ryanair clone, Skybus in 2007 to host flights operated by that airline, avoiding primary hubs and the competing airlines that used them. Typically they were well out of town. A few of them are still around and doing what Skybus envisaged (Allegiant Air and Spirit Air have done something similar, and more successfully though the latter has tended to use more primary airports).
Those airports included Fort Lauderdale-Hollywood International, Newburgh (Stewart International), and Oakland International, all of which are competitors in their own way to primary level airports today, in the different parts of the country they are located.
The first thing that becomes evident is that far more of the North American low-cost airports offer long haul services than their counterparts in Europe, seven of the 10 to be exact.
TABLE – The Blue Swan Daily North American secondary city airport comparison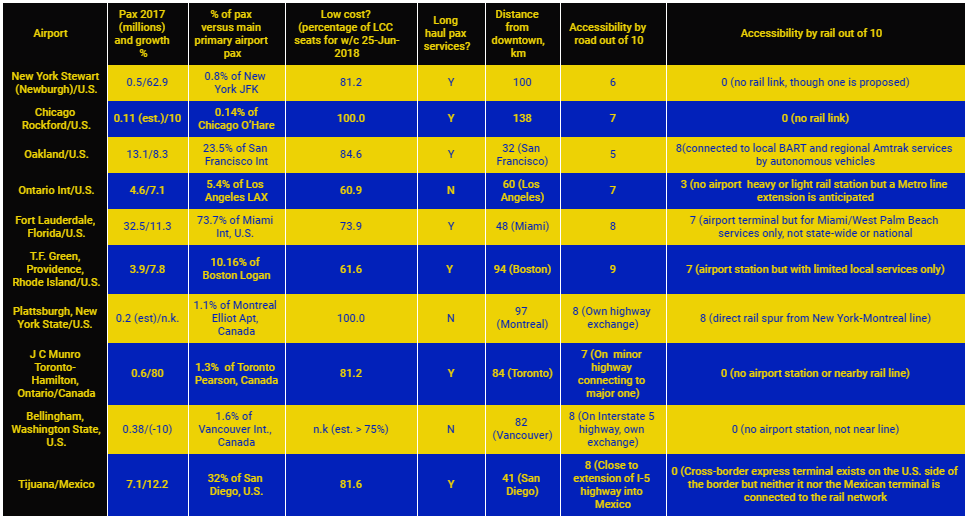 Source: The Blue Swan Daily and CAPA – Centre for Aviation profiles
In the majority of cases LCCs are the prevailing business model and in two examples they comprise 100% of seat capacity (Chicago Rockford and Plattsburgh). A few airports do compete in this space without being in thrall to LCCs however, notably Providence's TF Green airport (with the presence of American Airlines and United Airlines feeder flights) and Ontario International in California (United, Delta Air Lines, American) which, now shorn of its ties to Los Angeles World Airports, is trying to forge its own identity in the city-region.
Some of the airports make the table because of their cross-border influence. This is notably the case with US airports that are close to the Canadian border, a country in which taxes are higher, thus prompting many Canadians to travel south to take advantage of cheaper fares and possibly more choice, on routes within the US and to the Caribbean.
So Plattsburgh, while in New York State, is the secondary level competitor to Montreal's Trudeau Airport, and Bellingham, on the other side of the country in Washington State, to Vancouver. Several other examples could have also been included.
Meanwhile, Mexico's Tijuana Airport, right on the border with California, undeniably attracts passengers from the US through its Cross Border Express Terminal, which is on the US side and connected by a bridge, making it the only truly bi-national airport in the world. While it sounds glamorous, the terminal is situated in a trading park, next to the Big Toy Depot.
The most successful of these airports, as measured by passenger traffic figures and their impact on the primary ones, are Oakland and Fort Lauderdale, both situated in heavily populated areas and within proximity of major cities other than their own.
In contrast, Chicago Rockford Airport, 140 km from Chicago's downtown, has made little discernible impact on either the O'Hare or Midway airports. (Neither, for that matter, has Gary-Chicago airport on the eastern side of the conurbation, which could have also been included in the table). The same is true of the Hamilton airport in Canada, close to Toronto Pearson airport, despite huge growth in 2017. The inauguration of a Norwegian service from Dublin in 2019 might put it in a new light but transatlantic flights have been tried previously there, without success.
In our opinion the winner in terms of growth taking into account unsatisfactory (though improving) standards of surface connections to the major city, is New York's Stewart International though it still has a long way to go before it can be mentioned in the same breath as JFK, LaGuardia and Newark airports. The leading airports for surface accessibility are Fort Lauderdale and Plattsburgh.
Note that several secondary airports that lie between cities were not considered here, such as Hartford Bradley International in Connecticut, which is between New York and Boston. There are in fact several airports in the neighbourhood of Boston Logan airport that could qualify as the 'challenger' airport rather than 'reliever', including Hartford Bradley, Manchester-Boston regional and Portsmouth Pease airport, which was Skybus' original choice for the area.
Many such airports exist across the US. Another one is about to accept commercial flights, at Everett Paine Field in Washington State; a potential challenger to Seattle-Tacoma airport as Bellingham is in its own small way to Vancouver.