American Airlines would be the only US airline in Los Angeles-Seoul market
American Airlines could fill a gap – and take some market share – in the market between Los Angeles and Seoul. Singapore Airlines is ending Seoul-Los Angeles fifth freedom services and is resuming nonstop Singapore-Los Angeles flights instead. SIA will have served the Seoul-Los Angeles market for just over two years, from Oct-2016 to Nov-2018. (SIA in some way backfilled Thai Airways, which had served Seoul-Los Angeles before withdrawing.)
About half of SIA's Seoul-Los Angeles passengers were local, with the remaining passengers originating in Singapore or behind. SIA's exit is not indicative of an underperforming market, but rather that SIA is pursuing strengths. Fifth freedom flights typically have substantially higher costs than flights from local airlines.
By exiting the Seoul-Los Angeles market, Singapore Airlines no longer has to use some Singapore-Seoul capacity to carry Seoul-Los Angeles passengers. This enables SIA to grow the local Singapore-Seoul market, which has traffic right restrictions.
Los Angeles-Seoul nonstop seat capacity by airline: 2009-1H2019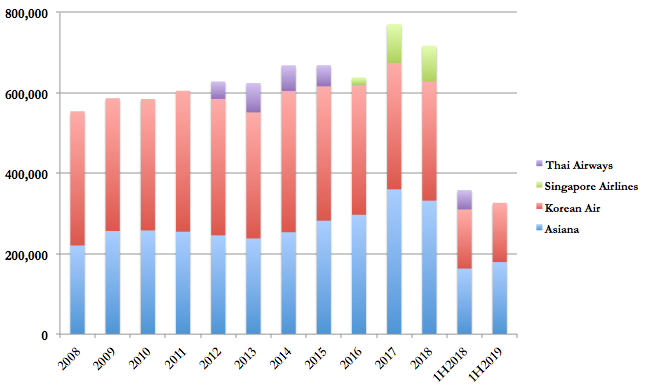 Source: CAPA - Centre for Aviation and OAG Schedules Analyser
American Airlines would be the only US airline in the Los Angeles-Seoul market, and Seoul would be American's fifth Asian destination from Los Angeles. Two of American's existing four Asian destinations – Shanghai and Tokyo – have competition from both Delta and United. The other two markets – Beijing and Hong Kong – have no service from a US airline.
Delta has cemented a JV with Korean Air, which flies twice a day. Asiana also flies twice a day, but with higher capacity since Korean Air's A380s are low density. The Korean Air JV effectively gives Delta a presence in the Los Angeles-Seoul market, but having US-operated metal in a market can matter to frequent flyers as they seek to use upgrade instruments or other benefits when flying a specific airline, irrespective of supposed metal neutrality.
Asiana is the largest airline in the market, but has revenue challenges
Los Angeles-Seoul may seem a formidable market for American to enter. Capacity on the Seoul-Los Angeles market has grown substantially. In 2017, 15% growth compared to 2015, when Thai Airways was still in the market.
In 1H2019, following the exit of Singapore Airlines, Asiana will have a 55% share of nonstop seat capacity. (Even with Singapore Airlines' presence, in 1H2018 Asiana had a 46% share – almost half.) Korean Air has been cutting capacity on Seoul-Los Angeles since 2014: at its peak, in 2011, Korean Air operated almost three daily Seoul-Los Angeles flights.
American may sense Asiana is large but vulnerable in the market. Asiana has a more limited beyond network from Seoul, whereas American has local contracts in Los Angeles and a hub to feed from.
Los Angeles-Seoul nonstop seat capacity by airline: 2009-2018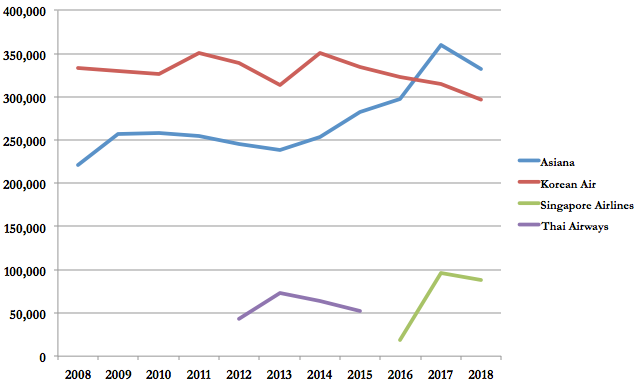 Source: CAPA - Centre for Aviation and OAG Schedules Analyser
Seoul is American's only Asia destination served from one US city
Los Angeles-Seoul would be American's second route to the Korean capital. In May-2013 American's first Seoul route was launched from Dallas, the airline's largest hub and also biggest departure point for Asia. From Dallas American serves Beijing, Hong Kong, Seoul and Shanghai daily and twice daily Tokyo Narita.
A Los Angeles-Seoul flight would mean six daily departures on American from Los Angeles to Asia.
American was pleased with Seoul's performance but was mindful of nascent Korean Air partnership
Dallas-Seoul is understood to have been a quiet achiever for American Airlines. In recent years the trans Pacific market has been characterised by overcapacity and low yields. But that was typically in relation to growth around greater China and then Delta's restructuring of its Japanese network. American's Dallas-Seoul service was largely in a different category.
American seemed interested to grow in Seoul but had to settle into, and navigate, a new partnership with Korean Air. The deal drew interest as it crossed alliance lines between American's oneworld and Korean Air's SkyTeam. The American-Korean partnership had limited interlines and codeshares but there was interest in growing it.
With Korean Air now firmly partnered with Delta and an opening in the Seoul-Los Angeles market, American may finally grow to Seoul.