Our regular round-up delivers some of the latest key aviation and travel news stories from across the Middle East region.
---
Emirates Skywards reaches 25 million member milestone
Emirates Skywards announced it has added five million members globally in the last 18 months to reach a total of 25 million members. The UK has the most Skywards members (3.2 million), followed by the US (2.3 million), Australia, India and the UAE. The programme now has 157 partners spanning the globe, including 15 airline partners that fly to a combined 2,000 destinations, 12 financial cobrands and seven points exchange partners covering 31 countries. Emirates Skywards also partners with more than 100 hotel brands and two online aggregators, providing access to 30 million properties and rooms globally. In the last three years, the programme has added 24 new partners with the number of earn transactions increasing by +50% and redemptions rising by +150%. Just in the last financial year 2018-19, members from 185 countries redeemed 1.2 billion Miles at Dubai Duty Free, and 6,431 members redeemed 77 million Miles for 10,344 tickets to premier sports and cultural events globally. Hundreds of thousands more enjoyed upgrades, used Cash + Miles to book flights on Emirates and flydubai, and got reward tickets.
---
Etihad Airways relaunches website as part of digital transformation programme
Etihad Airways has relaunched its website as part of its ongoing digital transformation programme. The refreshed website includes redesigned content, graphics, images and a reduction in pages. The refreshed website is now live globally on all Etihad's site editions in 16 languages. Redesigned from scratch, guests visiting etihad.com now enjoy faster loading pages, thanks to cleaner redesigned content, images, and graphics. An easier-to-navigate site and a reduction in the number of pages makes it simpler for people to find the information they want. With a larger percentage of consumers accessing etihad.com via mobile, the new website is also responsive across any device, be it a smart phone, tablet or desktop, allowing guests to access information quickly and easily, before they reach the airport.
---
Qatar Airways could close deal on acquisition of Moscow Vnukovo airport stake in 2019
Qatar Airways CEO Akbar Al Baker said the deal to acquire a 25% stake in Moscow Vnukovo airport could be closed by the end of 2019, if results of checks currently in progress are satisfactory. Mr Al Baker said the checks are nearing completion. As previously reported, Moscow Vnukovo airport signed an MoU to sell a 25% stake in JSC International Airport Vnukovo to Qatar Airways back in Apr-2018.
---
Vueling set to fly for flyadeal in Saudi Arabia under ACMI agreement
Vueling is reportedly negotiating an ACMI agreement with flyadeal, allowing it to operate domestic services in Saudi Arabia. The carrier is reportedly seeking to hire over 70 pilots and 140 cabin crew and mechanics to commence operating in Mar-2020.
---
News Briefs
flydubai plans to transfer Almaty, Basra, Dar es Salaam, Kilimanjaro, Nur-Sultan, Sofia, and Zanzibar operations from terminal 2 to terminal 3 at Dubai International airport, effective 27-Oct-2019. Other flydubai services will continue to operate from Terminal 2.
Oman Air partnered with the Sundus Rotana Hotel to extend its stopover programme in Oman. The programme grants passengers from any class travelling to and from any city access to a free night's stay in the Sundus Rotana Hotel.
Abu Dhabi Department of Energy (DoE) and Etihad Aviation Group entered a strategic partnership to support Abu Dhabi objectives to enforce environmental sustainability principles. Under the agreement, DoE joins a project launched by Etihad Aviation Group in 2018 to support the Zayed Agricultural Centre for Development and Rehabilitation.
Cairo Airport Company reported plans to raise Cairo International airport's passenger capacity to 30 million passengers annually. The company aims to do this via a number of projects that target improving efficiency and the quality of services provided to passengers.
---
CAPACITY SNAPSHOT: Middle East Domestic Seats (as at 16-Sep-2019)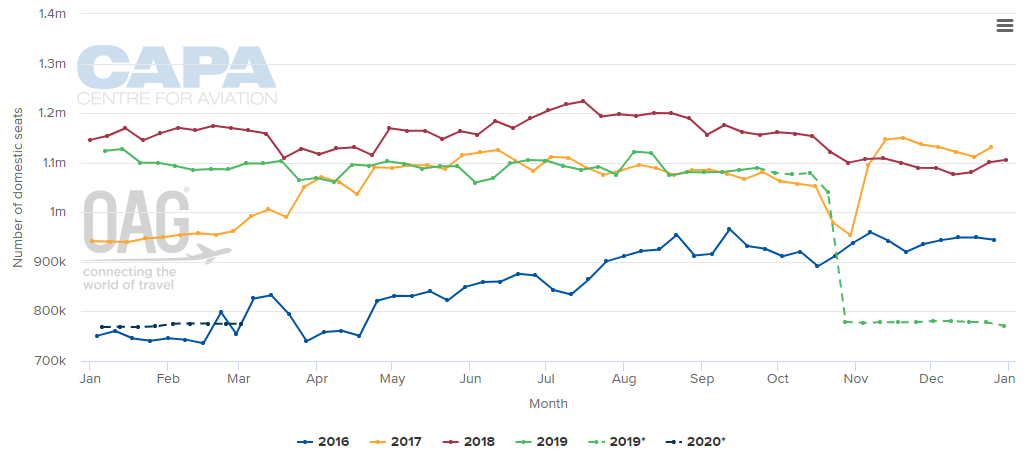 Source: CAPA – Centre for Aviation and OAG (NOTE: *These values are at least partly predictive up to 6 months ahead and may be subject to change)
---
Fleet Development
Aerotask has facilitating the acquisition of three Boeing 737-300s, formerly operated by Southwest Airlines for Kam Air allowing it retire its MD-80 fleet. It has also worked to secure an additional Airbus A340-300, the fourth in Kam Air's fleet, which was acquired in response to "robust international passenger demand".
Gulf Air took delivery of one A320neo aircraft (A9C-TD, MSN 9188) on 10-Sep-2019, as recorded by the CAPA Fleet Database.
---
CAPACITY SNAPSHOT: Middle East International Seats (as at 16-Sep-2019)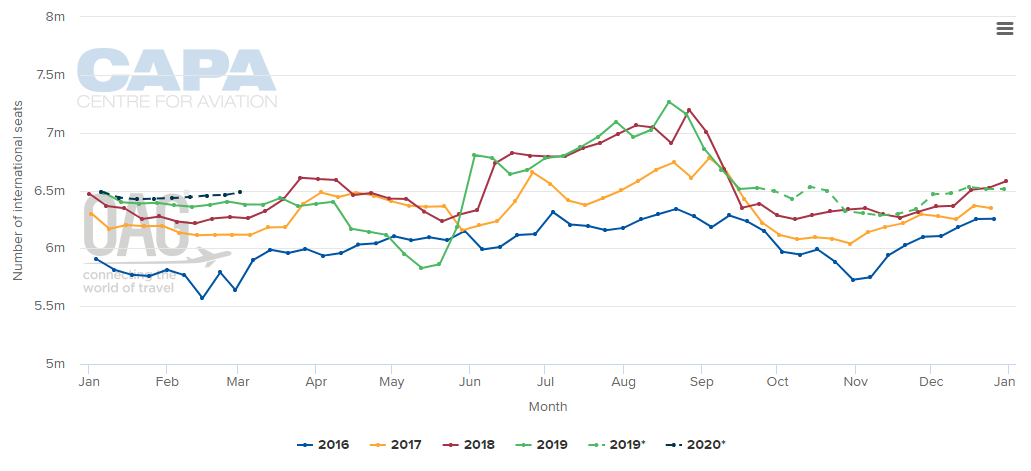 Source: CAPA – Centre for Aviation and OAG (NOTE: *These values are at least partly predictive up to 6 months ahead and may be subject to change)
---
Route Update
flynas plans to launch three times weekly Riyadh-Tbilisi-Baku-Riyadh service, effective 01-Nov-2019. The carrier will operate the service with A320 equipment.
SalamAir launched four times weekly Muscat-Abu Dhabi service, effective 10-Sep-2019.
airblue plans to increase Peshawar-Sharjah frequency from three to four times weekly from 29-Oct-2019, according to the CAPA Route Changes Database. Pakistan International Airlines also operates the route, according to OAG.
Ukraine's SkyUp plans to launch the twice weekly services to Sharjah from Kharkiv, Lviv and Zaporizhia from late Oct-2019.
IndiGo increased Hyderabad-Dubai International frequency from daily to twice daily on 12-Sep-2019. Air India, Emirates Airline and flydubai also operate the route, according to OAG.
Kam Air plans to launch weekly Kabul-Kuwait service, effective 01-Nov-2019.
Pakistan International Airlines (PIA) plans to commence weekly Peshawar-Madinah service on 19-Sep-2019. It will be the sole scheduled operator on the route, according to OAG.