Our regular round-up delivers some of the latest key aviation and travel news stories from across the region.
---
European Union 'progressing successfully' to sign air transport agreement with Oman; lack of ambition seen among others in region
The European Union is "progressing successfully with negotiations for comprehensive air transport agreements with Oman," according to European Commission DG for Mobility and Transport Henrik Hololei. Speaking at the CAPA Qatar Aviation, Aeropolitical and Regulatory Summit, he said: "We hope to be able to move forward to concluding this agreement soon, hopefully, this year". Mr Hololei said an agreement between the EU and Qatar in 2019 was a landmark deal, but has not pushed others in the region to step up to the table. He added that with the exception of Oman, other countries in the region "lack ambition".
---
Air Arabia to continue 'driving operational efficiency' and exploring new ventures in 2020
Air Arabia chairman Sheikh Abdullah Bin Mohammad Al Thani stated in 2020, the carrier plans to "remain focused on driving operational efficiency across board" and "exploring opportunities and ventures that will best serve the airline's ambitious growth plans while delivering optimum value to our customers and shareholders". The airline reported a net profit of AED1 billion (USD272.2 million) for 2019, up 80% year-on-year, and a turnover of AED4.75 billion (USD1.2 billion) during the period, up 15%. The carrier stated these results were supported by lower fuel prices in 4Q2019, higher customer demand, stronger yield margins as well as a higher fleet utilisation rate and solid cost control measures adopted by the management team.
---
Royal Jordanian signs agreement with General Union for Air Transport and Tourism
Royal Jordanian has signed a collective agreement with the General Union for Air Transport and Tourism granting Royal Jordanian staff the choice to obtain a voluntary release from service between 09-Feb-2020 and 29-Feb-2020. Employees have the option to submit a request to be released from service, and, subject to Royal Jordanian's approval, the employees are given a sum of a half month salary for each year of service. Royal Jordanian CEO Stefan Pichler said the agreement comes in line with the carrier's turnaround plan to achieve sustainable profitability, which involves reducing staff.
---
Qatar Airways CEO: Aviation industry must encourage interest among younger generation
Qatar Airways Group CEO Akbar Al Baker, speaking at the CAPA Qatar Aviation Aeropolitical and Regulatory Summit, stated the aviation community "must do things that will encourage the younger generation to get interested in aviation". Mr Al Baker said there is "a lot of interest for people to become pilots" but less interest from young people in pursuing careers in other areas and roles within the aviation industry.
---
Air Arabia Abu Dhabi will target routes not currently serviced from Abu Dhabi
Air Arabia CEO Adel Abdullah Ali stated the objective for Air Arabia Abu Dhabi has "always been to serve the routes that are currently not being served from Abu Dhabi". Mr Ali added the joint venture is a "win-win situation" that will enable Air Arabia and Etihad Airways to "complement each other and help each other in capturing a bigger share of the market". Air Arabia Abu Dhabi is set to commence commercial operations in 1H2020.
---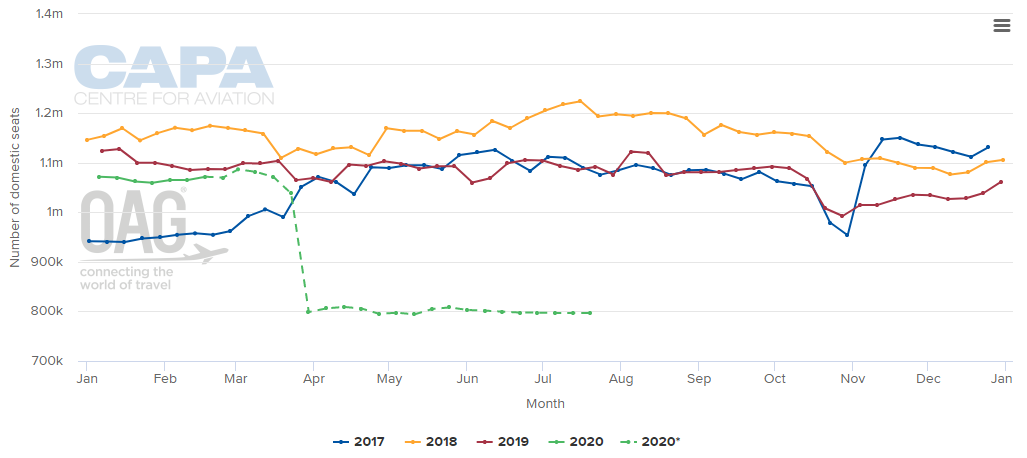 CAPACITY SNAPSHOT: Middle East Domestic Seats (as at 10-Feb-2020)Source: CAPA – Centre for Aviation and OAG (NOTE: *These values are at least partly predictive up to 6 months ahead and may be subject to change)
---
News Briefs
Russian carrier Pobeda plans to transfer services from Dubai International airport to Dubai World Central, effective 29-Mar-2020. The carrier operates four times weekly Moscow Vnukovo-Dubai service.
Qatar Airways is considering doubling its stake in LATAM, increasing its 10% share ownership to 20% when the right conditions are in place, according to its Group CEO Akbar Al Baker. Delta Air Lines recently acquired 20% ownership of LATAM for around USD1.9 billion.
Panasonic Avionics signed an inflight entertainment deal (IFE) with Kuwait Airways. The carrier's new fleet of eight A330-800neos will be equipped with Panasonic's X Series IFE experience. Its fleet of A320 and Boeing 777-300ER aircraft are already equipped with X Series IFE systems.
---
CAPACITY SNAPSHOT: Middle East International Seats (as at 10-Feb-2020)Source: CAPA – Centre for Aviation and OAG (NOTE: *These values are at least partly predictive up to 6 months ahead and may be subject to change)
---
Aircraft News
Qatar Airways will take delivery of "around 40 aircraft" in 2020 and phase 13 aircraft out of its fleet. Group CEO Akbar Al Baker reported the airline has a fleet of 264 aircraft at present, including 57 Boeing 777s, 53 A350s and 30 787s. He added that Qatar Airways receives one new aircraft every 11.5 days.
flynas received one A320neo (HZ-NS26, MSN 9225), as recorded by the CAPA Fleet Database. The carrier now operates five aircraft of the type.
Emirates Airline will operate one of twice daily Dubai-Beijing Capital service with Boeing 777-300ER, instead of A380 equipment, from 10-Feb-2020 to 29-Feb-2020, due to demand changes.
Garuda Indonesia plans to introduce A330-900 on certain Jakarta frequencies to Jeddah and Madinah, across Feb-2020 and Mar-2020, according to Routes Online.
---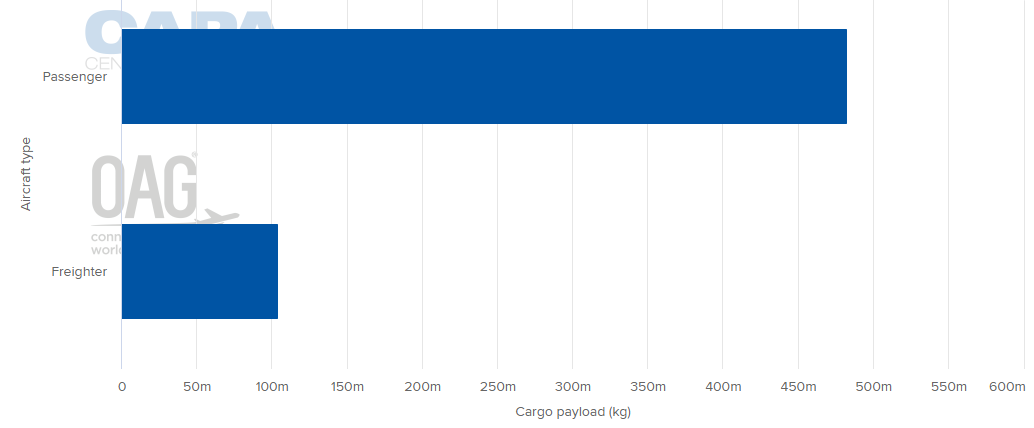 FREIGHT SNAPSHOT: Middle East Freight Capacity by Operational Split (as at 10-Feb-2020)Source: CAPA – Centre for Aviation and OAG (NOTE: *These values are at least partly predictive up to 6 months ahead and may be subject to change)
---
Route Update
Etihad Airways plans to increase Abu Dhabi-Athens frequency from daily to twice daily, operating between 08-Jul-2020 and 31-Aug-2020. The carrier plans to operate the additional frequency with A320 equipment.
Middle East Airlines plans to operate limited time services to Gothenburg in summer 2020. These comprise a Beirut-Gothenburg-Copenhagen service with A330-200 equipment on 10-Jul-2020 and a Beirut-Copenhagen-Gothenburg-Beirut service with an A330-200 on 18-Jul-2020.
Pegasus Airlines plans to launch weekly Antalya-Doha service from 08-Jun-2020, operating with A320, according to the CAPA Route Changes Database. Qatar Airways also operated the route seasonally, according to OAG.
Fly Erbil plans to launch Erbil-Copenhagen service, effective 17-Mar-2020.
Iran Air has launched three new routes to Qatar: Bandar Abbas-Doha, Asaluyeh-Doha and Lamerd-Doha.
GoAir plans to commence daily Mumbai-Doha service on 19-Mar-2020. Qatar Airways, IndiGo and Air India Express also operate the route, according to OAG.
Varesh Airlines launched Tehran-Dushanbe-Bishkek service, effective 03-Feb-2020. The carrier operates the route with Boeing 737-300 equipment.