Our regular round-up delivers some of the latest key aviation and travel news stories from across the region.
---
Qatar Airways opens new premium lounge at Singapore Changi Airport
Qatar Airways says its new premium lounge at Terminal 1 at Singapore Changi Airport "sets a new benchmark and blueprint for the airline's future lounges around the world". The facility, one of five international premium lounges that it now operates, opened formally in mid-Feb-2020. As you would expect from the airline, it features an ultra luxurious interior and enhanced offerings that the airline intends to narrow the gap between business and first class lounges. The design is inspired by modern-day Arabic architecture and reflects Qatar Airways' heritage. Spanning approximately 700 square metres the lounge features seven different seating areas including the Principal Lounge, Quiet Pods, Garden Bistro, High Seating, Martini Bar, Brasserie and Private Lounge. It can accommodate 85 passengers and is open daily from 7:30am to 2:00am.
---
Oman Ministry of Transport plans 'National Travel Operator' online travel platform
Oman's Ministry of Transport announced plans to launch "National Travel Operator" an online travel platform. The 'National Travel Operator' is a digital platform that connects Omani travel providers with customers in target markets. In the first stage of implementation, the platform will cover companies operating in the travel sector such as public transport providers, hotels and airlines with global commercial markets. The platform is part of Oman's 'National Tourism Strategy 2040' and aviation sector tourism distribution strategy.
---
Saudi Arabia's Ministry of Tourism unveils new brand logo
Saudi Arabia's Ministry of Tourism has launched its new brand logo. The new logo blends with its 'Welcome World' slogan which was launched in conjunction with the initiation of the new ministry. Tourists of 49 countries can now enter Saudi Arabia through the e-platform or upon arrival. So far, more than 400,000 tourist visas have been issued. The new brand identity aims to enhance the Ministry of Tourism's plans to realise the National Strategy for Tourism, which includes a 10% contribution from the tourism sector to the gross domestic product, providing one million new jobs and 100 million visitors by 2030.
---
Rights issues holds up GoAir's planned Mumbai-Doha connection
GoAir reportedly closed reservations for its planned daily Mumbai-Doha service, previously scheduled to commence on 19-Mar-202. The LCC noted the measure is due to India's Ministry of Civil Aviation declining to extend its temporary allocation of traffic rights for Qatar services to GoAir for the summer 2020 season, as Air India plans to utilise the rights to expand services to Doha.
---
IATA: Africa and Middle East record profit margin improvement in 4Q2019
IATA, via its Feb-2020 Africa and Middle East regional briefing, reported Africa and Middle East airlines' average profit margin grew 3pp year-on-year to 17.3% in 4Q2019. Yield performance was mixed across key regional markets. While the larger Middle East-Asia market expanded by 7.3%, the Middle East-Europe and Africa-Europe markets "contracted" by 5%-7% over the same period.
---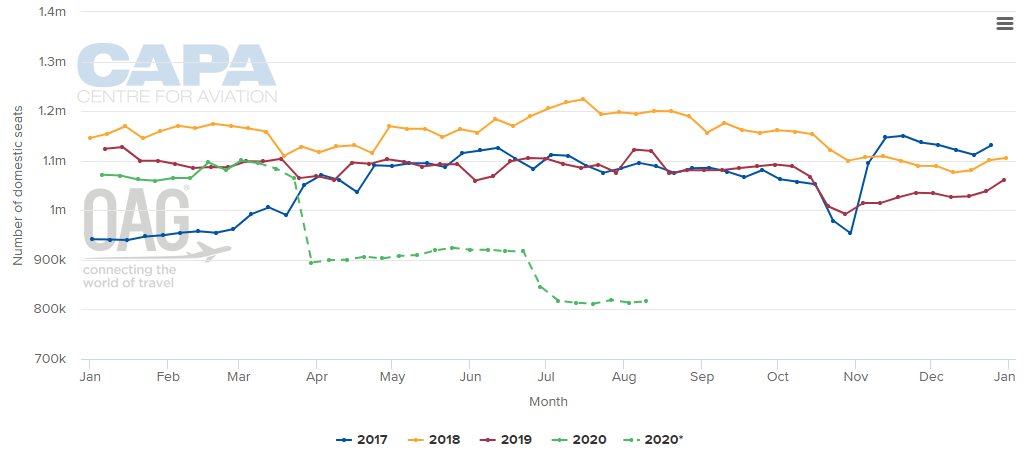 CAPACITY SNAPSHOT: Middle East Domestic Seats (as at 02-Mar-2020)Source: CAPA – Centre for Aviation and OAG (NOTE: *These values are at least partly predictive up to 6 months ahead and may be subject to change)
---
News Briefs
Qatar and Russia implemented a bilateral agreement on visa free entry, allowing citizens of both countries to visit without a visa for up to 90 days within a 180 day period. Citizens of Russia were previously permitted to visit Qatar without a visa for up to 60 days.
Namshi partnered with Emirates Skywards to enable customers to earn one Skywards Mile for every USD1 spent on the Namshi website or app. The partnership applies to all brands and products available on Namshi. Namshi is the first fashion retailer to join the Emirates Skywards programme.
Saudi Arabia's General Authority of Civil Aviation reported 1.48 million passengers travelled between Saudi Arabia and Kuwait in 2019, up +13% year-on-year.
Emirates Group has reportedly asked staff who have "accrued a significant balance of annual leave" to consider taking paid leave. This follows a "measurable slowdown in business" due to coronavirus outbreak. The company is also offering unpaid leave to employees in non-operational areas and may offer it to operational staff.
SaudiGulf Airlines received level 4 New Distribution Capability (NDC) certification from IATA.
Saudia has expanded its codeshare partnership with Alitalia to cover the following services operated by the Italian flag carrier: Rome-Geneva; Rome-Ibiza (effective from Jun-2020); Rome-Malta; and Rome-Valencia.
SalamAir signed a contract with Commsoft for the implementation of several OASES modules on Commsoft's private cloud. The modules comprise core, airworthiness, planning, materials, line maintenance control and warranty. The OASES implementation will start immediately with onsite implementation likely to commence in Mar-2020.
---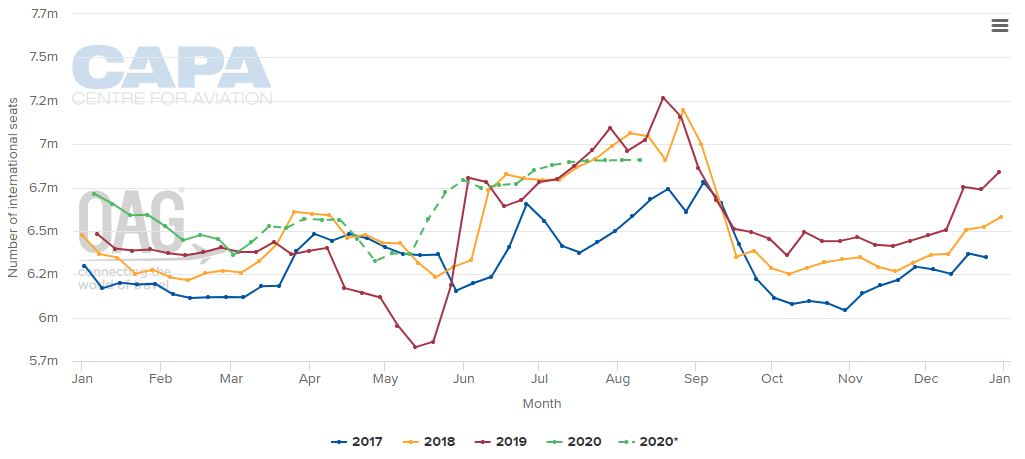 CAPACITY SNAPSHOT: Middle East International Seats (as at 02-Mar-2020)Source: CAPA – Centre for Aviation and OAG (NOTE: *These values are at least partly predictive up to 6 months ahead and may be subject to change)
---
Aircraft News
Emirates Airline plans to operate Dubai-Seoul service with Boeing 777-300ER instead of A380 equipment, effective from 05-Mar-2020 to 31-Mar-2020, due to lower current demand on the route.
Qatar Airways received one new A350-1000 (A7-ANP, MSN 372) as recorded by the CAPA Fleet Database. The carrier now operates 54 A350s with 27 to be delivered.
Etihad Airways issued regional operational equipment changes for its Abu-Dhabi-Manchester for summer 2020. The carrier will substitute 787-9 for 787-10 on its EY015/016 between 01-Jun-2020 and 25-Jun-2020 and its EY021/022 between 02-Jul-2020 and 11-Oct-2020.
KlasJet announced plans to introduce newly refurbished Boeing 737 VIP (LY-JMS) to the Middle East market from the end of Mar-2020.
Amedo completed the sale of two A380s (MSN 233 and 237) to Etihad Airways. The sales included the full repayment of the financing arrangements on both aircraft, including applicable swap breakage and facility prepayment costs.
---

CAPACITY SNAPSHOT: Middle East - Europe since 2015 (as at 02-Mar-2020)Source: CAPA – Centre for Aviation and OAG (NOTE: *These values are at least partly predictive up to 6 months ahead and may be subject to change)
---
Route Update
Jordan Aviation is scheduled to launch twice weekly Amman-Dubai service, effective 03-Mar-2020, It also plans to launch Aqaba-Cairo service, effective 29-Mar-2020, according to reports.
Fly Erbil plans to add Erbil-Cologne (weekly, effective 05-Mar-2020); Erbil-Copenhagen (weekly, effective 17-Mar-2020); and Sulaymaniyah-Dusseldorf (weekly, effective 12-Mar-2020) services.
Lufthansa Group plans to extend service suspension to Tehran until 30-Apr-2020 due to the spread of the coronavirus. Lufthansa operates Frankfurt-Tehran service and Austrian Airlines operates Vienna-Tehran service, according to OAG.
flynas plans to launch the following routes to Eastern Europe in summer 2020: Dammam-Batumi (three times weekly, operating between 19-May-2020 and 15-Sep-2020); Jeddah-Baku (four times weekly, operating between 19-May-2020 and 15-Sep-2020); Jeddah-Batumi (four times weekly, operating between 19-May-2020 and 05-Sep-2020); and Riyadh-Tirana (three times weekly operating between 20-May-2020 and 04-Sep-2020).
Air Serbia reportedly plans to temporarily suspend Belgrade-Beirut service from 04-Mar-2020 to 12-Jun-2020. The carrier is the sole scheduled operator on the route, according to OAG.