Our regular round-up delivers some of the latest key aviation and travel news stories from across the region.
---
SPECIAL NOTE: Coronavirus
The COVID-19 outbreak has significantly impacted air service to, from and within the Middle East. Initially, this was on services into China and parts of Asia, more recently into Italy and wider across Europe, and latterly within the region as an increasing number of cases have been recorded.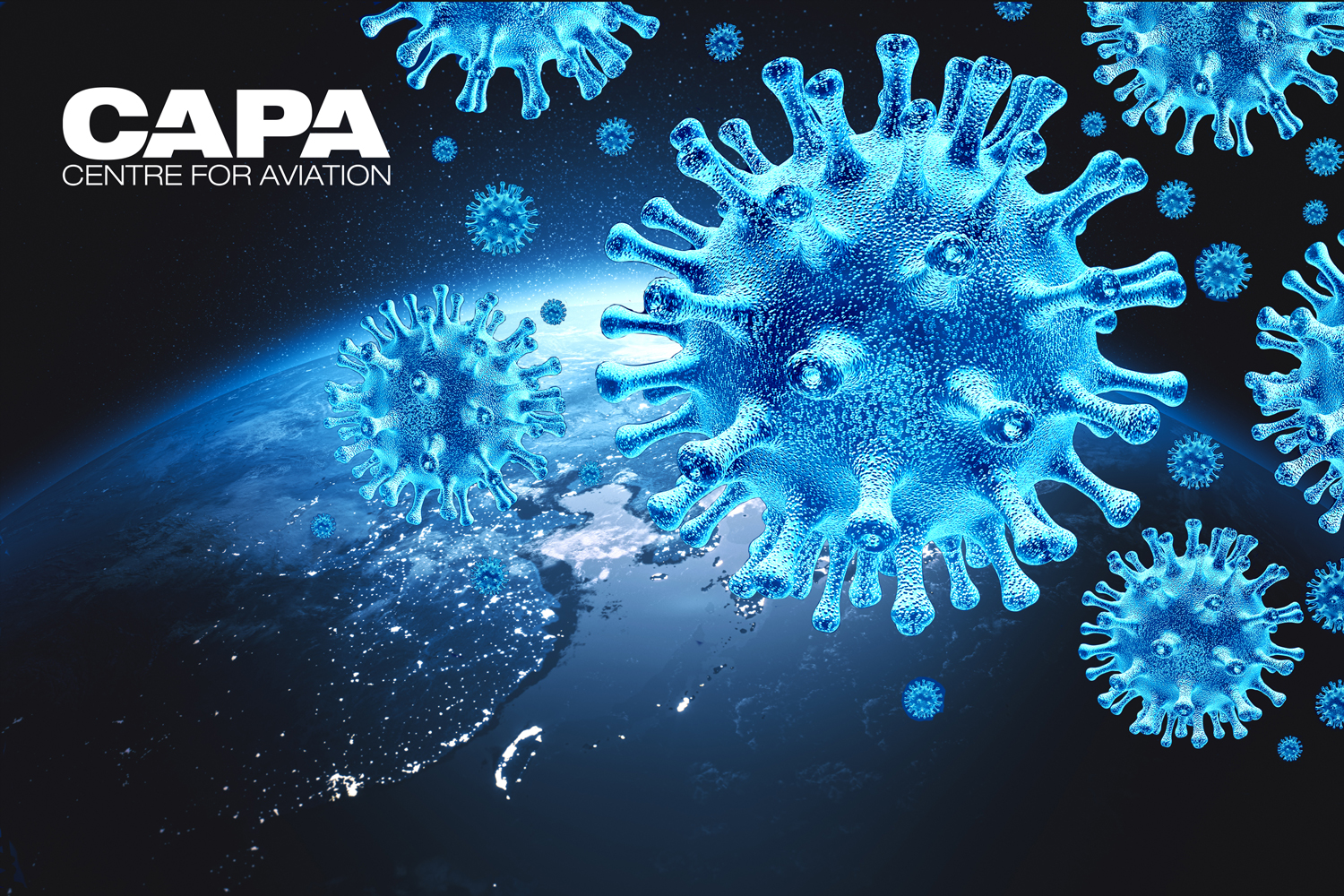 This has seen restrictions on arrivals, and cancellations of numerous flights across the region. This is a fluid situation that is changing by the day. To keep up to date on the devastating effect of the virus on the aviation and supporting industries, read this new essential daily update from CAPA – Centre for Aviation, which curates intelligence from the World Health Organisation (WHO) and myriad industry sources. Its mission is to help cut through the noise and provide a useful daily snapshot of the COVID-19 outbreak evolution, together with key industry developments.
---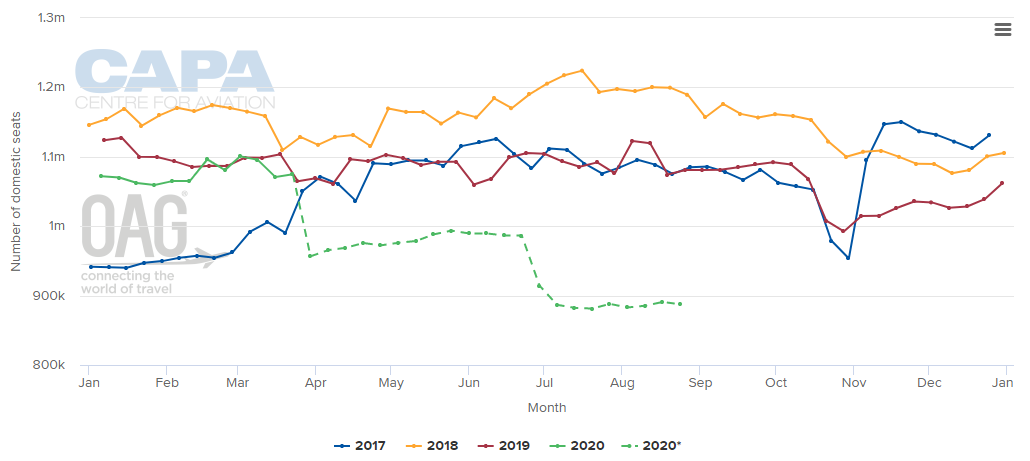 CAPACITY SNAPSHOT: Middle East Domestic Seats (as at 16-Mar-2020)Source: CAPA – Centre for Aviation and OAG (NOTE: *These values are at least partly predictive up to 6 months ahead and may be subject to change)
---
Etihad Airways signs tourism innovation MoU with Tencent
Etihad Airways signed a MoU with Tencent Holdings Limited to collaborate and identify potential opportunities to promote the growth and development of innovation and digitalisation for the tourism industry. Etihad Airways will leverage Tencent's cloud computing capabilities and social media platforms such as WeChat to better support its customer engagement strategy in China, and other potential regions through Tencent's network and ecosystem partners. Etihad Airways also launched its own mini programme on WeChat, becoming one of the first international airlines to offer this service on the WeChat platform. Etihad Aviation Group CCO Robin Kamark stated: "The collaboration with Tencent presents a huge opportunity for Etihad, allowing us to engage with our guests on the biggest digital platform in China, speaking to them in their language and on their preferred platform".
---
Saudi Arabia and Russia in 'a full-blown price war' over crude oil production
Argus head of forecasting Francis Osborne, commented on crude oil production confrontation between Saudi Arabia and Russia, which has led to a crude oil price crash, stating: "OPEC, led by Saudi Arabia, wanted a decisive, meaningful reduction in output to last for the whole of the year, Russia was only prepared to agree to roll-over the existing agreement". Mr Osborne added: "This would not have been enough to prevent prices from weakening further so Saudi Arabia, almost certainly already irritated by Russia's persistent failure to make meaningful cuts in the past, probably felt that it had nothing to lose by confronting Moscow and trying to push through the more radical proposal". Mr Osborne continued, stating that "a full-blown price war is under way". Argus estimates Saudi Arabia needs around USD80/bl to keep on an even keel while Russia about USD55/bl. As previously reported by CAPA, Saudi Arabia plans to ramp up oil production in order to bring Russia into the negotiation table to agree in reducing production. Manaar Group MD Jaafar Altaie said Saudi Arabia and Russia are "both getting ready to fight a pretty aggressive price war" concerning oil. Saudi Aramco reportedly informed purchasers it would cut prices by USD4 to USD8 per barrel, with specific discounts offered to customers in Western Europe and the US.
---
Etihad Cargo launches mobile app
Etihad Cargo has launched a mobile application with features including real time tracking updates, opt in push notifications, flight status information, routes search and news. The app is available to download from the Apple App Store and Google Play and will be updated to include instant mobile e-bookings in 2021.
---
ICAO adopts new measures on conflict zones following loss of UIA flight PS752 in Tehran
ICAO Council announced the adoption of new measures relevant to the loss of Ukraine International Airlines (UIA) flight PS752 earlier in 2020. Earlier during its 219th session, the ICAO Council adopted amendments to its standards and recommended practices on conflict zone risk assessments and related responsibilities, in addition to an amendment concerning state obligations relating to promptly sharing information on hazardous activities to civil aviation. It has now adopted new conflict zone risk mitigation initiatives presented by Canada on "Safer Skies". The proposal was co-sponsored by Costa Rica, Finland, the Netherlands, South Korea, Spain, and the UK. Safer Skies calls on ICAO to perform a comprehensive gap analysis of current airspace management and conflict zone related guidance material and for its results to be ready for Council review by its 220th Session in Jun-2020. It also directs ICAO to submit a draft prioritised work plan at that time, focused primarily on update and implementation activities in support of recent amendments to airspace management and conflict zone related standards and recommended practices.
---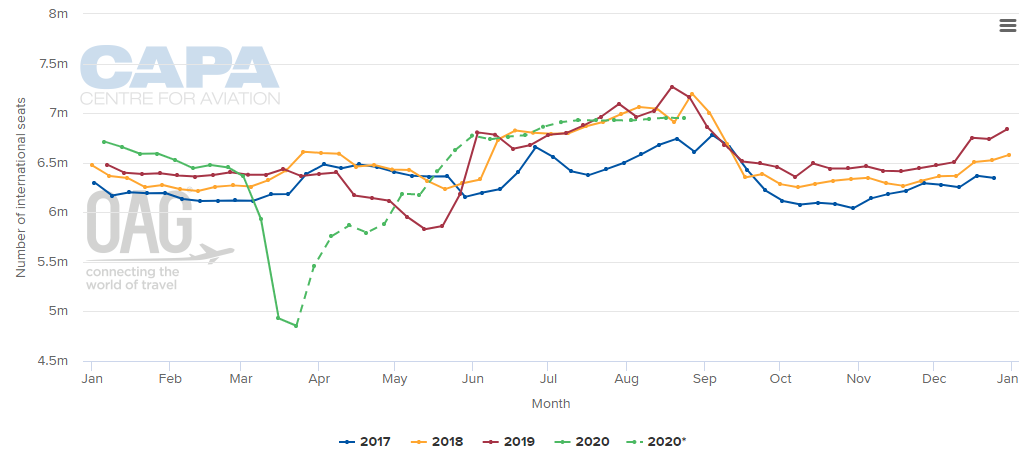 CAPACITY SNAPSHOT: Middle East International Seats (as at 16-Mar-2020)Source: CAPA – Centre for Aviation and OAG (NOTE: *These values are at least partly predictive up to 6 months ahead and may be subject to change)
---
News Briefs
Etihad Airways CCO Robin Kamark stated while the spread of coronavirus has "posed a major challenge for all airlines serving China, with a massive drop in demand on key routes", the carrier remains "optimistic that the situation will improve" by summer 2020 and it will "continue serving Beijing from Abu Dhabi presently".
Bahrain International Airport operator Bahrain Airport Company (BAC) and Travelex have formally signed a concession agreement for the operation of several exchange outlets at the airport's new passenger terminal.
Qatar Airways announced Privilege Club members may extend or reclaim their tier status for memberships due to end before 31-Jan-2021 as a result of coronavirus.
Cameroon Civil Aviation Authority (CCAA) confirmed the signing of a bilateral air services agreement between Cameroon and the United Arab Emirates (UAE) earlier this month. CCAA stated the agreement "paves the way for direct flights between the two nations and improving Cameroon's connectivity with the rest of the world".
Doha Hamad International Airport launched the 'Enjaz' Qatar national talent development programme. The programme will invest in the training and development of Qatari personnel through engagement and recognition practices to forward their careers.
Dubai Duty Free and Moët Hennessy opened a 'premium champagne concept' at Dubai Duty Free's arrivals store in Dubai International Airport terminal 3. The 44 square metre concept features products from Moët & Chandon, Veuve Clicquot, Ruinart, Dom Pérignon and Krug.