Our regular round-up delivers some of the latest key aviation and travel news stories from across the region.
---
SPECIAL NOTE: Coronavirus
The COVID-19 outbreak has significantly impacted air service to, from and within the Middle East. Initially, this was on services into China and parts of Asia, more recently into Italy and wider across Europe, and latterly within the region as an increasing number of cases have been recorded.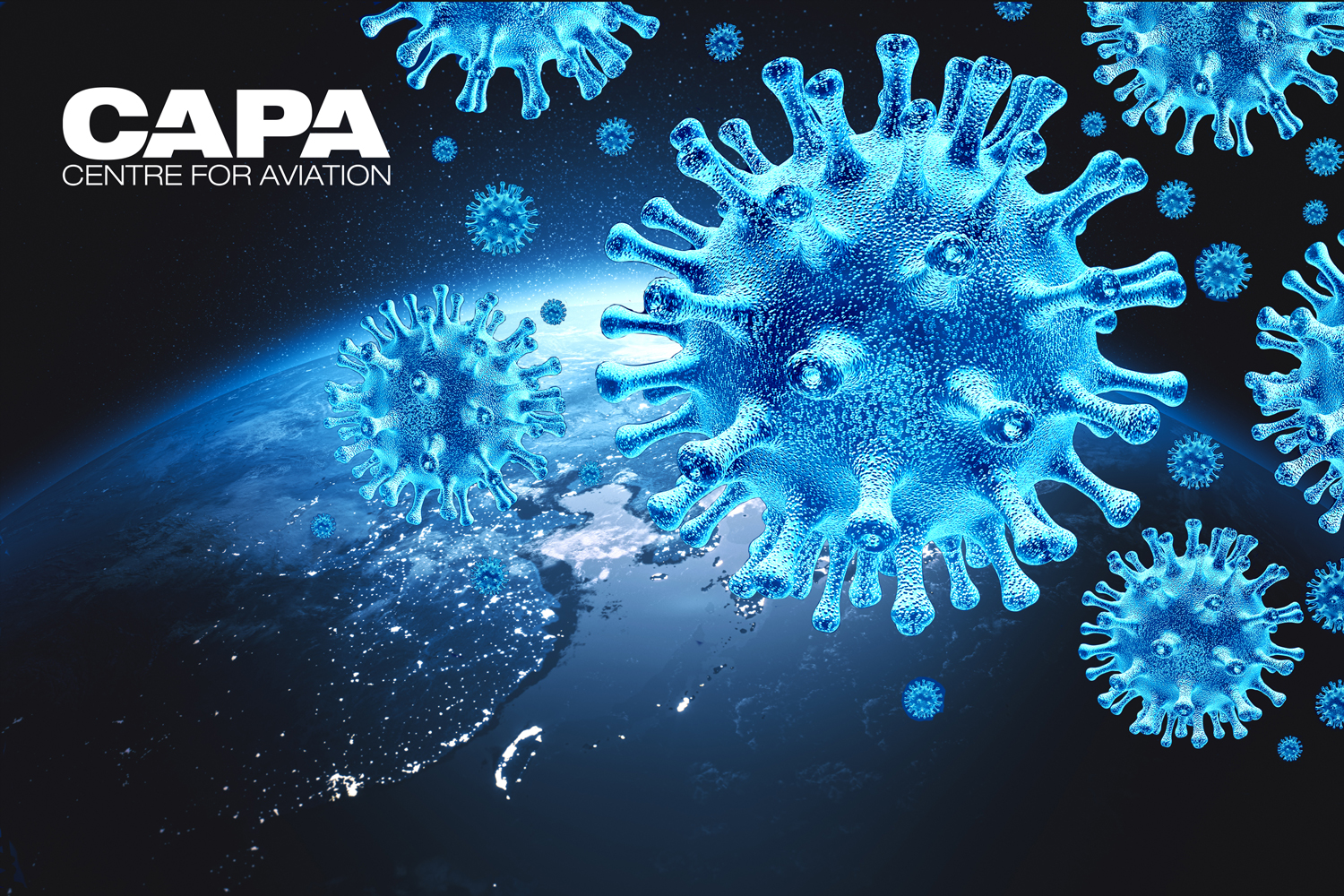 This has seen restrictions on arrivals, and cancellations of numerous flights across the region. This is a fluid situation that is changing by the day. To keep up to date on the devastating effect of the virus on the aviation and supporting industries, read this new essential daily update from CAPA – Centre for Aviation, which curates intelligence from the World Health Organisation (WHO) and myriad industry sources. Its mission is to help cut through the noise and provide a useful daily snapshot of the COVID-19 outbreak evolution, together with key industry developments.
---
Emirates is adjusting its Skywards programme during coronavirus crisis
Emirates Airline announced some adjustments to its Skywards programme during the outbreak of coronavirus. It has confirmed that Emirates Skywards Silver, Gold and Platinum members with a tier review date prior to 01-Mar-2020 will retain their current status with 80% of their usual travel requirements. Those members that are unable to retain their existing tier during status reviews that fall between Mar-2020 and Sep-2020, will have their status automatically extended until 31-Dec-2020. Similarly, the validity of Skywards Miles has been extended until 31-Dec-2020.
---
IATA: Middle East carriers to lose USD19 billion in revenue due to coronavirus
The International Air Transport Association (IATA) has urged governments in the Middle East and Africa to provide financial relief to airlines as the latest IATA scenario for potential revenue loss by carriers reached USD19 billion for the Middle East. This translates to a drop in industry revenues of 39% year-on-year for 2020. Impacts at a national level include in Saudi Arabia, 26.7 million fewer passengers resulting in a USD5.6 billion in revenue loss, risking 217,570 jobs and USD13.6 billion in contribution to Saudi Arabia's economy; and in the United Arab Emirates (UAE), 23.8 million fewer passengers resulting in a USD5.36 billion revenue loss, risking 287,863 jobs and USD17.7 billion in contribution to the UAE's economy.
---
Dubai Aerospace Enterprise reports 53 aircraft rent deferral requests, 11 granted so far
Dubai Aerospace Enterprise (DAE) reported (31-Mar-2020) it continues to receive requests for assistance in "different shapes and sizes, and we evaluate them on a case-by-case basis" in relation to disrupted revenues due to the necessary isolation measures to contain the spread of the coronavirus. To date, DAE has granted 11 rent deferral requests totalling aggregate rent of approximately 2% of annual reported revenue. It is currently evaluating an additional 42 rent deferral requests totalling aggregate rent of approximately 16% of annual reported revenue. The lessor expects to provide additional assistance to clients and also expects arrears to climb as customers cope with an "unprecedented cessation of demand". DAE's owned, managed and mandated-to-manage fleet exceeded 400 aircraft during 1Q2020. In the quarter, DAE sold or novated 15 aircraft, acquired four aircraft and transitioned or extended leases on eight aircraft.
---
Emirates to resume select outbound services to Europe
Emirates Airline received approval last week to operate outbound services from the United Arab Emirates (UAE) to select European destinations from 06-Apr-2020. The carrier plans to operate four times weekly Dubai-London Heathrow service and three times weekly services to Frankfurt, Paris, Brussels and Zurich. All routes will be operated with Boeing 777-300ER equipment. Emirates will also carry bellyhold cargo in both directions, supporting trade and communities with the transport of essential goods. Emirates Group chairman and CEO Sheikh Ahmed bin Saeed Al Maktoum said the airline is maintaining close contact with all authorities for the latest updates on the coronavirus situation and will "announce any additional services as they become available". The airline's freight business, Emirates SkyCargo has consolidated cargo handling operations at Dubai International Airport, temporarily suspending operations at Dubai World Central, effective 01-Apr-2020. The carrier stated the move will help streamline operations between freighter services and cargo services using passenger aircraft.
---
Qatar Airways Cargo launches twice weekly services to Australia
Qatar Airways Cargo launched twice weekly services to Melbourne and Perth on 02-Apr-2020. The routes will make a technical stop in Singapore and are in response to strong demand for products including pharmaceuticals and fresh produce due to the coronavirus outbreak. They will offer capacity of 200 tonnes of main deck cargo each week, bringing the combined weekly capacity in and out of Australia to more than 550 tonnes. Qatar Airways CEO Akbar Al Baker stated: "We will also be transporting goods to other countries around the world, to meet the demand for Australian products, further supporting the local export industry". Qatar Airways Cargo is also utilising passenger aircraft to add capacity of 2120 to 2535 tonnes to India, and within the region to both Kuwait and Muscat.
---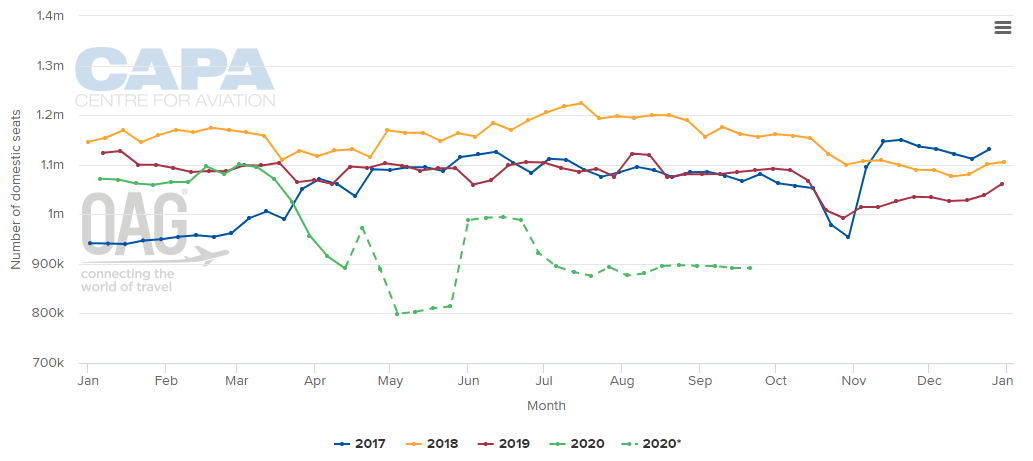 CAPACITY SNAPSHOT: Middle East Domestic Seats (as at 06-Apr-2020)Source: CAPA – Centre for Aviation and OAG (NOTE: *These values are at least partly predictive up to 6 months ahead and may be subject to change)
---
News Briefs
Gulf Air has confirmed that in accordance with new regulations issued by Bahrain's Civil Aviation Authority, transit passengers are now permitted through Bahrain International Airport, however arrivals into Bahrain remain restricted to nationals and residents.
Lebanon's Government has closed Beirut Rafic Hariri International Airport to private and commercial passenger operations until 12-Apr-2020 due to coronavirus concerns. The airport will continue operations for military, air ambulance, cargo, diplomatic, international organisations and oil and gas drilling workers.
Development work at Iran's Abadan Airport is set for completion within the next year. Director Parvaneh Sohrabi has said completion of construction and the equipping of the airport's new terminal should be completed within the next 12 months. Mr Soharabi reported the terminal's construction is currently 70% complete.
The European Commission has approved the creation of a JV between Lagardère Travel Retail and BTA Havalimanlari Yiyecek Ve Icecek Hizmetleri in Jordan. The business will offer F&B services and travel retail concession services at Jordanian airports, specifically Amman Queen Alia International Airport, and elsewhere in the Middle East.
---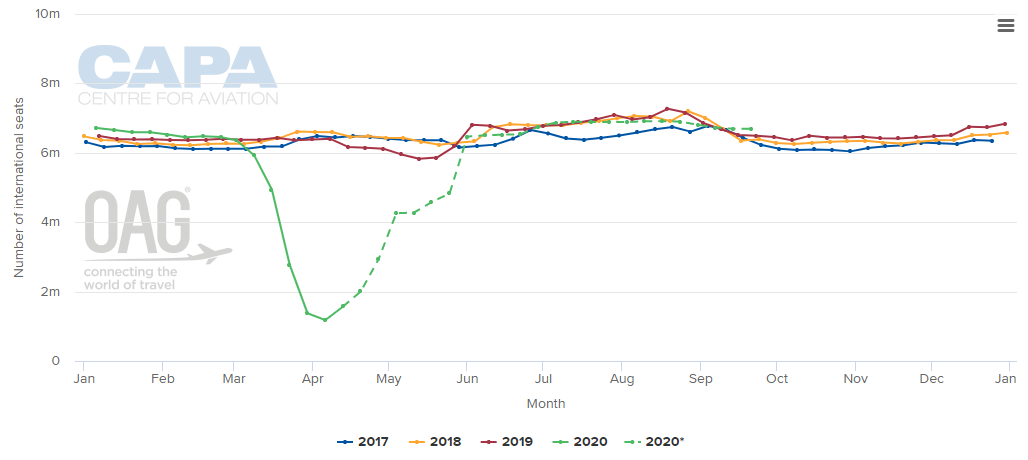 CAPACITY SNAPSHOT: Middle East International Seats (as at 06-Apr-2020)Source: CAPA – Centre for Aviation and OAG (NOTE: *These values are at least partly predictive up to 6 months ahead and may be subject to change)
---
Route Updates
Etihad Airways has scheduled the resumption of a range of routes serving destinations across Asia, Europe, North America and the Pacific from late Apr-2020. Within the Middle East these include twice daily Abu Dhabi-Bahrain, using an A320, and daily Abu Dhabi-Muscat, also with an A320 from 22-Apr-2020.
British Airways has outlined planned resumption of flights into some destinations across the Middle East during Apr-2020. These comprise London Heathrow-Doha (seven times weekly, resuming on 18-Apr-2020 with 787-9); London Heathrow-Dubai (seven times weekly, resuming on 25-Apr-2020 with A350-1000); and London Heathrow-Kuwait City (operating on alternate days, resuming on 14-Apr-2020 with 777-200ER).
Kenya's Civil Aviation Authority (KCAA) has reportedly rejected an outstanding licence application from Air Arabia to operate a Sharjah-Nairobi charter service, according to East African news reports.