Our regular round-up delivers some of the latest key aviation and travel news stories from across the region.
---
SPECIAL NOTE: Coronavirus
The Covid-19 outbreak has significantly impacted air service to, from and within the Middle East. Initially, this was on services into China and parts of Asia, more recently into Italy and wider across Europe, and latterly within the region as an increasing number of cases have been recorded.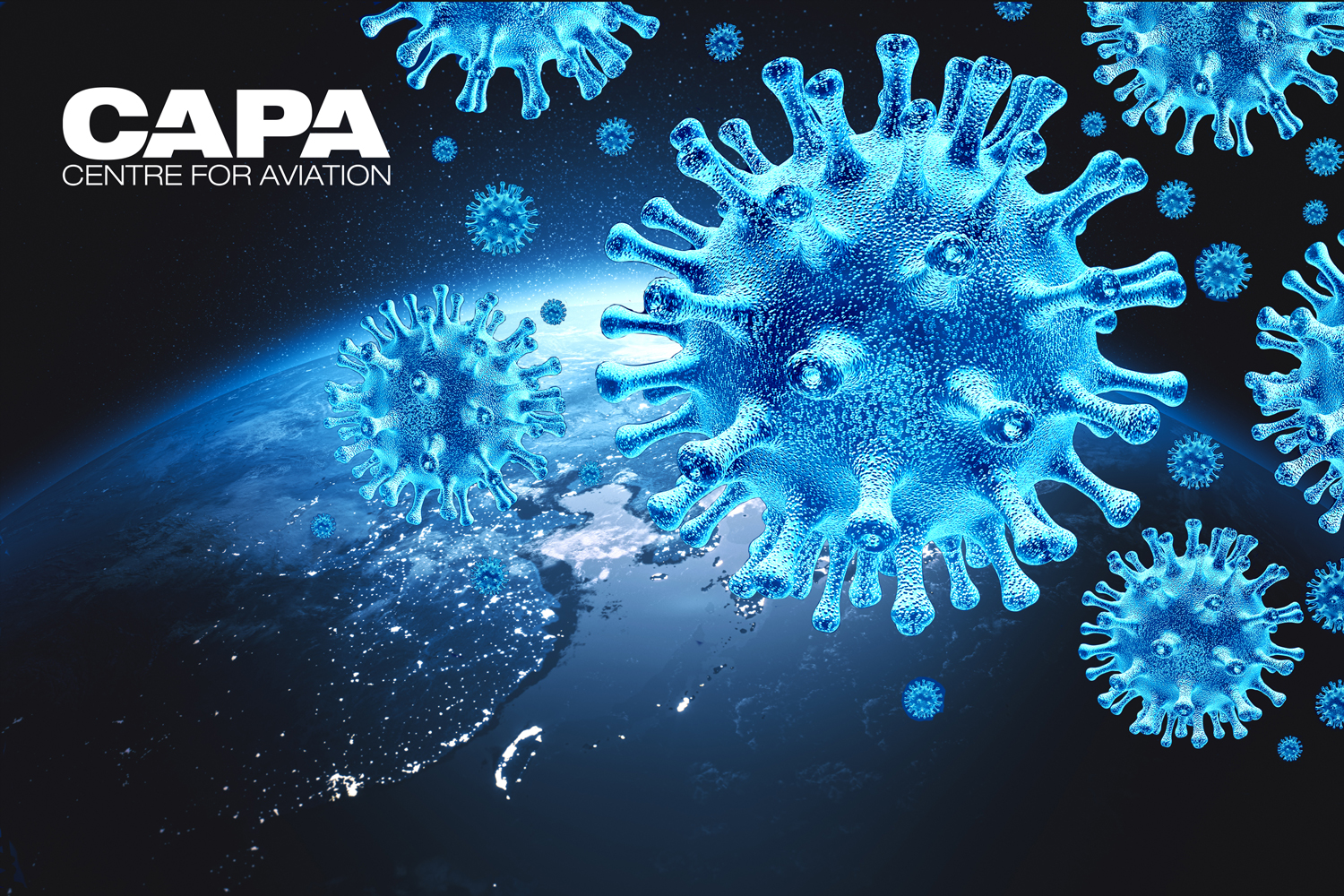 This has seen restrictions on arrivals, and cancellations of numerous flights across the region. This is a fluid situation that is changing by the day. To keep up to date on the devastating effect of the virus on the aviation and supporting industries, read this new essential daily update from CAPA – Centre for Aviation, which curates intelligence from the World Health Organisation (WHO) and myriad industry sources. Its mission is to help cut through the noise and provide a useful daily snapshot of the COVID-19 outbreak evolution, together with key industry developments.
---
Air Arabia Abu Dhabi receives Air Operating Certificate
Air Arabia Abu Dhabi announced it received its Air Operating Certificate (AOC), permitting it to start operating from Abu Dhabi as the fifth UAE national airline. The LCC has been granted the reservation code 3L by IATA. Etihad Aviation Group CEO Tony Douglas stated: "Air Arabia Abu Dhabi will ideally serve those who wish to explore new destinations from the capital, meeting the growing demand for low cost travel in the region and complementing Etihad's own global network". Air Arabia Abu Dhabi will continue to work closely with the UAE's General Civil Aviation Authority to finalise the launch date as market conditions improve and skies open up. Meanwhile, Wizz Air CEO József Váradi has revealed plans to launch Wizz Air Abu Dhabi ahead of schedule and scale up the project. Mr Váradi said: "We are bringing a niche that does not really exist at this point in time. We'll be stimulating the marketplace and that feeds into the strategic objectives of Abu Dhabi". As previously reported, Wizz Air Abu Dhabi was to launch operations at Abu Dhabi International Airport in autumn 2020.
---
Oman studies possibility of resuming commercial air operations
Oman's Undersecretary at the Ministry of Health Mohammed bin Saif al Hosani stated the country is studying the possibility of resuming commercial air operations, though "no recommendations have been made". As previously reported, all domestic and international services to and from Oman's airports were cancelled from 29-Mar-2020 as a precautionary measure against the coronavirus outbreak.
---
Emirates Airline dips into cash reserves to accelerate refund processing
Emirates Airline announced it has restructured its backend procedures and boosted resourcing to accelerate the processing of refunds for travel disruptions caused by the coronavirus pandemic. The carrier is preparing to process up to 150,000 refund requests per month, compared to the 35,000 requests it processed pre-pandemic. Emirates Airline president Tim Clark said the airline is doing its "best to speed things up" and is "dipping" into its cash reserves to process refunds. The airline aims to clear its current backlog by early Aug-2020.
---
IATA predicts Middle East carriers will lose USD24 billion in revenue due to coronavirus crisis
IATA renewed its call for governments in the Middle East to provide financial relief to airlines as the latest IATA scenario for potential revenue loss by carriers reached USD24 billion for the Middle East, USD5 billion more than what was expected at the beginning of Apr-2020. Job losses in aviation and related industries is expected to reach 1.2 million, which is half of the region's 2.4 million aviation related employment. Passenger traffic is expected to drop by 51% year-on-year in 2020, and GDP supported by aviation in the region could fall by USD66 billion from USD130 billion.
---
Qatar Airways has returned more than one million passengers amid coronavirus crisis
Qatar Airways announced it has repatriated more than one million passengers on scheduled and unscheduled services since mid Feb-2020. The carrier has carried more than 45,000 passengers to France, 70,000 to Germany and more than 100,000 to the UK. The airline has operated more than 90 non scheduled private flights to transport more than 26,000 passengers stranded abroad to their countries. The carrier is currently operating 60 scheduled services per day to 40 destinations.
---
Emirates SkyCargo reports growth in 'Emirates Delivers' service in Mar/Apr-2020
Emirates SkyCargo reported the 'Emirates Delivers' e-commerce delivery platform experienced "strong reception" by UAE customers in Mar/Apr-2020. Membership and orders increased since Mar-2020 and the number of shipments delivered increased 20% month-on-month. The product enables the consolidation of purchases from multiple online retailers in the US into a single package for delivery to an address in the UAE.
---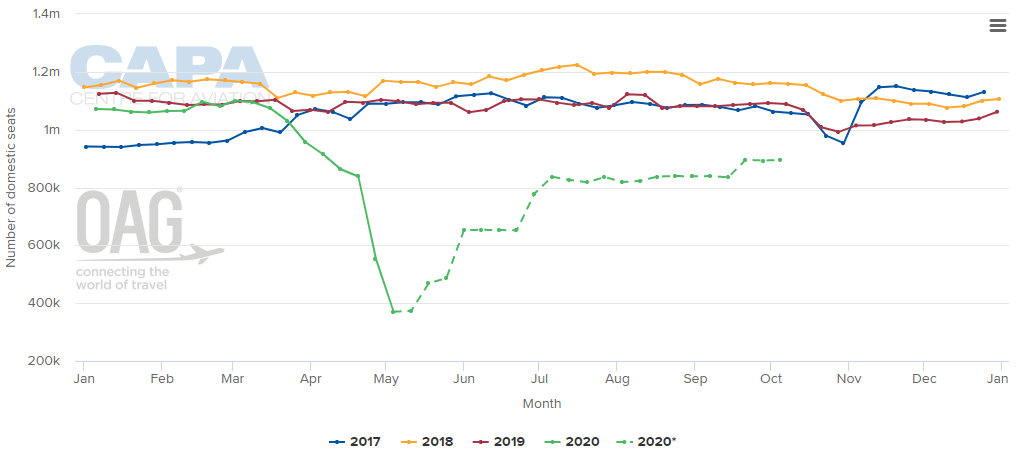 CAPACITY SNAPSHOT: Middle East Domestic Seats (as at 27-Apr-2020)Source: CAPA – Centre for Aviation and OAG (NOTE: *These values are at least partly predictive up to 6 months ahead and may be subject to change)
---
News Briefs
Saudi Arabia's Minister of Tourism Ahmed al-Khateeb has warned the country's fledgling tourism sector could see a 35% to 45% decline in 2020 due to the coronavirus outbreak.
Lamerd Airport inaugurated a 5,500 square metre passenger terminal on 23-Apr-2020. The Iranian regional airport is located city in Lamerd County, Fars Province, the historical homeland of the Persian people.
Normal operations have recommenced at terminal 1 at Tehran Mehrabad Airport, local media have reported. The airport closed the terminal on 18-Mar-2020, due to coronavirus impacts on operations.
---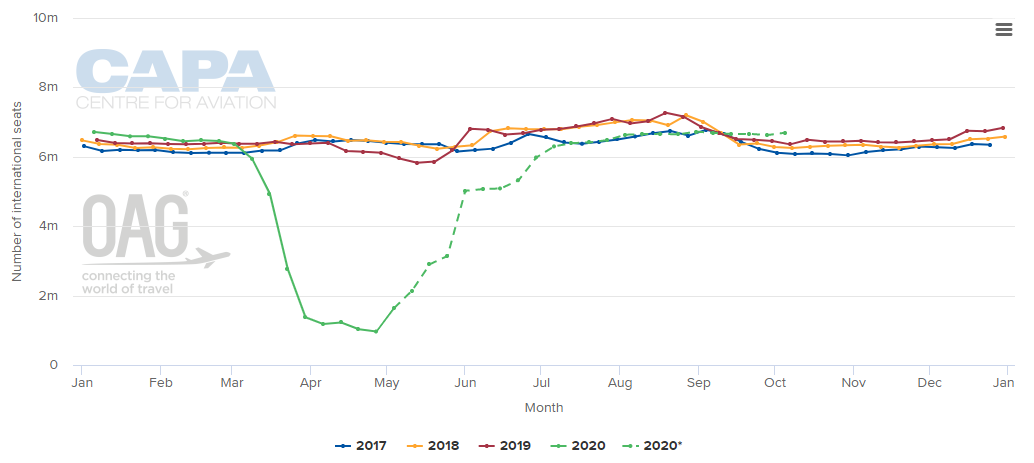 CAPACITY SNAPSHOT: Middle East International Seats (as at 27-Apr-2020)Source: CAPA – Centre for Aviation and OAG (NOTE: *These values are at least partly predictive up to 6 months ahead and may be subject to change)
---
Route Updates
Emirates Airline has delayed the resumption of regular passenger services until Jul-2020, with the suspension of all reservations between 15-May-2020 and 30-Jun-2020.
Etihad Airways has a revised its resumption date for regular passenger services, pushing it back from 01-May-2020 to 16-May-2020. The carrier will continue to operate repatriation flights until 15-May-2020 on selected routes.
TAROM reportedly plans to resume select domestic and international services from 01-May-2020, including flights into the Middle East region. These tentatively include to Amman and Tel Aviv from Jun-2020 and to Beirut and Cairo from Jul-2020.
**NOTE: all these route plans are based on provisional schedule filings and are tentative, speculative and subject to change**