Our regular round-up delivers some of the latest key aviation and travel news stories from across the region.
---
SPECIAL NOTE: Coronavirus
The Covid-19 outbreak has significantly impacted air service to, from and within the Middle East. Initially, this was on services into China and parts of Asia, more recently into Italy and wider across Europe, and latterly within the region as an increasing number of cases have been recorded.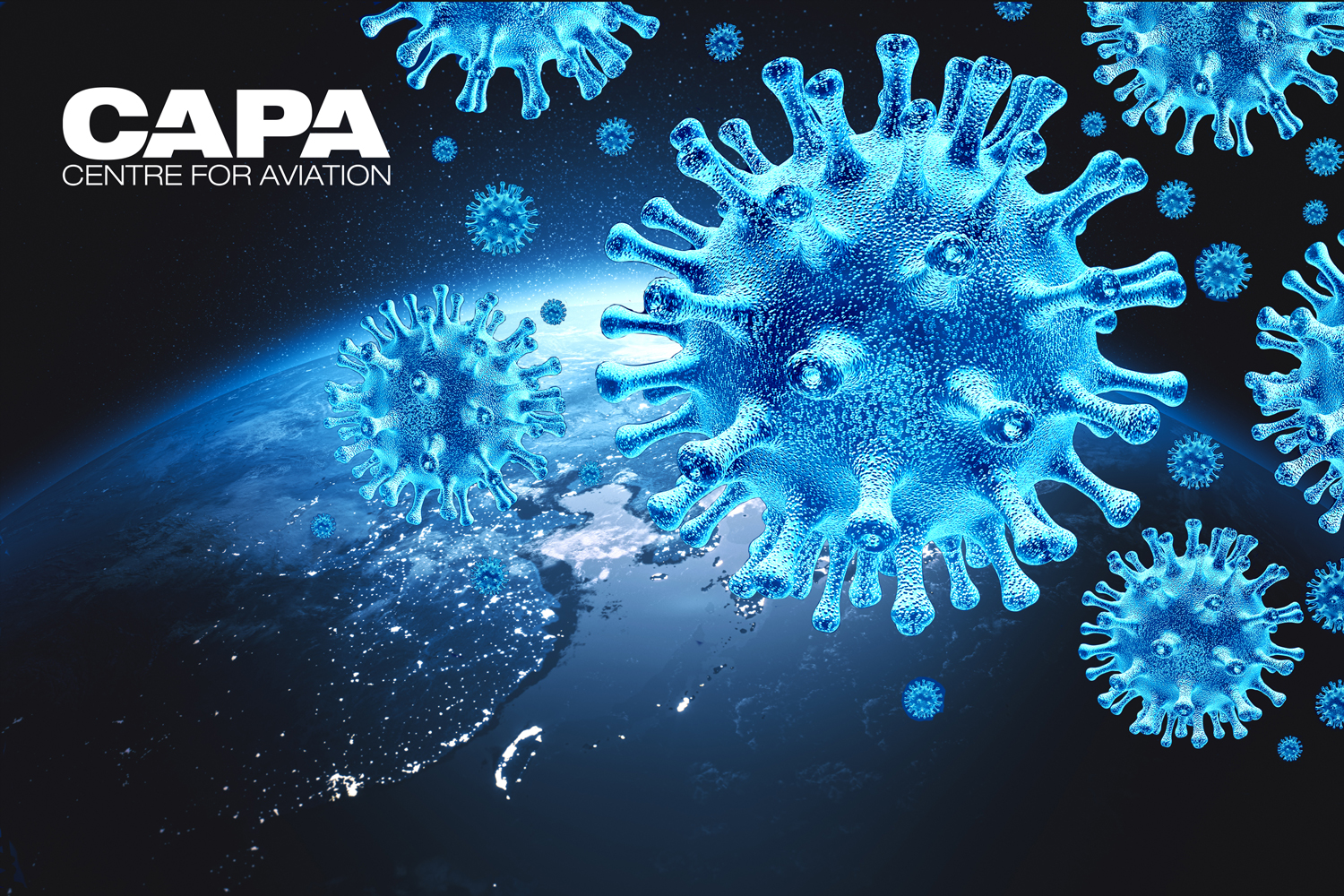 This has seen restrictions on arrivals, and cancellations of numerous flights across the region. This is a fluid situation that is changing by the day. To keep up to date on the devastating effect of the virus on the aviation and supporting industries, read this new essential daily update from CAPA – Centre for Aviation, which curates intelligence from the World Health Organisation (WHO) and myriad industry sources. Its mission is to help cut through the noise and provide a useful daily snapshot of the COVID-19 outbreak evolution, together with key industry developments.
---
Emirates boosted profits by a fifth in FY2019/20, while revenues declined 6%
Emirates Airline reported that despite continued strong competitive pressure and the unfavourable currency impact, the carrier recorded a profit of AED1.1 billion (USD299.5 million) for the financial year ended 31-Mar-2020, up 21% year-on-year, and a profit margin of 1.1%. The carrier stated its Mar-2020 results were "severely impacted" by the suspension of operations due to the coronavirus pandemic and its "profits for the month were more than AED1.5 billion (USD408.4 million) worse than expected". The airline reported total revenue declined 6% year-on-year to AED91 billion (USD24.8 billion). Transport revenue, which forms almost 96% of the carrier's revenue decreased by 5.2% to AED87.3 billion (USD23.8 billion). The reduction in both passenger and cargo revenue was primarily due to geopolitical instability in key markets throughout the year, runway closure and the weakening of global currencies against the US dollar. Furthermore, the outbreak of coronavirus in Q4FY2019/20, lost the carrier AED3.4 billion (USD925.7 million) in revenues in Mar-2020 alone.
---
Jazeera Airways CEO: We can sustain operations for at least 25-27 months
Jazeera Airways CEO Rohit Ramachandran stated "at current cash bond rates" the airline can sustain operations without financial support from Kuwait's government "for at least 25-27 months". Mr Ramachandran added: "Due to our strong balance sheet we have several uncapped lines of credit with many banks, which if we wish to at some point we can certainly draw down upon".
---
Qatar Airways Cargo launches Vietnam-France 'air bridge' operation
Qatar Airways Cargo has launched an 'air bridge' operation between Vietnam and France for customer Bollore Logistics. The airline will operate 11 services from Hanoi with Boeing 777F equipment during May-2020 and four times weekly cargo only service from Ho Chi Minh City with 777-300ER until Jun-2020. The carrier expects to transport more then 2000 tonnes of medical supplies to France. The services will be in addition to Qatar Airways Cargo's existing 10 times weekly freighter service from Vietnam.
---
Emirates president: Coronavirus pandemic 'devastating' for airline business
Emirates Airline president Tim Clark described the impact of the coronavirus pandemic on the airline industry as "hugely serious" and "devastating for the business" in an interview with The National. He added: "I don't see any way forward at the moment". Sir Tim predicted demand for air travel will be "tempered in many respects" for the next year or two. He forecast: "What emerges from this will be in my view almost perhaps 20 or 30 per cent less than what we were experiencing prior to the coronavirus kicking in". Sir Tim added: "One thing is for sure, the network carriers, and to an extent the domestic carriers, are all having a major rethink as to what is likely to happen".
---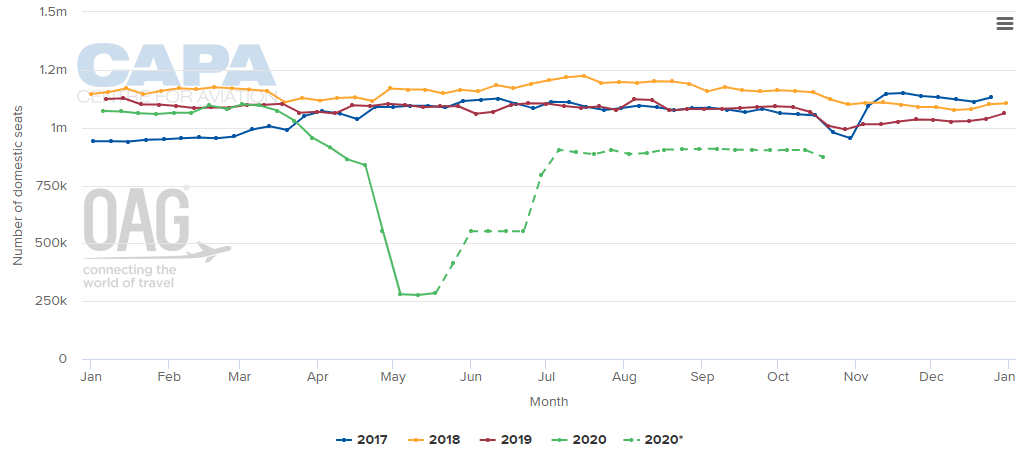 CAPACITY SNAPSHOT: Middle East Domestic Seats (as at 11-May-2020)Source: CAPA – Centre for Aviation and OAG (NOTE: *These values are at least partly predictive up to 6 months ahead and may be subject to change)
---
News Briefs
Iran has confirmed airlines are now free to operate services to Kish Island, once they secure a permit from the country's Civil Aviation Organization. Air traffic to Kish Island has been suspended since 18-Mar-2020 as a precautionary measure against the spread of coronavirus.
Qatar Planning and Statistics Authority reported that visitor arrivals to Qatar were down -7.1% year-on-year in 1Q2020, while air arrivals down -15.8%.
dnata plans to review operations in Australia following an exemption from the nation's JobKeeper scheme. The scheme involves the provision of government funds for domestically owned businesses to pay personnel during the coronavirus.
---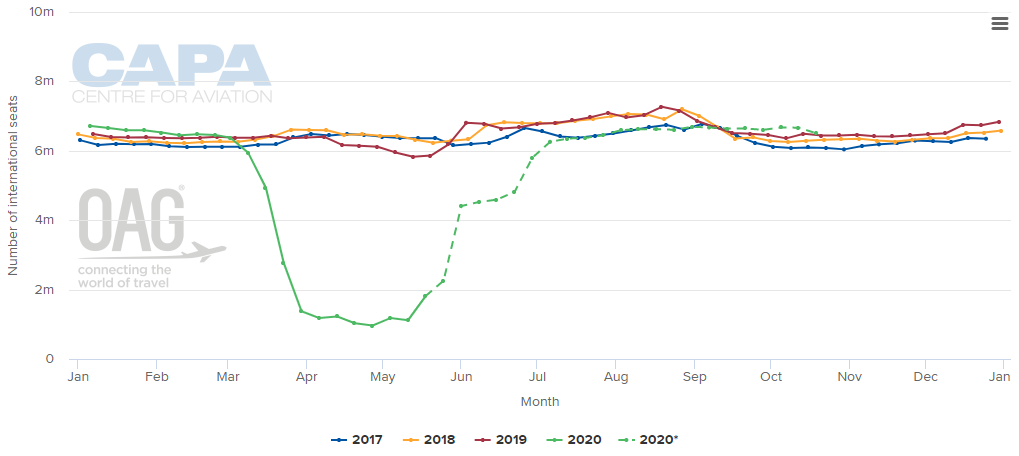 CAPACITY SNAPSHOT: Middle East International Seats (as at 11-May-2020)Source: CAPA – Centre for Aviation and OAG (NOTE: *These values are at least partly predictive up to 6 months ahead and may be subject to change)
---
Route Updates
flydubai plans to recommence the sale of tickets for services to India and Pakistan from 21-May-2020, according to local reports.
Air Serbia plans to resume limited scheduled passenger services from 18-May-2020, increasing to a comprehensive schedule from 01-Jun-2020, subject to travel restrictions. Among its planned routes will be Belgrade – Tel Aviv, but flights to Amman, Beirut and Cairo will not be operated.
Qatar Airways plans to operate five times weekly Doha-Sao Paulo Guarulhos service from 01-Jun-2020, increasing to daily frequency from 01-Jul-2020. The airline will operate the service with Boeing 777-200LR equipment.
Iran Air plans to commence Tehran Mehrabad-Rasht service on 12-May-2020.
Air Arabia has opened bookings for services to destinations including Mumbai, Delhi, Trivandrum, Karachi, Peshawar, Dhaka, Colombo, Beirut, Cairo, Jeddah, Riyadh, Moscow and Vienna, effective 01-Jun-2020, according to media reports.
**NOTE: all these route plans are based on provisional schedule filings and are tentative, speculative and subject to change**