Our regular round-up delivers some of the latest key aviation and travel news stories from across the region.
---
SPECIAL NOTE: Coronavirus
The Covid-19 outbreak has significantly impacted air service to, from and within the Middle East. Initially, this was on services into China and parts of Asia, more recently into Italy and wider across Europe, and latterly within the region as an increasing number of cases have been recorded.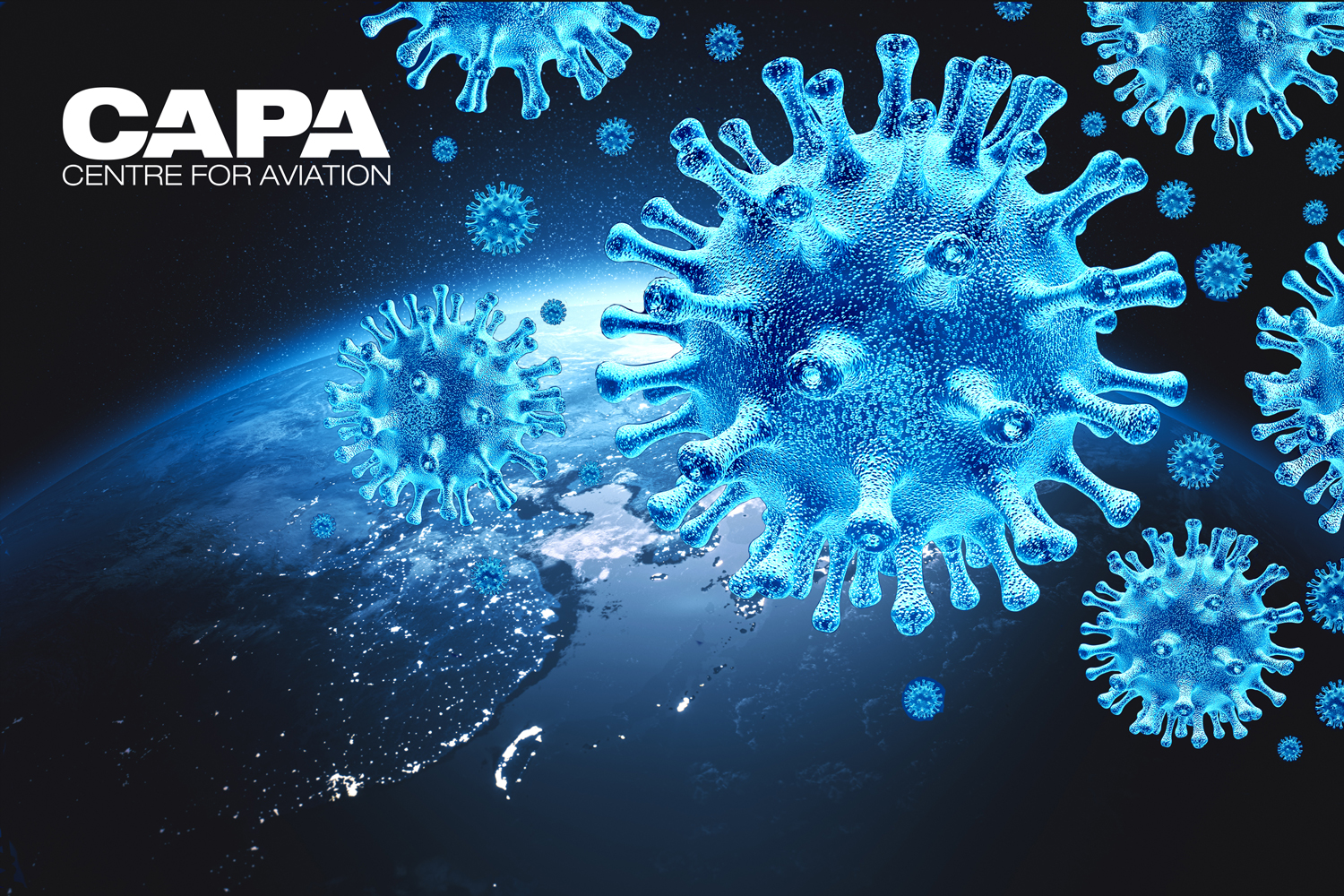 This has seen restrictions on arrivals, and cancellations of numerous flights across the region. This is a fluid situation that is changing by the day. To keep up to date on the devastating effect of the virus on the aviation and supporting industries, read this essential update from CAPA – Centre for Aviation, which curates intelligence from the World Health Organisation (WHO) and myriad industry sources. Its mission is to help cut through the noise and provide a useful daily snapshot of the COVID-19 outbreak evolution, together with key industry developments.
---
Emirates Airline 'is not getting rid' of A380 fleet, although many will be grounded until 2022
Emirates Airline president Tim Clark stated the carrier is "not getting rid of" its A380 fleet, although many will remain in "long term storage" until 2022 in an interview highlighted in the Financial Times. Sir Tim projected in 2022 "there will be a place" for the A380 "in the Emirates international network on the scale" it had before, and it will be "extremely popular". According to Sir Tim, Emirates plans to fully deploy all its aircraft in summer 2022 based on its outlook for a recovery in air travel to take up to two years.
---
Doha Hamad International Airport installs ultraviolet disinfection luggage tunnels
Doha Hamad International Airport has implemented ultraviolet disinfection luggage tunnels to be used for all checked in luggage as part of a series of initiatives. The major hub has introduced disinfectant robots, which are fully autonomous mobile devices emitting concentrated UV-C light, which are known to be effective in eliminating majority of infectious microorganisms. The robots are being deployed in vulnerable high passenger flow areas to reduce the spread of pathogens. The airport will also conduct regular disinfection of all baggage trolleys and tubs and continue to conduct thermal screening and disinfection procedures for all staff and passengers. Travellers at the airport will be screened using a wearable intelligent helmet, which enables contactless temperature measurement using infrared thermal imaging, artificial intelligence and AR (augmented reality) display.
---
Qatar Airways implements first phase of strategic partnership with American Airlines
Qatar Airways commenced the first phase of its strategic partnership with American Airlines and began the rollout of its code on more than 1000 American Airlines US domestic flights that connect with Qatar's 10 US gateways. The rollout will be implemented during the next few weeks, and will allow Qatar Airways passengers to book flights with American Airlines for domestic services via Chicago O'Hare and Dallas Fort Worth to 200 cities, including Miami, Houston, Atlanta, Detroit, Minneapolis St Paul, Seattle and San Francisco. Subject to government approval, the partnership will be expanded to allow Qatar to codeshare on American's services to Latin America/Caribbean and Europe. Both airlines also continue to consider the opportunity for American Airlines to codeshare with Qatar Airways between the US and Qatar and beyond to Middle Eastern, African and Asian countries.
---
Dubai Airports CEO forecasts 'hockey stick-like' traffic resumption once medical confidence resumes
Dubai Airports CEO Paul Griffiths forecast airport traffic will resume in a "hockey stick-like" manner due to compounding demand. In an interview with Bloomberg, Mr Grifffiths said: "Until there is the sort of proven level of confidence medically that people can safely travel without fear of contracting or spreading the virus, unfortunately, the situation we find ourselves in will likely continue for some time". Mr Griffiths forecast the return of pre-coronavirus traffic demands could take two years. An ongoing resizing of airport infrastructure at Dubai International Airport remains in process. Mr Griffiths explained: "We're still trying to find that sweet spot between cost control and still being able to function and be ready for the recovery".
---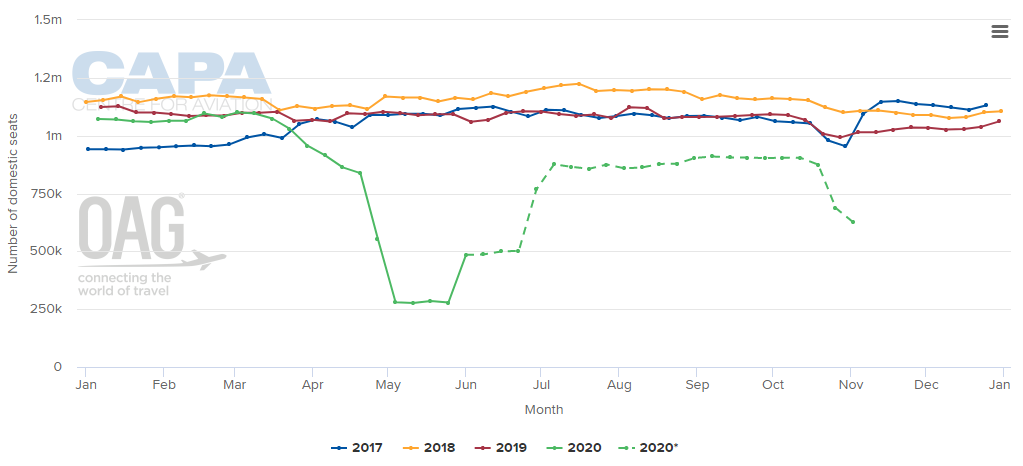 CAPACITY SNAPSHOT: Middle East Domestic Seats (as at 25-May-2020)Source: CAPA – Centre for Aviation and OAG (NOTE: *These values are at least partly predictive up to 6 months ahead and may be subject to change)
---
News Briefs
Saudia moved its operations at Paris Charles de Gaulle Airport to terminal 2E, effective 25-May-2020. This follows the airport's decision to concentrate all international services in a single terminal given the current low level of traffic linked to the coronavirus crisis.
Qatar Airways has returned five of the seven A350-900s (A7-AMA, A7-AMB, A7-AQA, A7-AQB and A7-AQC) it had leased from LATAM Airlines Brasil.
---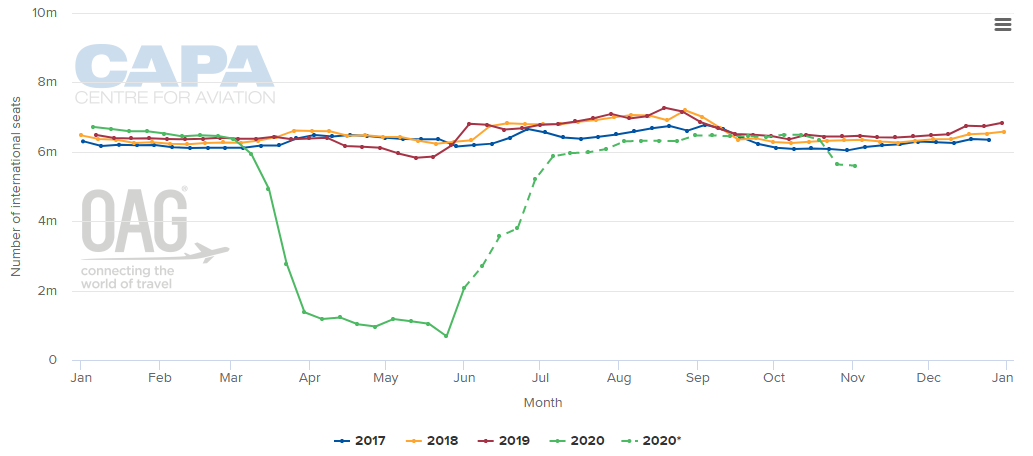 CAPACITY SNAPSHOT: Middle East International Seats (as at 25-May-2020)Source: CAPA – Centre for Aviation and OAG (NOTE: *These values are at least partly predictive up to 6 months ahead and may be subject to change)
---
Route Updates
flynas has suspended plans to launch three times weekly Qassim-Sarajevo service in May-2020. The carrier will also not be resuming its seasonal Jeddah-Sarajevo service in summer 2020, but is still currently scheduled to resume Riyadh-Sarajevo service from 15-Jun-2020.
Kuwait Airways closed all reservations for Kuwait-New York JFK service for the rest of 2020, effective 21-May-2020, reports Routes Online. The airline's scheduled for 2021 remains pending.
**NOTE: all these route plans are based on provisional schedule filings and are tentative, speculative and subject to change**