Our regular round-up delivers some of the latest key aviation and travel news stories from across the region.
---
SPECIAL NOTE: Coronavirus
The Covid-19 outbreak has significantly impacted air service to, from and within the Middle East. Initially, this was on services into China and parts of Asia, more recently into Italy and wider across Europe, and latterly within the region as an increasing number of cases have been recorded.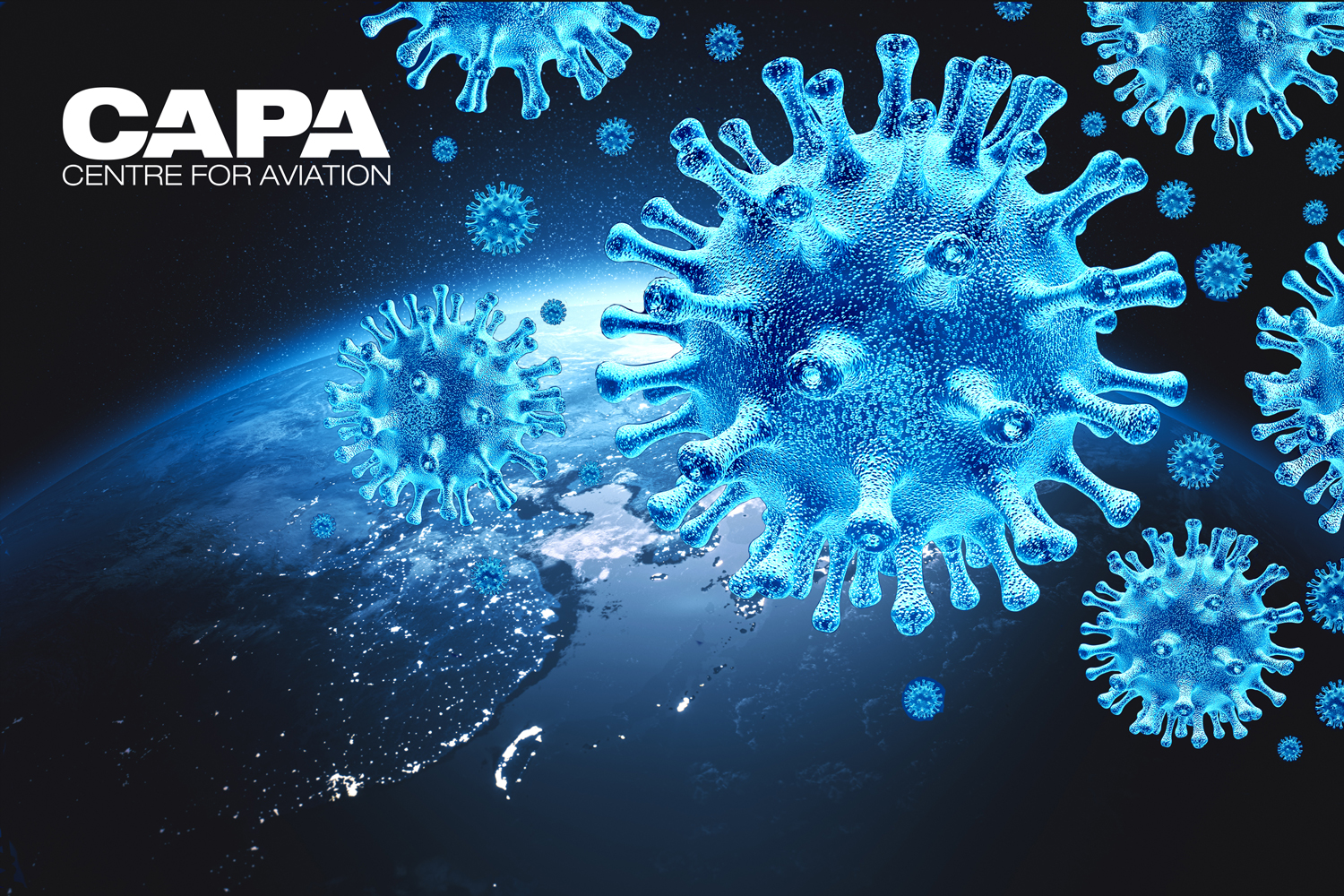 This has seen restrictions on arrivals, and cancellations of numerous flights across the region. This is a fluid situation that is changing by the day. To keep up to date on the devastating effect of the virus on the aviation and supporting industries, read this essential update from CAPA – Centre for Aviation, which curates intelligence from the World Health Organisation (WHO) and myriad industry sources. Its mission is to help cut through the noise and provide a useful daily snapshot of the COVID-19 outbreak evolution, together with key industry developments.
---
Dubai to permit entry of foreign visitors from 07-Jul-2020
Dubai's Government Media Office reported the Supreme Committee of Crisis and Disaster Management will permit the arrival of foreign visitors and tourists into Dubai, effective 07-Jul-2020. Foreign nationals with residency visas may return to Dubai from 22-Jun-2020, while citizens and residents are permitted to travel to any foreign country from 23-Jun-2020, subject to travel regulations of each country. Requirements include mandatory international health insurance, COVID-19 test and completed health declaration form for tourists, and PCR testing for citizens and residents. Airlines may deny boarding if passengers display COVID-19 symptoms.
---
Etihad Guest members can spend miles via new mobile app
Etihad Airways launched a new mobile application which allows UAE based members to spend their miles at selected malls in Abu Dhabi and Al Ain. Etihad Guest members who link their Visa card credentials to the Etihad Guest app can automatically earn and spend miles using 'Miles on the Go' technology in all stores in Yas Mall, World Trade Center Abu Dhabi Mall and Al Jimi Mall. UAE based members who link their Visa card will earn one Etihad Guest Mile and one Tier Mile for every AED3 (USD0.82) spent plus additional mall benefits will be added in the near future.
---
marhaba expands offering to include home check-in and baggage disinfection services
dnata announced marhaba, its airport hospitality brand, expanded its passenger service offering to include home check-in and baggage disinfection services. Travellers will be able to complete the flight check-in process at any location in Dubai, up to 24 hours before their flight, via the home check-in services delivered by its sister company, DUBZ. The company will also ensure baggage is treated with disinfectant to remove any germs and provide protection from microbes for up to 72 hours.
---
IATA: Middle East airline passenger volume forecast to fall 56% in 2020 due to coronavirus
IATA forecast demand in passenger volumes for the Middle East region will decline 56% year-on-year in 2020 for airlines and 47% for airports. Airlines in the region are expected to post a net loss of USD4.8 billion in 2020 as passenger revenues decline by USD24 billion. Airports in the region are estimated to post a total revenue loss of USD7 billion, down 52%. Job losses in aviation and related industries could reach 1.2 million and GDP supported by aviation could fall by USD66 billion. Before the COVID-19 crisis, aviation supported 2.4 million jobs in the region and generated USD130 billion in GDP.
---
Qatar Airways will not take new aircraft from Boeing or Airbus in 2020 and 2021: CEO
Qatar Airways CEO Akbar Al Baker stated the carrier will not receive any new aircraft from Boeing or Airbus in 2020 and 2021. Mr Al Baker stated: "All the other aircraft that we have on order that were supposed to be delivered to us within the next two or three years will now be pushed back to as long as nearly eight to 10 years". Mr Al Baker said the carrier no longer requires its firm order for 30 737 MAXs, and it will have to replace them with another type of aircraft. Mr Al Baker added if aircraft manufacturers do not comply with the airline's requirements then Qatar will "have to review our long term business relationships with them".
---
Dubai Airports CEO: 'Future airports will become intermodal hubs'
Dubai Airports CEO Paul Griffiths forecast: "Future airports will become intermodal hubs - connecting aviation with high-speed ground-based transport systems". Mr Griffiths said: "the need to build larger and larger airports could be eliminated if we could turn the model on its head, by distributing the demand across a wider geographic area instead of concentrating demand... into single highly-congested airports". Mr Griffiths explained implementing this would see politicians thinking beyond four year terms in office in order to develop long term intermodal strategies.
---
CAPACITY SNAPSHOT: Middle East Domestic Seats (as at 22-Jun-2020)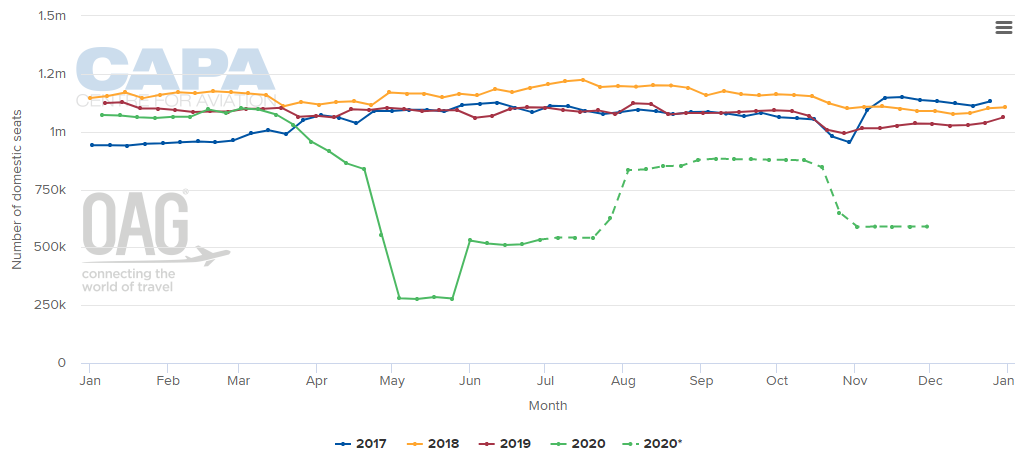 Source: CAPA – Centre for Aviation and OAG (NOTE: *These values are at least partly predictive up to 6 months ahead and may be subject to change)
---
News Briefs
Saudi Arabia's Ministry of Interior has announced the lifting of curfew and the resumption of all economic and commercial activities from 21-Jun-2020, as well as the continued suspension of international services through land and maritime borders until further notice.
Etihad Airways signed a new partnership with Aldar Properties allowing Etihad Guest members to earn and spend miles with their Visa cards while shopping at Yas Mall, Al Jimi Mall and World Trade Center. Members will earn one Etihad Guest Mile for every AED3 (USD0.82) spent on purchases with their Visa cards over AED50 (USD13.61), or can choose to spend their miles for transactions over AED50. Members can also earn Tier Miles towards their next tier on both earn and spend transactions within the three malls.
Lebanon's Office of the Prime Minister reported Beirut Rafic Hariri International Airport will recommence private operations from 24-Jun-2020 and commercial operations on 01-Jul-2020. Traffic will initially operate at 10% of capacity compared to 2019.
Abu Dhabi Airports Company (ADAC) partnered with Meta Touch to deploy 'Tchk', a touchless keypad technology for the 53 elevators at Abu Dhabi International Airport.
---
CAPACITY SNAPSHOT: Middle East International Seats (as at 22-Jun-2020)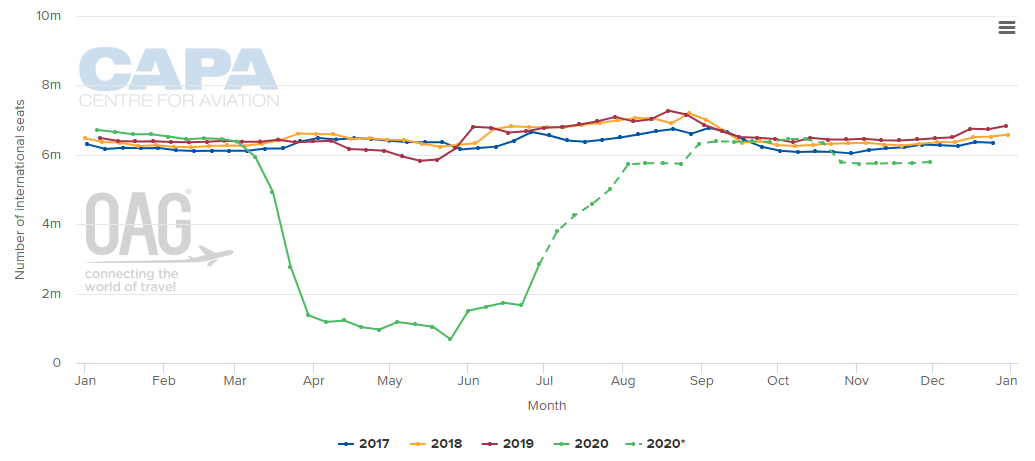 Source: CAPA – Centre for Aviation and OAG (NOTE: *These values are at least partly predictive up to 6 months ahead and may be subject to change)
---
Route Updates
Iran Air plans to operate weekly Tehran Imam Khomeini-Manchester service from 05-Jul-2020, with A330 equipment.
Etihad Airways plans to resume twice weekly Abu Dhabi-Athens service, effective 24-Jun-2020. The carrier plans to operate the route with Boeing 787-9 equipment.
Emirates Airline, Air Arabia and flydubai have each applied to the Civil Aviation Authority of Bangladesh (CAAB) to resume scheduled operations to Dhaka. The regulator is currently assessing the requests. It has already permitted Qatar Airways to resume international operations.
Tajikistan's Government reportedly approved the resumption of services connecting Dushanbe to Dubai from 01-Jul-2020.
Pouya Air announced plans to commence weekly Yazd-Tabriz service with Embraer ERJ145 equipment on 21-Jun-2020.
FlyBosnia plans to resume services to the Middle East in early Jul-2020. These include twice weekly Sarajevo-Jeddah, Sarajevo-Kuwait, and Sarajevo-Qassim, plus three times weekly Sarajevo-Riyadh.