Might another Asian oneworld airline be looking at Helsinki?
Cathay Pacific's recently launched Hong Kong-Copenhagen flight will come under significant pressure as SAS moves its Hong Kong-Stockholm flight to Hong Kong-Copenhagen, creating direct overlap. SAS will fly year-round, offer greater frequency, have operating advantages (using the lighter A330 against Cathay's A350), and critically in a small market like Copenhagen – SAS will have a hub advantage.
This has resulted in some asking whether Cathay should look elsewhere in North Asia and move its Copenhagen service to Helsinki.
Finnair has been growing, but only recently has Finland enjoyed the same popularity
The Finnish capital Helsinki is home to Finnair, which has been rapidly growing in Asia. Whereas, over the past decade, SAS has had between three and four daily flights to Asia, Finnair has grown from having seven daily flights to Asia in 2008 to 13 in 2018.
Finnair and SAS average daily flights to Asia: 2008-2018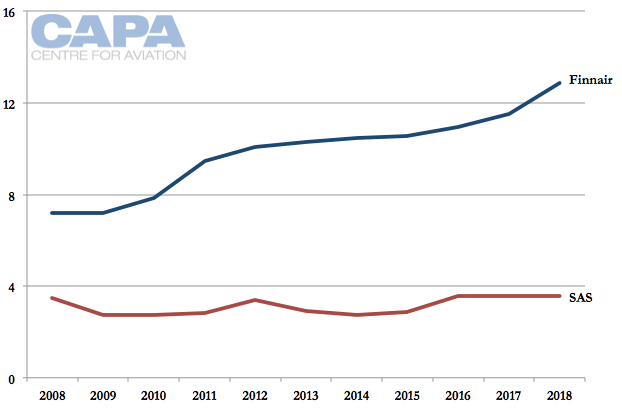 Source: CAPA – Centre for Aviation and OAG
Unlike other European airlines, Finnair is stronger in Asia than North America. This is part of Finnair's strategy to use its geographical position to link Asia with Europe: Helsinki is on, or close to, the travelled greater circle distance for many Asia-Europe city pairs.
Although Finnair has been growing in Asia for some time, Helsinki's appeal has gained attention more recently and more quickly. This is largely the result of Finnair increasing its marketing of its home destination, promoting Finland as a stopover, or even the sole destination. Finnair has also improved its ticketing policies and website interface to encourage stopovers.
Finnair's effort is partially the result of Finland putting pressure on Finnair to increase Finland's economic benefit from the airline's Asia growth; Finland's growth in inbound Asia tourism was far from commensurate with Finnair's Asia growth. Finnair is state-owned yet managed separately – but no airline can ignore government and industry sentiment.
Finland is being well positioned as a place to see; not just for the attractions of Helsinki, but also travel elsewhere for countryside scenic activities, winter outings, viewing the Northern Lights and visiting the "home" of Santa Claus.
What Finnair can do, Cathay cannot easily do
Finnair's Helsinki hub is attracting market share for Europe-Asia travel (although profitability lags). But the fundamentals of the Helsinki hub are different for another airline, even a oneworld carrier. It would probably be too challenging for Cathay Pacific to switch its Copenhagen service to Helsinki.
Elsewhere in Asia, JAL opened a service to Helsinki in Jul-2013. Yet Japan, unlike Hong Kong, is much larger and has long been interested in Finland (especially the local designer Marimekko). The local Japanese market is exceptionally sticky towards a home airline – so they prefer Finnair over JAL.
So far as affects Cathay, Finnair has sufficiently stitched up the local Helsinki market. Cathay would need a partnership to access beyond traffic from Helsinki, which Finnair may be unwilling to supply since it would create competition. These scenarios are often solved through joint ventures.
JAL, Finnair and IAG are part of a Japan-Europe JV. Japan, however, operates air services with high yields, and is characterised by a lack of competition to Europe.
See related report from CAPA - Centre for Aviation: Europe-Japan airline market: anti-competitive JV concerns as 81% of capacity held by three groups
A potential Finnair-Cathay JV could mean that Cathay yields would be weighed down by Finnair's low-yielding traffic – especially in the premium cabins.
There is a silver lining to route failure
If the worst happens and SAS' move from Stockholm-Hong Kong to Copenhagen-Hong Kong means that Cathay exits Copenhagen, there is a silver lining: Cathay has committed to being more agile and dropping its ultra-conservative approach. Copenhagen is one of a number of new long haul destinations Cathay is launching seasonally, which is something it had not done for years (decades, even).
Network planning largely relies on forecasts of how existing traffic has flexibility and inclination to change routing. Predicting traffic stimulation is more difficult, yet is very much at the heart of Asian aviation growth.
There are some early Cathay successes: Barcelona was confirmed to be switched to year-round service before its first seasonal run ended. Cathay's major expansion in Europe did result in the year-round service to Düsseldorf being cancelled (partially, but not solely, because of the collapse of Air Berlin, which had a base at Düsseldorf).
Airlines do carry dead weight on their networks but can take years to pull the plug.
Some destinations do turnaround, but many do not. Emirates President Tim Clark has called on airlines to be less risk-averse in their business planning. Mr Clark's remarks are in the context of ordering the A380, but they can be extended to other areas too.
There is a significant gap between aviation and IT companies in terms of physical capital employed and the ease of moving it, but aviation is looking at how better to follow the IT world's mantra of experimenting and, if needed – failing early.