But a number of high profile airline failures in Europe, including the recent examples of Germania and flybmi are a warning sign and worryingly many believe they will just be among a larger number of airlines that may not make it into the next decade. In Europe's competitive landscape in particular it is a case of the bigger getting bigger and the small failing. Unless a clear strategy or business niche exists, many of the smaller airlines across the continent are anxiously concentrating on their bottom lines in fear of closure of being swallowed by a bigger rival.
It is true that when one airline fails others grow stronger and quickly fill the void, grabbing any successful routes. The market generally corrects itself based on the long-respected laws of supply and demand. The major failures of recent years – airberlin and Monarch Airlines – has seen the major airlines of Europe fill that void and strengthen their power, but there have also been others, such as Primera Air, Small Planet Airlines, Cobalt Air, VLM Airlines, PrivatAir and more.
An analysis of the performance of Europe's top five airlines in 2018 shows they collectively crossed the 50% threshold in their combined share of the region's passenger traffic last year (51.6%) with low ticket prices and an overcapacity put the market under intense financial pressure.
Lufthansa Group has taken the biggest extra slice of the market, growing its share by 1.6pp to an estimated 12.3% in 2018 since 2016, taking it ahead of Ryanair's 12% share, International Consolidated Airlines Group's 9.8%, Air France-KLM with 8.8% and easyJet with 7.7%, according to calculations from Scope Ratings.
CHART - Ryanair is the largest airline brand in Europe and now accounts for almost one in every eleven system seats available from the Continent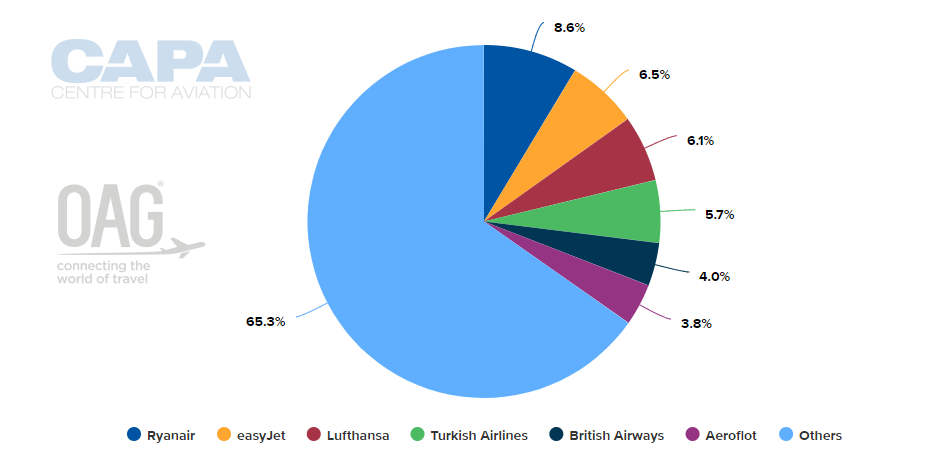 Source: CAPA - Centre for Aviation and OAG (data: w/c 054-Mar-2019)
"There are simply too many cheap seats being sold in the market and too few expensive ones," explains respected observer Dick Forsberg in Avolon's recently published report, entitled 'Buckle Up'. As the title suggests, the leasing company predicts a further moderate decline in profitability in the airline industry along with more failures. While aircraft demand and values will remain robust, it says volatile fuel prices along with other internal and external pressures will continue to hit the industry hard.
Mr Forsberg, Avolon's head of strategy notes that while load factors continue to rise globally, airline profitability remains "highly concentrated", with nearly half being allocated by North American carriers and the numerous airline failures over the last year have indicated "that full planes are not always cause for celebration".
But, while he warns that continued oil price volatility "will leave some less well hedged airlines exposed", he says the industry is large and resilient enough to withstand these failures, which are counterbalanced by as many, if not more, new entrant start-ups.
The Avolon report predicts that while we will see a further moderate decline in profitability, returns will remain above the gradually rising cost of capital, and despite more airline failures, aircraft demand and values will remain robust as capacity is quickly re-absorbed. It predicts that lessor sale and leaseback transactions will gradually return to "more realistic levels" and while anticipated economic headwinds will require "diligent risk management on the part of lessors", attractive opportunities will arise for insurgents with access to liquidity.