---
Summary:
Norwegian's hopes to expand its network east into Asia remain blocked by a decades old agreement between Soviet Union and Norway, Sweden, Denmark;
The 1956 agreement 1956 says only one airline per country may have access to the 'Siberian Corridor', the highly coveted airspace offering the shortest route between Scandinavia and Asia;
Norwegian Air is not alone at looking at long haul flights via the 'Siberian Corridor' to North Asia with Icelandair and WOWair also interested in expanding into the area;
No progress is expected soon with Russia postponing talks until later this year.
---
Norwegian and Russian transport authorities were scheduled to discuss revising the air service agreement in Jun-2018, however Russia has postponed the talks, likely until Nov-2018. Norwegian Transport Minister Ketil Solvik-Olsen commented: "It does not lack the will on our part but they control their airspace. We will do what we can to raise Russia's willingness to allow increased air traffic over Siberia, and those who make the final decision".
It is no doubt North Asia would serve as the perfect extension for Norwegian's low cost long haul network. Japan and South Korea are completely untapped by long haul LCCs meaning there is huge potential for Norwegian Air's services to proliferate.
Norwegian Group CEO Bjørn Kjos has confirmed numerous times the airline would expand its network "immediately" if the rights were sorted. Certainly, Norwegian has the order book to establish a large Europe-Asia operation, with 28 Boeing 787s currently in service, including eight 787-8s and 20 787-9s, according to the CAPA Fleet Database. In addition, the airline group has 26 more 787-9s on order.
With the agreement in place though, Norwegian Group's footprint in Asia remains restricted to only two current destinations: Singapore, operated by Norwegian Air International from London Gatwick; and Bangkok, operated by Norwegian Air Shuttle from Stockholm, Oslo and Copenhagen.
CHART - Services to the Asia Pacific region account for only 0.3% of Norwegian Group's total capacity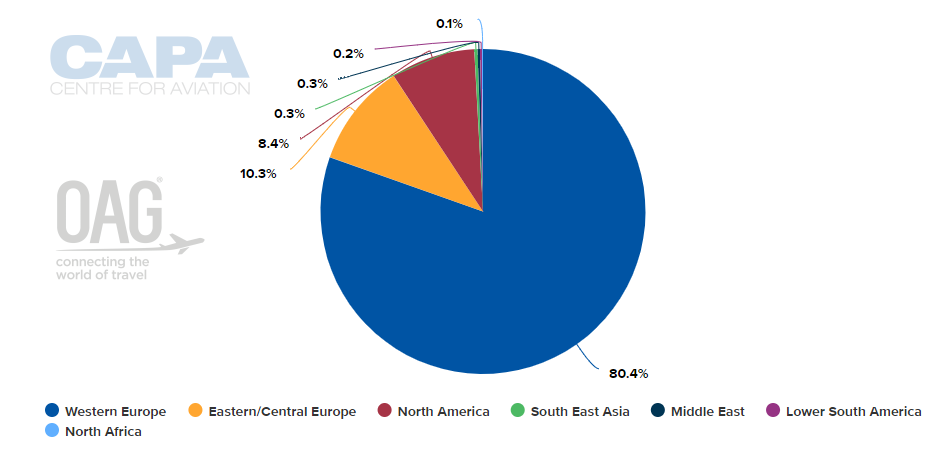 Source: CAPA - Centre for Aviation and OAG (data: w/c 09-Jul-2018)
Norwegian has repeatedly expressed disappointment with Norway's Government for not fighting harder for the traffic rights. The carrier believes the agreement favours SAS, which currently enjoys access to four north east Asian destinations: Hong Kong, Tokyo Narita, Beijing Capital and Shanghai Pudong.
Norwegian communications manager Lasse Sandaker-Nielsen commented: "We are disappointed that Norwegian authorities have not done more to ensure that a Norwegian company has the same rights as a Swedish airline to fly the fastest way to China, South Korea and Japan, and that new Norwegian jobs and value creation in the tourism sector are apparently no higher on the agenda".
A number of other European carriers are battling for similar agreements, including Icelandic carriers Icelandair and WOW air. Both carriers have indicated they wish to operate Asia-North America services via their hub in Reykjavik.
Icelandic Government press officer Sveinn Gudmarsson confirmed negotiations with Russia are ongoing, stating: "The Icelandic government has been in talks with the Russian authorities for authorisation for overtaking Icelandic airlines, but the outcome of those negotiations is not yet available. At the moment it is difficult to tell the continuation of meetings, but the ministry continues to follow the matter".
Unfruitful negotiations with Russia may be the reason why both Icelandic carriers are turning their attention to India. WOW air plans to establish Delhi service in Dec-2018 while Icelandair is considering plans to establish India service in autumn 2019.
Perhaps Norwegian will also turn its attention to the Indian subcontinent as it awaits overflight permits to north east Asia. Norwegian Group CEO Bjørn Kjos has previously indicated the carrier would like to penetrate Asian markets not dependent on Russian airspace, including: Karachi, Lahore, Calcutta and Delhi, stating: "There is no legacy carrier that will be able to offer flights as cheap as us to these regions - that's something I'm absolutely certain of".
For now though it seems Norwegian Air is content to amplify its presence in markets where it is already established, such as Thailand. The carrier recently confirmed plans to launch new services to Krabi from Oslo, Stockholm and Copenhagen in Oct-2018. In addition, Norwegian plans to offer increased frequency on its Bangkok services.