---
Summary:
The Singapore Airlines Group has revised the SilkAir's projected capacity increase for the current fiscal year from +9% to +4%;
SilkAir's ASKs grew by nearly +7% in the fiscal first half but will grow by less than 2% in the second half and will remain relatively flat until the airline merges with SIA;
SilkAir's new inflight products, including lie-flat business class seats and seat-back IFE in both cabins, is slated to debut in 2020.
---
In releasing its FY2018 results in May-2018, SIA announced a SGD100 million cabin product upgrade programme for SilkAir "as part of a a multi-year initiative that will ultimately see it merged into SIA". The group stated at the time that SilkAir planned to grow capacity by +9% in the fiscal year ending 31-Mar-2019 (FY2019).
However, in releasing results this week for the fiscal first half, the group revised SilkAir's capacity growth for FY2019 to only +4%. SilkAir's ASKs grew by +6.6% in 1HFY2019 but will now grow by less than 2% in the fiscal second half.
The carrier is now expected to maintain relatively flat capacity until the merger, which will result in its fleet being transferred to SIA and adopting SIA's livery. The group previously stated this will occur when a "sufficient number of aircraft have been fitted with the new cabin products," which include lie-flat in business and seat-back IFE screens in both cabins.
TABLE - The SilkAir fleet currently consists of 32 aircraft, a mix of Airbus and Boeing short-haul models from an ongoing fleet renewal process

Source: CAPA - Centre for Aviation Fleet Database
According to the CAPA - Centre for Aviation Fleet Database, SilkAir's current fleet consists of 32 aircraft, comprising 17 737-800s, five 737 MAX 8s, eight A320s and two A319s. These are all configured with recliner business seats and IFE streaming without any seat-back monitors.
SilkAir is phasing out its Airbus fleet, a process it started when 737 deliveries began in 2014. The 737 MAX 8 fleet will be retrofitted while most of its 737-800s are now slated to be transferred to SIA Group LCC subsidiary Scoot. The small number of 737-800s that are not transferred will likely be phased out rather than retrofitted.
SIA Group CEO Goh Choon Phong said at the 14-Nov-2018 results briefing that product decisions for the narrowbody fleet have been finalised – including IFE, WiFi and seats. He declined to disclose how many aircraft that will receive the new products but said the first aircraft will be completed in 2020.
SilkAir currently has 32 737 MAX 8s on order, one of which is slated to be delivered this year. It would make sense for SilkAir to halt future deliveries until the new lie flat narrowbody seat is ready in 2020. Under this scenario, SIA will take the remaining 31 737 MAX 8s with lie flat seats already installed while only have to retrofit six aircraft. (Some of the MAX 8s could become 737 MAX 9 or MAX 10s if SIA elects to convert existing orders to larger variants, which would have the space for larger business cabins.)
Mr Goh declined to say if a hiatus in 737 deliveries will be pursued but said the decision to slow growth at SilkAir is a response to market conditions and follows an assessment of demand/supply rather than a desire to minimise the number of retrofits.
The decision to slow growth is not surprising given the intense competition in the intra-Asia market, which has impacted SilkAir's performance. SilkAir's yield dropped -7% in 1HFY2019 as the airline slipped into the red with an operating loss of SGD3 million compared to an operating profit of SGD22 million in 1HFY2018. SilkAir has been profitable for 17 consecutive years, dating back to FY2002.
CHART - SilkAir's ASKs have grown by at least 7% every year since 2010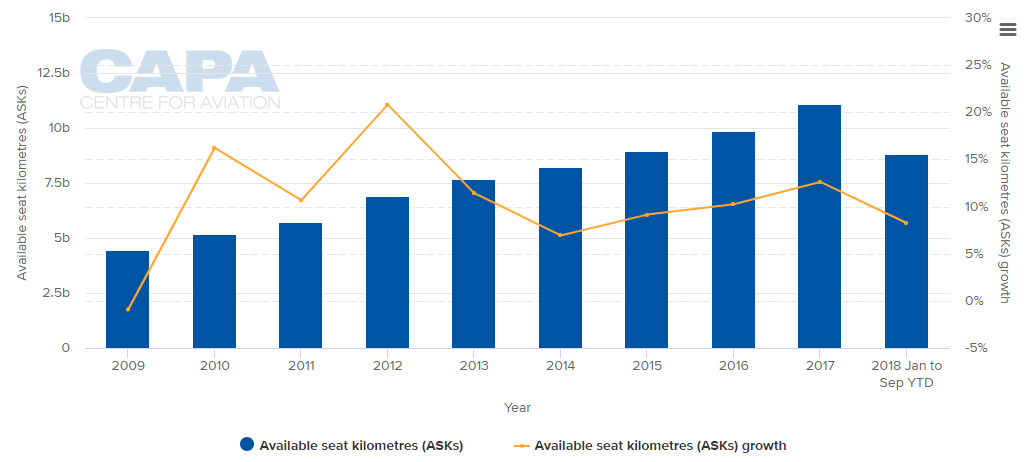 Source: CAPA – Centre for Aviation and company reports.
The decision to halt capacity expansion ends a growth story that started in 2010 and was initially set to continue. SilkAir's ASKs were up only +2.4% in Sep-2018, marking the lowest monthly growth figure in more than four years. The rate of growth will shrink further in the coming months and ASKs will likely be flat in 2019 and 2020 as SilkAir prepares for the product changes and merger.
SilkAir's product will get a needed facelift, significantly improving the group's competitive position. However, growth will very modest as SIA Group's narrowbody full service fleet expands from 32 aircraft currently to 37 aircraft by the time the last MAX is delivered around the middle of next decade.