The country's infrastructure secretary, Marcelo Sampaio, said: "The concession programme has allowed the country to advance in the development of the sector. The government wants to guarantee legal certainty for companies."
And it should! Aeroportos Brasil Viracopos (ABV) recently lost an injunction protecting the concessionaire from Brazil ANAC's (the regulator's) push to extinguish the concession contract for Campinas Viracopos Airport.
The concessionaire requested ANAC not to take action on contractual penalties as there are discrepancies between the projected economic environment in Brazil which was signed in the concession and what became the actual economic environment in the country. It also claims the Brazilian government failed to give possession of land surrounding the airport for commercial exploitation, reducing revenue streams.
Once again Curitiba and Congonhas are examples of 'anchor' airports, a strategy adopted by the Brazilian authorities to attract investors with a degree of certainty now that the airports being offered are getting smaller and smaller. But doubts will still remain while issues such as ABV's do. Investors are at the mercy of the economic tide and of a headstrong President.
The Brazilian authorities have met with Airports Council International (ACI) to discuss the concessions, amongst other matters. Afterwards, they stated the concessions aim to modernise the structure and management of Brazilian aerodromes: "In the current model, we specify what we want to be improved at airports, but we don't limit the private sector by pointing out how it should be done. This allows a space for innovative ideas to appear."
The Brazilian delegation also met representatives of IATA to present a series of government-sponsored changes aimed at bringing more airlines into the domestic market. Mr Sampaio argued that competition improves the system as a whole, reducing costs and bringing more innovation.
Recent changes in legislation in Brazil allow companies with 100% foreign capital to operate there and the government says it has been working to attract new airlines, especially low-cost ones, as the national aviation market is dominated by just three companies, Gol, LATAM and Azul.
CHART - The Brazilian market is dominated by three carriers - LATAM Gol and Azul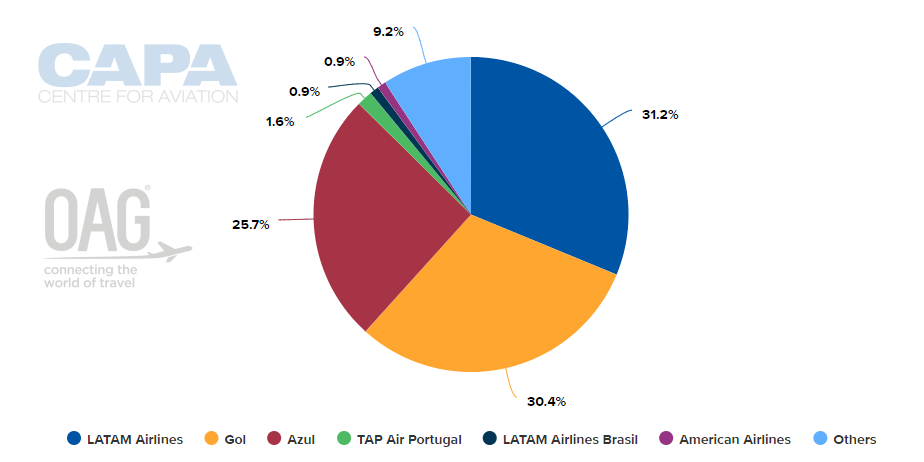 Source: CAPA - Centre for Aviation and OAG (data: w/c 14-Oct-2019)
That may be the case but already 57% of seat capacity is on low-cost carriers, against just 42% on full-services ones. Gol and Azul are outright LCCs. It is variety the government is chasing rather than the principle of 'low-cost'.
As for the two anchor airports – for it is they that will be presented to prospective investors at conferences – Curitiba's Afonso Pena Airport was the country's 12th busiest in 2018, with 6.3 million passengers. It is ranked 292nd in the world for seat capacity and 499th for ASKs.
Its traffic growth patterns have been up and down like a yo-yo since 2014, reflective of Brazil's crazy economic situation. Having lost -6.4% of its traffic in 2018 it is back up by +2.9% in the period Jan- to Aug-2019. The same three airlines highlighted as Brazil's domestic leaders dominate capacity completely, with 98% of available seats between them.
CHART - Traffic growth levels at Curitiba's Afonso Pena airport have fluctuated over the second half of the 2010s, but are once again on the rise in 2019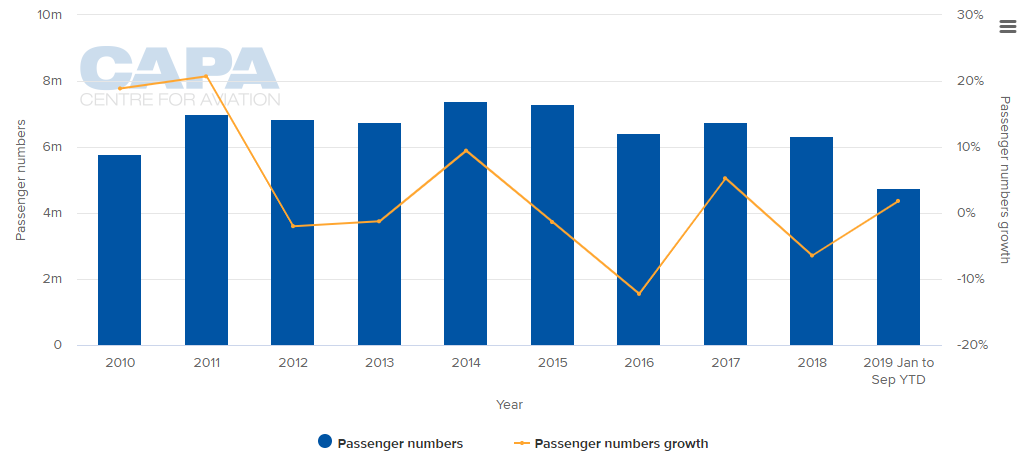 Source: CAPA - Centre for Aviation and INFRAERO
According to the CAPA Airport Construction Database around USD140 million was spent on terminal renovation, runway repairs and a new car park, through to 2017. No other works are under way.
In the case of Sao Paulo's Congonhas airport matters are more complex. The country's second airport as well as the city's is much closer to downtown than is Guarulhos and is therefore more attractive to regional airlines that offer short hops to Rio de Janeiro and other major cities. 100% of its traffic is domestic having lost its last international route in 2008.
It is the world's 100th largest airport by seat capacity and 207th by ASKs. Yet again the same three airlines dominate; in fact they are virtually the only three though some new routes will be introduced by smaller carriers at the end of Oct-2019.
Congonhas was able to retain its passenger traffic during the economic slump better than did Curitiba. Since 2012 there has been only one year when traffic fell, that was 2018 and it was by only -1.4%. In Jan to Aug-2019 it is back up by +7.3%
CHART - Sao Paulo's Congonhas airport has continued to perform relatively stronly against a backdrop of economic uncertainty in Brazil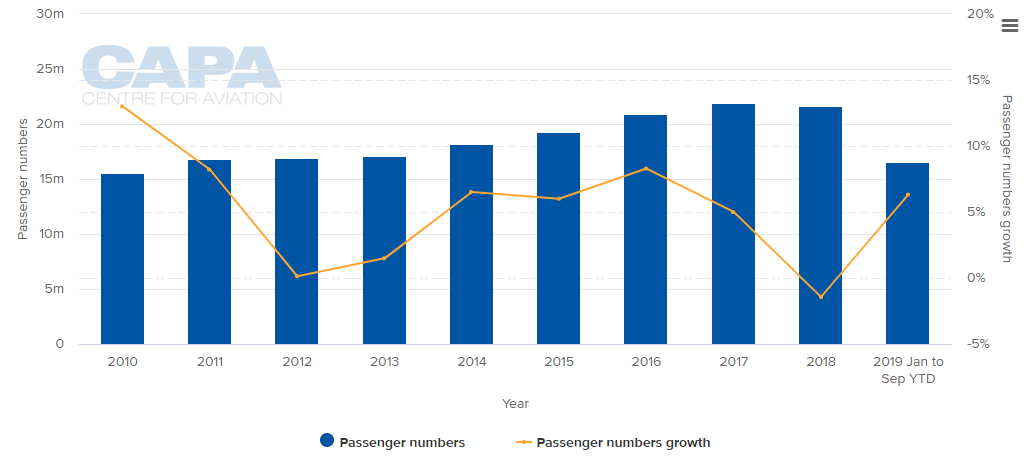 Source: CAPA - Centre for Aviation and INFRAERO
According to the CAPA Airport Database, investment of around USD270 million is planned to go into the airport through 2020 and beyond, mainly on a new runway. The problems at Congonhas are those of slot restrictions – it operates with a maximum of 30 operations per hour - and physical congestion around the inner city site.
In terms of the concessions neither of these airports is a hard sell in its own right. The airports that are attached to them might be.