The challenges of 2020 have caused significant hardship for many in the meetings an events sector and in those industries that are directly linked to its application, most notably travel and hospitality where the business travel flows it generates are so important.
The situation cemented the value that meetings and events provide to the economy – the speed with which global organisations transitioned from in-person to virtual events highlights they are invaluable for business continuity. It has become not a question of 'if' a meeting or event is going to happen, but 'how.'!
Virtual and hybrid meeting formats, which were introduced nearly a decade ago, are now by necessity at the forefront of meeting design. With experience and the adoption of technology in place, meeting owners and planners now need to consider the end goal of each event or meeting to make the determination on whether in-person, virtual, or hybrid is the right approach in the future.
The 10th annual Global Meetings and Events Forecast from American Express Meetings and Events, a division of American Express Global Business Travel, tries to shine a light on how the meetings and events industry will adapt in the year following the disruptions of 2020. The forecast is based on an Aug-2020 and Sep-2020 survey of 560 meetings and events professionals and 16 industry experts which represent corporations, associations, buyers, and suppliers on five continents and in 37 countries.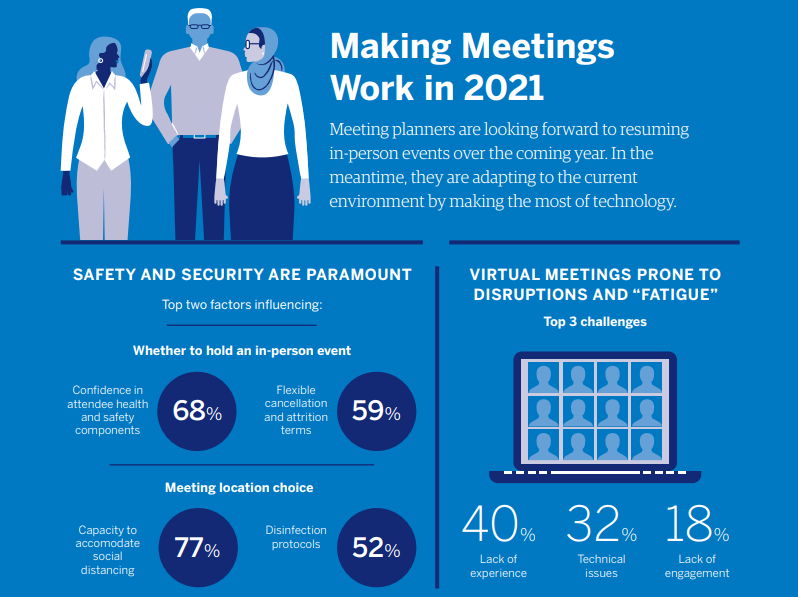 Its observations suggest that hybrid offerings will be the channel to initially return to face-to-face events and that meeting and events will remain small and simple at the first stage with careful hygiene standards as well as safety and security assurances.
Notably, it describes that "one-size-fits-all agendas are a thing of the past" and that meetings professionals are now "empowered to take an individualised approach to meeting design" that will "deliver the most engaging experience possible according to what the attendee needs – regardless of the delivery format".
In-person events have already started to resume, but not surprisingly, health and safety are the primary considerations when planning in-person meetings and events. The report suggests initial face-to-face meetings "are expected to be small, regionally focused, and in a hybrid format" where some attendees are in person and others participate virtually.
"We see the hybrid meeting as the first step towards the return of in-person meetings," says Gerardo Tejado, senior vice president global value development and general manager meetings and events at American Express Global Business Travel. The report highlights that beyond the pandemic, virtual and hybrid meetings will remain "because our world has changed, and they have proven themselves to be useful tools in the meeting planner's toolkit".
But hybrid adds obvious complexity for meeting and event planners and industry professionals cautioned in the research for the report that planning a successful hybrid meeting or event, in particular, can be equivalent to the work of planning two separate meetings or events – one in person and one virtual.
In terms of the scale of meetings survey respondents said small and simple meetings would be the most common type of meeting held in 2021, a new category for the survey. Across all formats (in-person, hybrid, and virtual) one in five (21%) of respondents globally said it would be the most common, ahead of internal meetings (18%). For all other types of meetings, respondents expected to see a decrease in activity levels ranging from -1.3% for internal meetings to -4.4% for conferences and tradeshows.
The number of attendees is predicted to stay relatively flat in 2021 for internal and senior leadership meetings. Unsurprisingly, there is a more significant decrease expected for attendees at large events: -3.7% at conferences and trade shows, and -3.2% at incentives and customer events. Several respondents pointed out, however, that virtual and hybrid meeting formats are expected to allow for increased attendance, particularly at events such as conferences and trade shows.
As travel restrictions ease and more meeting spaces reopen, the door will open for event professionals to deliver more in-person activity. But, these will still likely – in the short-term , at least – be dictated by strict safety requirements and deployment of new solutions such as rapid testing or wearable devices that enforce social distancing, track COVID-19 symptoms, and help with contract tracing.
The 2021 Global Meetings and Events Forecast provides some interesting regional differences that impact meetings and events across different geographies and these are not just limited to the major factor of governmental regulations and travel and quarantine restrictions, which are still fluid in many parts of the world.
North American respondents estimated that 23.6% of their events in 2021 will include a virtual component and will be smaller local events with fewer than 25 attendees that require no air travel or hotel rooms. They expect that 45% of their virtual/hybrid meetings will be web conferences, and 27% of all virtual/hybrid meetings will make use of a mobile app.
Across Europe, three quarters (77%) of respondents say their organisation has adopted formal meetings management policies, which is the highest of all regions surveyed. In terms of components with explicit language in those policies, 80% say the policy covers the use of preferred hotel/air/transportation suppliers, followed by safety and security at 76% and payment methods and processes at 70%.
Central and South American respondents show great optimism – the highest amongst the regions – regarding the health of the meetings and events industry in 2021. More than three-quarters of planners, or 76%, describe the career options available to them as meetings and events professionals as "excellent."
Four in ten meetings and events planners in Asia Pacific (43%) expect to see an increase in client/customer advisory board meetings, and nearly half (49%) anticipate that there will be an increase in internal team meetings in 2021. Respondents in China and Hong Kong expect to see increases across the board of every type of meeting, ranging from +0.18% for product launches to +1.16% for small and simple meetings.
There is no simple solution and that choice could make 2021 even more challenging than 2020 for the meetings and events industry. "Meeting owners have a multitude of solutions to choose from, but determining the platforms that align with the goals of the meeting or programme, company policies, and budget can be daunting," highlights Mr Tejado.
It is clear that 2021 will be challenging, but there is clear optimism that we will see an increasing number of physical meetings and events in our business calendar.