Speaking during the inaugural Corporate Travel Community (CTC) Masterclass at the end of Apr-2020, Eric Bailey, global director travel, venue source and payment at Microsoft, highlighted the journey to and from the airport as his own potential weakness in the traveller journey. Mr Bailey said "there's going to be some big changes in how we look at things" and acknowledged that fixing any one aspect across this travel ecosystem is not going to be enough.
"It is about the whole ecosystem from the time you leave your house until you get to your hotel, the event you are going to and then get back," he said. "We need to question how do we make safety and health the core of what people are doing while travelling? It is not acceptable to let people travel if it is going to be at the risk of their health."
Some companies have turned to ground transportation firms to ensure key workers can get to and from work and avoid public transport and the high risk transmission potential they could offer at the peak of any infection. Drivers are also acting as delivery drivers to allow small businesses to continue to operate and provide essential products to those isolating.
On the whole though ride-hailing businesses have generally been hit hard by the lockdowns introduced by many of the world's governments. Uber has reported that globally its ride business was down around 80% year-on-year in Apr-2020. It had planned to reach profitability this year, but in 1Q2020 it reported a net loss of USD2.95 billion, an almost trebling of the USD$1.01 billion net loss it recorded in 1Q2019.
Positively, just as we are seeing some light and green shoots of recovery, Uber has seen a rebound in ride bookings during the past few weeks. CEO Dara Khosrowshahi said it has now seen four consecutive weeks of growth. This was particularly evident in markets that are loosening lockdown restrictions such as the United States of America and Hong Kong, where bookings are said to have reached 70% of the levels they were at before the Covid-19 pandemic.
The impact of coronavirus is clear. For the first quarter, revenue from rides was actually up 2% year-on-year, but that was driven by the performance in Jan-2020 and Feb-2020 when gross bookings were up a fifth – they subsequently declined by more than a third year-on-year in Mar-2020.
But should we be weary of using a ridesharing vehicle and is it a weak leak in the journey? Mr Khosrowshahi said he expects commuting would lead Uber's recovery, which will "open up exciting new prospects for Uber for Business, as companies look to move their employees to and from offices".
Just as Uber was born out of technology, it is using the platform to reassure riders of their safety. The company has distributed free protective equipment such as masks to drivers and has added a feature to its app that requires drivers in most of Europe, the US, Canada, India and Latin America to verify if they are wearing a mask by taking a selfie when logging into the app as part of a new "Go Online Checklist".
Uber explains that drivers who are not wearing a mask or face cover will not be able to go online with effect from 18-May-2020 and that policy through to the end of Jun-2020 end of June when it will be reassessed based on "local public health needs".
There's a similar checklist for riders will also be required to prove they are wearing a mask and have washed or sanitised their hands before requesting a ride. They will also be required to sit in the back seat of the vehicle and open windows for ventilation. The firm is also reducing the maximum number of passengers allowed in an UberX ride to three from four.
Both drivers and riders can cancel trips without penalty if they don't feel safe or if the other person or people are not wearing facemasks on arrival. Drivers who repeatedly fail to wear a mask risk losing access to the app to accept rides. "Accountability is key—and it goes both ways," says Uber.
A requirement for the use of protective equipment such as masks and hand sanitiser will be pretty commonplace among ridesharing companies. Some others in this area are taking measures further, including UK private hire taxi and courier company Addison Lee which plans to introduce screens across its fleet as part of measures designed to protect drivers and customers.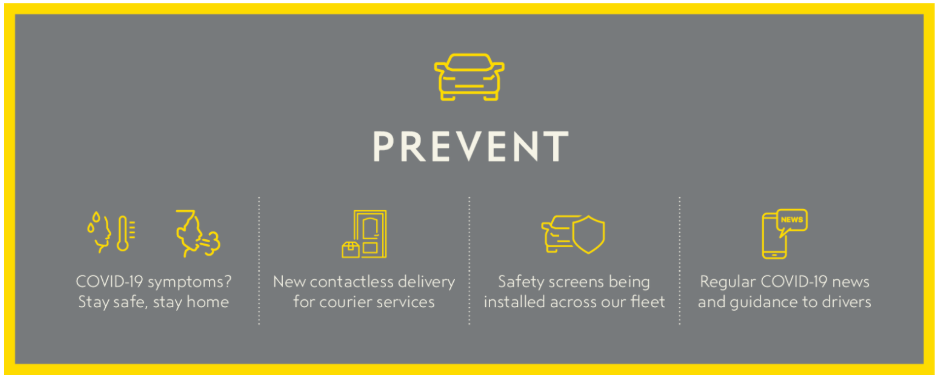 The move comes as findings from a survey of Addison Lee's largest customers revealed that four in five (80%) said they will review policies around how employees get to and from work, with 90% citing safety as their priority when it comes to using minicabs or taxis.
The safety partitions are described by Addison Lee as being "flame retardant, securely fitted, shatterproof and clear so as not to impede the driver's visibility" but will still "enable clear communication between the passenger and driver".
Addison Lee says it will fit the screens across its fleet of 4,000 vehicles this coming week and others are expected to follow its example – Uber has begun a trial in the North East of England whereby AA is installing in-car partitions in 400 cars across Newcastle, Sunderland and Durham as part of a pilot scheme.