---
Summary:
London is the biggest city market in the world with over 205 million annual system seats in 2017;
Last year London's system capacity grew +2.9% versus 2016, a rate that is faster than six of the ten largest global city markets;
London Southend is currently the fastest growing London airport and surpassed the one million passenger milestone in 2017;
The Essex airport has ample available capacity at peak times of the day, something that is in short supply elsewhere across the London system and could deliver London's 'biggest opportunity'.
---
London is miles ahead of its rivals in scale. Its closest city rivals are New York (165 million seats), Tokyo (155 million seats), Shanghai (137 million seats) and Beijing (128 million seats), with a further seven city markets offering over 100 million system seats – Paris, Bangkok, Chicago, Atlanta, Istanbul, Dubai and Los Angeles. Jakarta, Moscow and Seoul will also join that list in 2018, based on published schedules for the year ahead.
And London is not sitting still. Last year its system capacity grew +2.9% versus 2016, a rate that is faster than six of the ten largest markets. Almost six million additional seats were squeezed into its already constrained airport system, a scale of growth only exceeded by nine airports across the globe. This year it is forecast to grow a further +1.9%, based on existing flight schedules, with an inventory growing by over four million more seats.
Capacity growth is being seen throughout its system, even its largest and the heavily constrained Heathrow hub, but London Southend Airport's recently appointed aviation business development director, Bernard Lavelle believes the city's smallest facility has the potential to grow in a similar manner to how London City Airport has developed in the London Docklands. And he knows that market well having worked at the city centre airport for almost 30 years.
"London Southend really does remind me of London City about ten to 15 years ago, not being particularly well known and people not sure how you get there," he told The Blue Swan Daily on the sidelines of the recent AIRLINE Total Networking air service development forum in the UK capital city.
After starting as a marketing assistant, launching the first UK airport website in the mid-1990s to most recently serving for more than a decade heading up its airline sales function, Mr Lavelle had seen passenger numbers at London City grow beyond 4.5 million passengers prior to his departure last year. London Southend is a little way behind, surpassing the one million milestone for the first time last year, a milestone London City reached back in the mid-1990s.
While acknowledging that London Southend is "the smallest and least known" of the London airports, he said it delivers "a fantastic opportunity" for airline, especially the availability of capacity at peak times of the day, something that is in short supply elsewhere across the London system. "In terms of London capacity at peak, premium times that airlines want to fly into London, Southend is the best option," he said.
Data from CAPA – Centre for Aviation and OAG supports this argument. At no point during the day are there currently more than six movements per hour and in the peak period between 07:00 and 10:00 there are only the same number, even on a Monday morning. This week's schedules show one arrival and two departures between 07:00 and 07:59, one departure between 08:00 and 08:59 and one arrival between 09:00 and 09:59.
CHART - London Southend offers airlines room to grow during the busy morning peak where capacity is fairly scarce elsewhere in the London airport system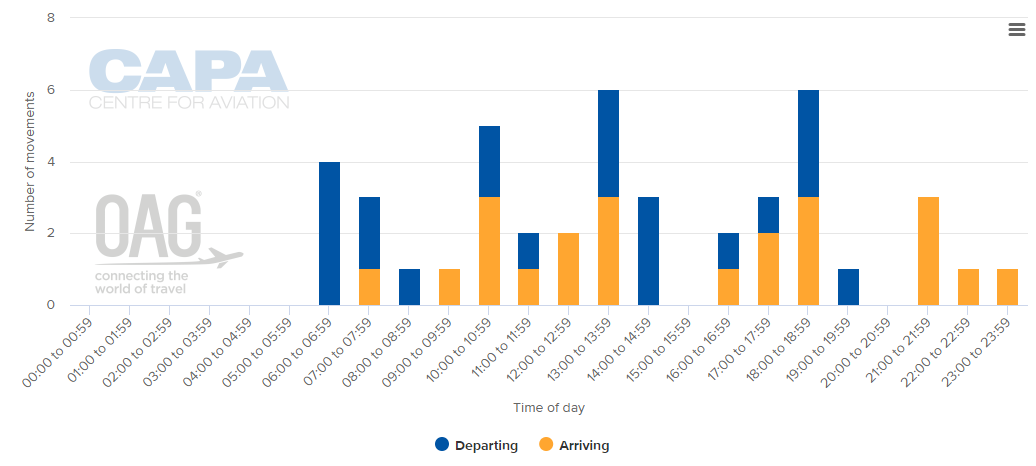 Source: CAPA - Centre for Aviation and OAG (data: w/c 30-Apr-2018)
London Southend was once a bustling airport in the 1960s and 1970s supporting mainly leisure demand to the Mediterranean from its immediate catchment, but the it was not until investment from Stobart Group in the late 2000s that the airport was rejuvenated, securing easyJet as an anchor tenant with a ten year deal in Jun- 2011. The subsequent year saw the launch of the new easyJet base from a brand new passenger terminal, with its own dedicated rail station and direct services into London.
As Mr Lavelle notes, the train journey from London Southend into the Liverpool Street terminus in the City of London is similar to the 'express' service that links London Stansted to the same station, but with the extra benefit of being able to fly from a regional airport.
"The biggest advantage is that with London Southend being a much smaller airport, you can pass through the airport much more quickly and therefore your total journey time is significantly less than travelling through any of the other larger London airports," he said.
easyJet remains the largest operator at London Southend, but Flybe has also built a presence. This past week regional carrier IGAvion has introduced flights from the French city of Chateauroux and Air Malta will shortly launch links to Cagliari, Catania and Malta. In Jun-2018 Loganair will start flights to Carlisle Lake District Airport, linking Stobart Group's two UK airports.
Mr Lavelle sees the arrival of Air Malta at London Southend as "the template" for future new airline arrivals. He explained the carrier "does not have the greatest access into the London market and was looking where they could find capacity," and London Southend was able to provide that. "I think this is the template for other airlines to follow, where they have the demand for London, but don't have the ability to get into the London market at the times they would like to," he added.