Beginning in the US autumn season, Seattle-based Alaska Air Group is adding service from Paine to eight of its largest cities on the US west coast and western US – Las Vegas; Los Angeles; Orange County, California; Phoenix; Portland; San Diego; San Francisco; and San Jose, California. United also aims to launch six daily flights from Paine during the same time period to its hubs in Denver and San Francisco.
Propeller Airports is developing a new two gate terminal at Paine, and news outlet The Seattle Times has reported a maximum of 22 commercial flights per day are planned for the airport.
Paine has become attractive for two reasons – one, congestion at Seattle Tacoma International and traffic jams in Seattle enroute to the region's largest airport and two, frequent traffic headaches for residents living north of the city. Between 2013 and 2017, Seattle Tacoma's annual passenger numbers increased from 34.8 million to 46.9 million. Paine, which is 40km north of Seattle, is an attractive option for customers aiming to avoid heavy traffic to Seattle Tacoma, which is south of the city's downtown.
CHART - Southwest Airlines is currently the third largest operator out of Seattle with a 6.2% share of system seats at Tacoma International Airport, the city's primary gateway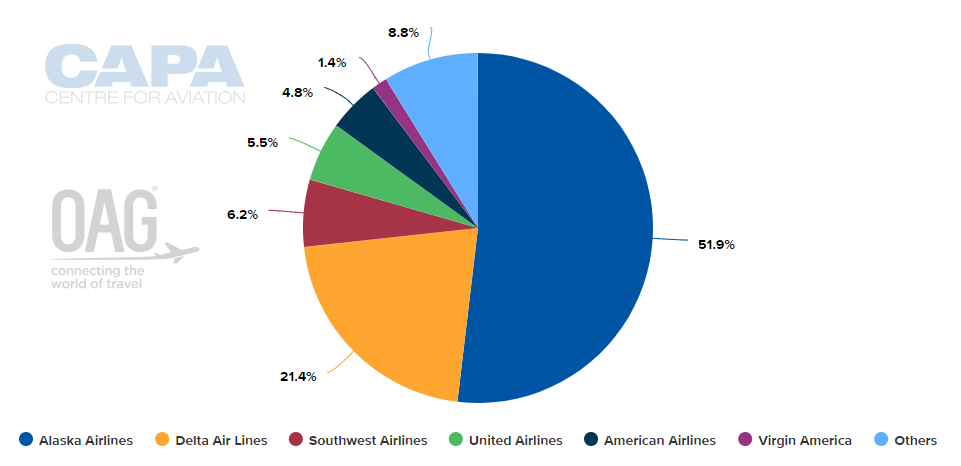 Source: CAPA - Centre for Aviation and OAG
Now Southwest has decided to add flights from Paine. The US' largest domestic airline has a 6% seat share at Seattle Tacoma; but expansion at that airport is not a viable option.
"We're constrained and we do want to increase our presence in the Seattle metro area," Southwest CEO Gary Kelly recently concluded.
Southwest's chief executive explained time was of the essence to secure a spot at Paine. "There are only five daily departures left with what the airport has planned in terms of real estate...", Mr Kelly stated. "So if we don't move on this, we may likely lose the opportunity."
The airline plans to reveal is planned schedule from Paine later this year. Paine is home to Boeing's factory in Everett, Washington, and presently handles general aviation and aircraft manufacturing related operations.