Newark is a significant hub for United Airlines, a legacy from Continental Airlines in the United-Continental merger, and is the airline's trans-Atlantic gateway and New York city airport for domestic passengers.
Recently, Southwest CEO Gary Kelly offered a history lesson about the airline's decision to enter Newark, and how dynamics in the New York market have changed since that time. Southwest acquired 18 slot pairs in 2010 after United and Continental were required to divest slots at the airport as part of their merger. "..we did that deal in about 24 hours", he remarked.
Southwest saw this opportunity as an inroad into the New York market as Mr Kelly noted "we had virtually no presence at LaGuardia" at that time. That changed when Southwest acquired AirTran in 2011 and again in 2013 when it gained additional slots at LaGuardia after regulators required divestitures for US Airways and American Airlines as part of their own merger.
"So we find ourselves with a significantly larger presence at LaGuardia than we had contemplated back in 2010 when we went into Newark. We also find ourselves in a magnificent facility, which is certainly significantly better than what we started with in 2009," Mr Kelly explained.
Analysis by CAPA – Centre for Aviation of OAG schedules for this week shows that Southwest accounts for just 2.3% of weekly departing frequencies from Newark versus a 6.3% share at LaGuardia.
CHART – Southwest Airlines is a small player in the New York market, but has a much higher share of capacity at LaGuardia (top) than at Newark (bottom)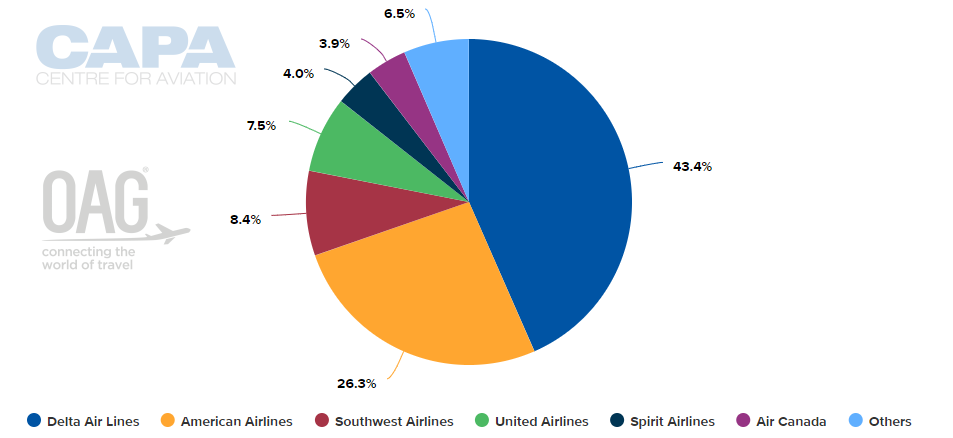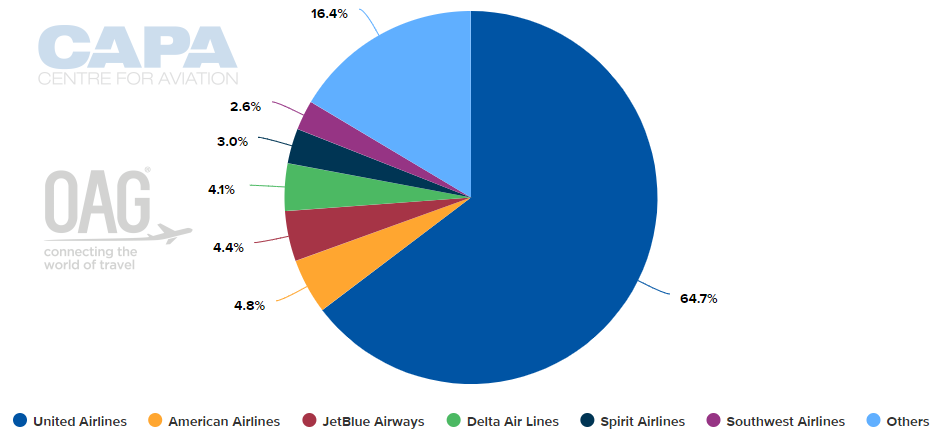 Source: CAPA – Centre for Aviation and OAG (data: w/c 29-Jul-2019)
"New York is a huge market, but for us it is a destination market," Mr Kelly explained. "Given our inability to add any meaningful number of flights…it makes sense for us to consolidated our New York city flying into one airport."
Mr Kelly acknowledged that "Newark underperforms financially", and to offset Southwest' reduction in service at Newark "we'll be able to add seats at LaGuardia, and be more productive with a superior financial result".
Since the time Southwest has acquired slots a Newark, the airport is no longer slot controlled, and Mr Kelly seemed to indicate the decision to leave while currently blamed on temporary schedule reductions due to the ongoing 737 MAX grounding, it could be permanent. "..we'll have a significant New York City presence. It will be focused where our customers want to go, which is LaGuardia," he said.
Despite the impact of the 737 MAX grounding, which is responsible for the biggest share of the 20,000 flight cancellations the airline acknowledges it made during the second quarter of the year, Mr Kelly has stated the Boeing 737 MAX 8 remains the "best airplane in its category" and described Boeing is a "very strong company" and a "great partner", adding: "We haven't learned anything different in 90 days to change our view on that".
The airline has extended the grounding of the aircraft into 2020 after extending its flight schedules until 05-Jan-2020. It has also delayed the retirement of existing Next-Generation versions of the 737 to partly meet the capacity void. The carrier expects ASMs to decrease between 2% to 3% year-on-year in 3Q2019 and between 1% to 2% in FY2019, due to the "extensive delays" in returning the Boeing 737 MAX to service. The carrier originally planned for FY2019 ASMs to increase 5%.