See related article: Southwest beats unit costs estimates despite posting a first quarter loss
Southwest Airlines financial results summary: 2Q2012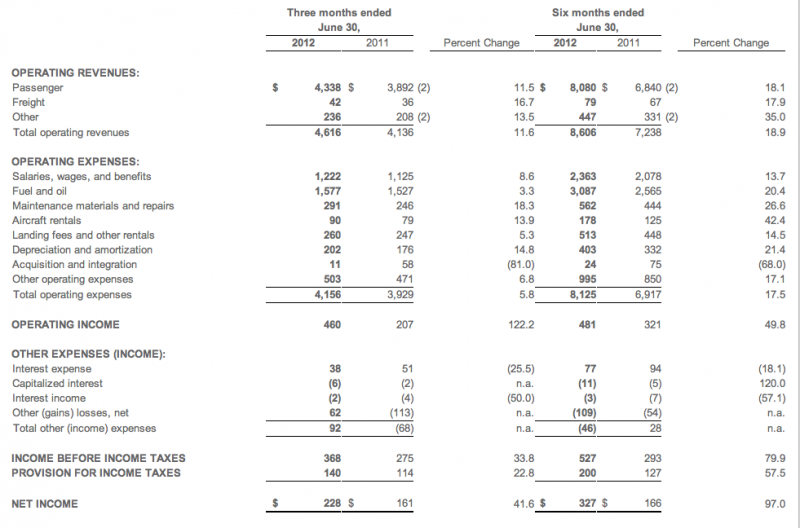 Despite the solid performance in revenue and net income, Southwest's costs continued to rise as its unit costs excluding fuel grew nearly 2% to USD7.76 cents. During a discussion with analysts Southwest CFO Laura Wright said unit costs for 3Q2012 would rise in the mid-to-high single digit range as the spool up on a retrofit of the carrier's Boeing 737-700s fleet continues.
Southwest is retrofitting 737-700s with its "Evolve" interior that includes adding six seats to its -700s currently configured with 136 seats. Southwest completed the retrofit on 50 aircraft through Jun-2012 and expects to complete the reconfiguration on 100 aircraft in 3Q2012 and another 100 in 4Q2012. While the work to complete the aircraft reconfigurations will pressure maintenance costs in the short-term, Southwest has previously estimated a revenue gain of USD70 million in 2012 from the additional seats on the 737-700s and the larger-gauge 175-seat 737-800s, a new type for Southwest which it began taking delivery of in early 2012. The carrier expects to add 34 -800s throughout 2012 and retire 40 older 737 classic aircraft.
Southwest's recent deal to sublease the 88 Boeing 717s it inherited through the 2011 acquisition of AirTran Airways to Delta Air Lines has resulted in the changes to the retirement of some its 737 Classics. Deliveries of the 717 to Delta begin in 2013 and continue through 2015. Southwest CEO Gary Kelly explained the 717 deal with Delta does push back the retirement of some older 737s, but the aircraft are still exiting the fleet earlier than "what they would have been had we kept them their entire useful life". As a result, Southwest management stated it will also likely reconfigure 100 of the Classic narrowbodies with the Evolve interiors.
Favourable 2Q pricing traction
Southwest's ability to raise average one-way fares by 5% year-over-year in 2Q2012 aided the carrier as it posted a 6% growth in yields and a 5.6% rise in overall unit revenues. The carrier estimates it gained USD80 million in pre-tax synergies from the AirTran acquisition during the 1H2012, but AirTran president Bob Jordan did note that although the carrier was still underperforming Southwest revenues on a nominal unit basis, positive unit revenue and yield trends continue.
During May-2012 and Jun-2012 AirTran launched new transborder service as Southwest in 2011 decided to cut several of AirTran's smaller and unprofitable market. The capacity was redeployed to new AirTran flights from Fort Lauderdale to San Juan, Puerto Rico and from Orange County, California to Cabo San Lucas and Mexico City. Mr Jordan remarked that those new markets "look very strong".
Southwest's selected operating statistics: 2Q2012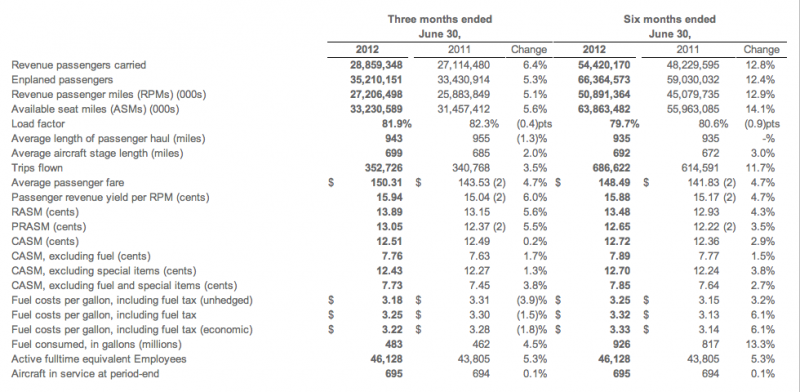 Working to meet return targets in 2013
Southwest's goal for many years has been to achieve the 15% return on invested capital (ROIC) that it enjoyed prior to the tumultuous first decade of the 21st century. For the 12 months ending 30-Jun-2012 Southwest achieved a pre-tax ROIC of 8%. The carrier has said it would not grow meaningfully until it hit its 15% goal, which means its fleet will remain relatively flat during the next two years. Southwest also recently deferred delivery of 30 737s from 2013/14 to 2017/18 in order to ensure its ROIC goals are met.
See related article: Southwest continues to show conservative approach to growth with deferral of 737s
Mr Kelly believes if Southwest can sustain its current core earnings and drive value from several initiatives underway, including the AirTran acquisition, changes in its loyalty programme and fleet initiatives that include adding the 737-800s, the -700 retrofits and subleasing the 717s, then Southwest should evolve from its current ROIC levels to a 15% return. Mr Kelly declared he is "not prepared to say at all we won't hit that target next year".
Seeking tactical opportunities
Once Southwest hits its return targets Mr Kelly stated the carrier will be "a bit more tactical" than it has been in the past in making new market decisions. When the carrier does add new routes it will be a function of capacity and pricing in the market, he explained. He cited Houston Hobby specifically as an example of where Southwest can significantly lower fares and stimulate the market. Southwest recently won approval from the city of Houston to launch international flights from Hobby, which currently only offers domestic flights. The decision results in both Hobby and Houston Intercontinental both offering international service.
See related article: United Airlines walks away the sore loser after Southwest wins international expansion from Hobby
As Southwest seeks a more tactical approach to market selection in the future, in the short term the carrier is warning its Jul-2012 unit revenue performance will be weaker than Jun-2012's 6% year-over-year growth. Ms Wright stated the main reason for Jul-2012's weakness was the US 04-Jul-2012 holiday falling during the middle of the week. But she stated overall bookings for the rest of 3Q2012 continue to look solid.
Southwest ended 2Q2012 with cash and short-term investments of USD3.3 billion, and carried a debt to total capital ratio of 45%.
Mr Kelly stated the carrier was pleased with its financial performance for the quarter as fuel costs were lower than 1Q2012. However, he remarked while fuel prices overall still remain high, unlike 1Q2012 there is no immediate threat of higher energy costs. While he thinks it is prudent to remain cautious "given the state of affairs and the domestic economy", overall Southwest's business "continues to be strong".