Although Southwest largely remains a leisure based airline, during the last few years it has worked to gain significant traction in the corporate space. And the airline is joining other US operators in essentially declaring that business travel is largely non-existent. Southwest's business travel revenue in the second quarter plummeted approximately 90% to 95% year-on-year.
"We've had a lot of discussions with corporate travel managers, and we have been hearing some pretty cautious optimism about travel resuming back in the third and fourth quarters, but certainly, with the recent spike in Covid [19] cases, that is far from what's going to happen," said the airline's president Thomas Nealon in a recent discussion with analysts and investors.
Between 1-Jun-2020 and 29-Jul-2020, confirmed cases of Covid-19 in the US have jumped from 1.8 million to approximately 4.5 million. The states of California, Florida, New York and Texas now have more than 400,000 cases, while New Jersey, Georgia, Illinois, Arizona, North Carolina, Massachusetts, Pennsylvania and Louisiana now all have more than 100,000.
Mr Nealon concluded that it will take several years for business travel to recover. However, he also acknowledged that Southwest is "under-indexed in a pretty significant way in the managed corporate travel business".
Southwest is taking advantage of the slowdown in business travel, he concluded and "doing a lot work with the TMCs and corporate travel managers across the country". As business travel begins to recover, explained Mr Nealon, "the size of the market, the size of the pie may be smaller for a period of time, but we intend to have a bigger slice of that pie".
The airline aims to grow its share through its recent global distribution system (GDS) deployments. It is now live in the Travelport Apollo, Wordspan and Galielo platforms and "will be live on Amadeus before year-end", according to Mr Nealon.
The airline is also terminating its GDS agreement with Sabre by year-end. "We have been working with Sabre for, I don't know, nearly two years, trying to get a contract in place that will allow us to have a full functionality within the Sabre platform. And we just have not been able to get there…", Mr Nealon acknowledged. He explained the Sabre product Southwest is currently using has limited functionality, "and it's part of an industry standard which makes it difficult for TMCs and corporate travellers to work with".
CHART – Southwest Airlines' passenger numbers started to slip during Q1 2020 but Q2 figures will better illustrate the impact it has felt from the effects of the Covid-19 pandemic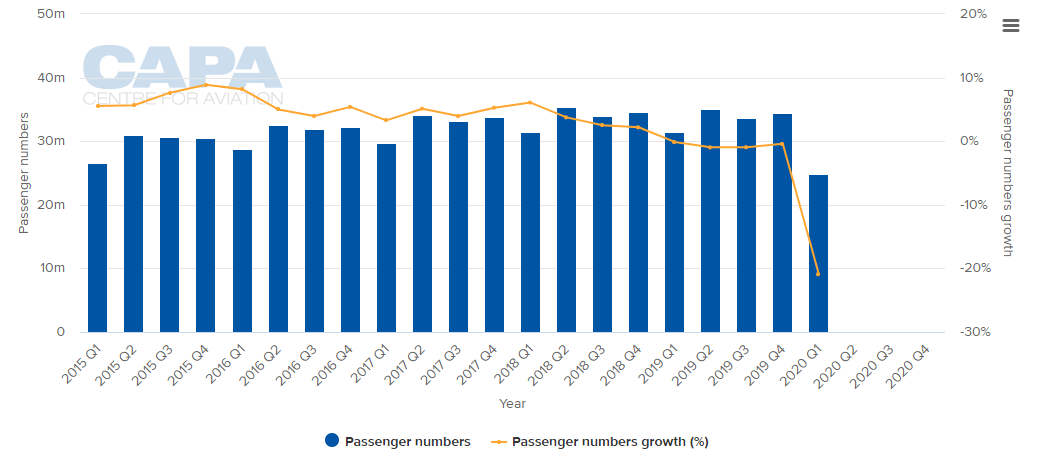 Source: CAPA - Centre for Aviation and Southwest Airlines reports
The airline's CEO Gary Kelly has said he does not expect a return to "normal" until the middle of 2021 "at best", as a vaccine for Covid-19 is not expected until approximately early 2021. Consequently, the carrier expects to operate with "depressed air travel for another year", he stated. As such, the airline is continuing to plan for "worst-case scenario, which is a prolonged pandemic and air travel depression," according to Mr Kelly.
This will see the airline continue to "look for opportunities to cut spending" and will continue to "tactically adjust" flights and seats in what remains a "volatile demand environment", with significantly "softened" bookings observed for Aug/Sep-2020 travel and "too many seats for sale". However, it has no intention to close any cities at least through the end of 2020 and will the carrier will continue to limit the sale of seats on each flight until at least Oct-2020, in order to promote onboard distancing.