It is no surprise to hear Mr Singh say the 737MAX grounding has impacted SpiceJet's operations and led to additional costs. The CAPA – Centre for Aviation Fleet Database highlights that the 737 operator last week added two Airbus A320s to its fleet on wet-lease from BH Air to support its growth after failing to source additional Next-Generation 737 equipment.
Despite market challenges, which includes the continued grounding of the 737 MAX, SpiceJet boosted capacity by 59% in 2019 and recorded the highest passenger load factor amongst all airlines in the country through the quarter. The average domestic load factor was 91.9%, meaning SpiceJet has now recorded over 90% load factor in the domestic market for 56 successive months.
SpiceJet reported a profit of INR 73.2 crore for the quarter ending 31-Dec-2019 against INR 55.1 crore in the same quarter the previous year. Stand-alone profit from air transport operations was INR 115 crore. The airline also recorded a 47% rise in the third quarter operational revenue to INR 3,647.1 crore as against INR 2,486.8 crore for the same quarter the previous year as the airline added more destinations and expanded its fleet.
It paints a positive outlook for the airline, which has certainly been one of the positive stars in South Asia over recent years. CAPA – Centre for Aviation analysis of Indian DGCA data highlights that traffic at SpiceJet rose by more than a quarter (25.9%) in the last calendar year. This supports a decade trend that saw passenger numbers rise from 6.7 million in 2010 to over 24.2 million in 2019.
Between Oct-2019 and Dec-2019, SpiceJet announced 65 new domestic flights which included two UDAN services. The airline added Rajkot as its 54th domestic destination and its domestic network expansion during the period was focussed on regional connectivity and enhancing connectivity between metros and non-metros.
As such SpiceJet became the first and only carrier in the country to launch non-stop flight services on the Ahmedabad – Aurangabad, Pune - Jodhpur and Chennai - Durgapur sectors. It also introduced new flights on the Mumbai - Jodhpur, Chennai - Vishakhapatnam, Vijayawada - Vishakhapatnam, Hyderabad - Aurangabad and Surat - Udaipur sectors and boosted frequencies in other markets.
CHART – SpiceJet is delivering strong annual growth and that is expected to continue through 2020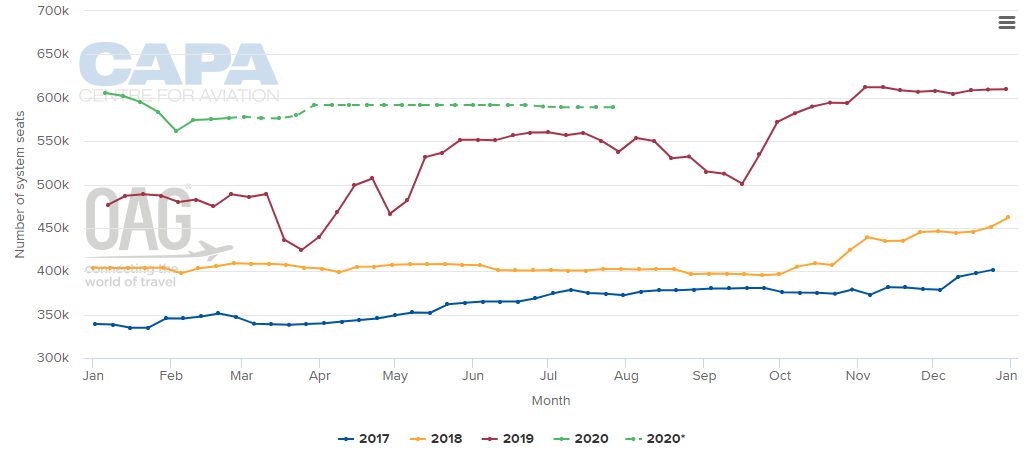 Source: CAPA – Centre for Aviation and OAG
CAPA's analysis of OAG data shows that year-on-year capacity growth of 27.7% was recorded by SpiceJet during the 2019 calendar year, the fourth consecutive year that the annual rate has exceeded 15%. That strong capacity growth will continue in 2020, based on existing flight schedules with system seats up 23.1% across the first three months of the calendar year.
But, the grounding of the MAX remains an issue. The airline had 13 of the type in service when the grounding took place and over 150 more on order to support a fleet rollover from 'Next-Generation' variants and to meet growth.
"We were expecting the MAX to return to service by Jan-2020 but that hasn't happened," acknowledges Mr Singh. "The continued grounding and the delay in its return to service has undoubtedly hit our growth plans adversely and resulted in inefficient operations and increased costs."
On a positive note, the airline's CFO, Kiran Koteshwar, has reported the LCC has received "an interim offer from Boeing" regarding compensation for the MAX grounding with the airline expecting to receive a significant portion of the compensation by Mar-2020. He added that the compensation is likely to include incentives as well as financial compensation, including Boeing establishing a 737 MAX simulator in India by summer 2020.
After performing "remarkably well" in its Q3FY2020, the outlook remains positive. SpiceJet expects "to grow profitably while maintaining a tight control over costs," according to Mr Singh, as he "looks forward to an exciting 2020".
That excitement may not have anticipated the need to recently temporarily suspend its Delhi – Hong Kong flights due to the coronavirus COVID-19 outbreak. But, that is expected to only be a short-term issue, and with requests to add a further six overnight parking stands at Chennai International (bringing its total to 22) to introduce new early morning flights and ongoing talks of launching long-haul to London, SpiceJet will continue to put the heat on its local, as well as foreign, rivals.