Today, usage of the two remaining airports is still very modest by comparison with other European capitals (see Table), but at the time Templehof closed in 2008, total passenger traffic was just 21 million ppa for the other two airports. Latterly what increase there has been has been mainly driven by LCC growth. But the story now is a different one; that of airport capacity shortages.
CHART - Berlin has a much smaller airport system than other major European capitals based on 2106 passenger traffic

Source: The Blue Swan Daily and OAG
The two remaining Berlin airports (Templehof is now used partially as a refugee camp, it won't be reopening any time soon) have four runways between them so capacity shouldn't be a problem.
The problem is that Tegel, which was 'West Berlin's' airport and which is both by far the busier of the two and closer to the city centre, will close when (if?) the 'new' Berlin Brandenburg Airport (or BBI as it is still known), finally does so. BBI has been under construction since 2006 and should have opened in 2011, next door to the existing Schönefeld Airport, 'East Berlin's' airport, sharing some facilities with it, including a runway.
MAP - Berlin Schönefeld and the new Berlin Brandenburg are located on the same site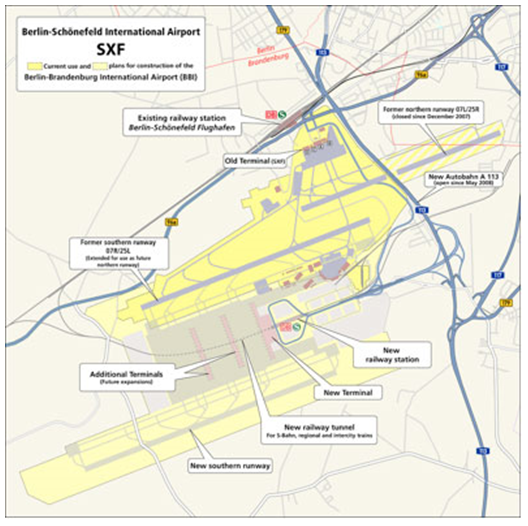 Source: Maximilian Dörrbecker (map), Michael F. Mehnert (English text) - Translation of Image: Karte- Flughafen Berlin-Schönefeld SXF.png created by Maximilian Dörrbecker (Chumwa), based on PDF exports from OpenStreetMap. Dec-2016.
This saga has gone on for so long now that BBI's Wiki entry, which has borne the message "…is an international airport under construction…" for over a decade, might as well be in Latin.
The latest position is that BBI should open at a so-far unspecified date in 2018 or 2019, although recent local newspaper articles don't inspire much confidence.
The delay may already have contributed to the demise of airberlin, whose CEO has commented that it had "designed our whole concept based on transfer traffic at this new airport" and that "it wouldn't work at Tegel".
Assuming BBI does eventually open the plan is that, together with the acquired Schönefeld estate, it should be capable of handling 55 million ppa by 2040. The original estimate was that it should open with a capacity of 27 million ppa, rising to 45 million ppa. Latterly FBB, the Berlin airports operator, approved the construction of an additional terminal that will handle an extra six million ppa, "to enter operations in 1H2020", which looks like wishful thinking.
---
Associated material from The Blue Swan Daily on Berlin....
Analysis: Lufthansa circles with intent as airberlin relies on government loan to continue flights during administration process
Analysis: Berlin Brandenburg delays put pressure on Schoenefeld and Tegel to support Berlin boom
---
A capacity of 55 mppa seems quite adequate but the problem will come when BBI opens with an extended capacity (hopefully) of 33 mppa, which is 2016's total traffic for Berlin. In other words, it would open at capacity. The anticipated closure of Tegel is clearly an issue; the numbers don't stack up. It is not surprising therefore that the government is coming under pressure from several quarters to keep Tegel open.
But apart from the unsurprising intervention of Ryanair, there is evidence that the government is having second thoughts anyway.
The Federal Minister of Transport has changed his perspective on the matter and sees that "a capital with two airports can be imagined". He has held a group meeting on a potential decision to keep Tegel open to the group and "legal issues" affecting the decision will be discussed at the next FBB supervisory board meeting in Nov-2017.
FBB's President and CEO Engelbert Lütke, though is dead-set against keeping Tegel open. As many people have wondered during the last few years as the Berlin airports dilemma lurched from one crisis to the next, whatever happened to German efficiency?
An extended report on Schönefeld Airport and its relationship with BBI was published by CAPA in Jun-2017: Berlin Schoenefeld Airport: dramatic passenger growth figures and it may have an extended shelf life.