For Spirit, non-ticket revenue encompasses essentially everything outside the baseline ticket price, and the airline faced some pressure in its typically strong performance in that metric in 2016 and 2017. But Spirit's non-ticket revenue per flight segment of USD55.23 for the full year 2018 was right on target for estimates the airline provided at the beginning of the year.
Recently, Spirit executives estimated non-ticket revenue per flight segment for the full year 2019 would fall into the USD56 to USD57 range. One driver of this growth for Spirit Airlines is a revamp of its vacation package programme, which company executives admitted have been underperforming.
Spirit is making technology changes to its vacation packages business "as well as from a content provider perspective", said chief commercial officer Matt Klein. The airline also appears to be including its vacation packages arm into a broader effort to bolster its merchandising platforms.
He explained the first step was "getting new technology and new content into place, and then the second stage is starting then to be ale to merchandise better…".
The merchandising portion of vacation packages will take to some time to develop. Mr Klein concluded it will take some time to determine when different customers shop for various destinations, and how to crate the proper offer at the right time for the right customer.
Spirit's decision to engage in a makeover of its vacation packages business is occurring as the airline has undertaken a significant international expansion. Company management stated that during 4Q2018 Spirit launched the largest international expansion in its history, and data from CAPA – Centre for Aviation and OAG shows as of early Feb-2019 roughly 16% of its ASKs are deployed into international markets.
CHART – Spirit Airlines has boosted its international operations, but its network continues to be dominated by its domestic flights within the United States of America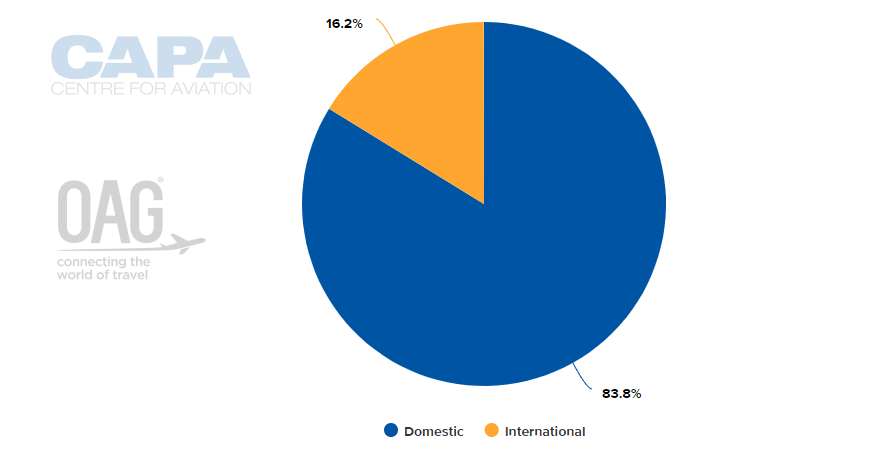 Source: CAPA – Centre for Aviation and OAG (data: w/c 18-Feb-2019)