St Louis gradually lost its hub status after American purchased TWA and eventually paired back service at the airport. Now, Southwest Airlines represents nearly 62% of the airport's system-wide seats, followed by American's 15% share.
In Jan-2018, a new common use lounge opened in the airport's Terminal 2, which according to the St Louis Post Dispatch is only occupied by Southwest Airlines. Iceland's LCC WOW Air is launching service to the airport in May-2018, also using Terminal 2.
CHART - Southwest Airlines is the dominant carrier at St Louis Lambert International Airport accounting for almost two in three seats from the former TWA hub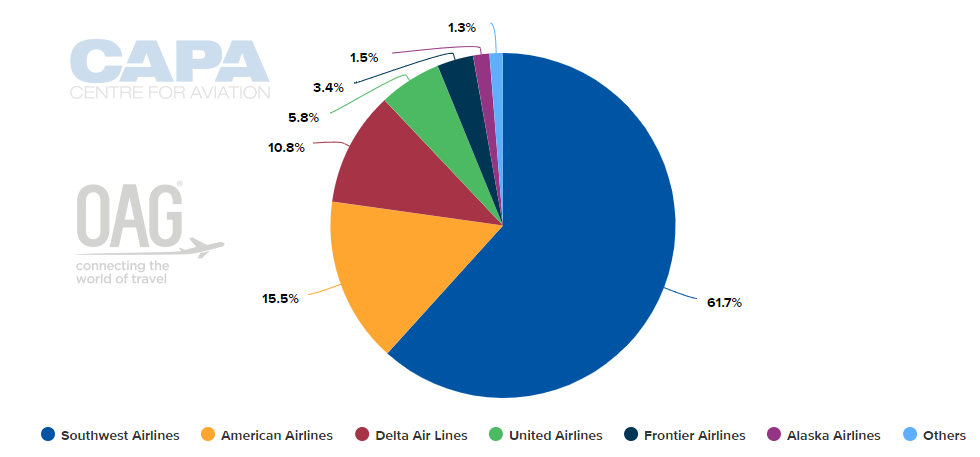 Source: CAPA - Centre for Aviation and OAG
The publication states Airport Terminal Services is operating the lounge, and the airport should garner USD3.45 million in revenue over the course of ten years from the lounge. The company also operates a Wingtips lounge at New York JFK.
Customers can purchase a single, four hour day pass for USD38 or annual memberships for USD75. Corporate packages are also available. Amenities in Wingtips include a complimentary food buffet, juices, expresso, coffee certain alcoholic beverages and Wi-Fi. The lounge's hours are 4:30am to 10:00pm Sunday through Friday and Saturday from 7:00am to 5:00pm.
The airport has stated a common use lounge is one of the most requested by its passengers, and the ability to collect revenue makes the lounge's opening a win-win for St Louis International.