While it is commonplace for a hotel to allow use to use another's pool or gym should they lack such facilities, NH Hotels is taking the sharing to another level by allowing guests to use a suite of crossover services in any of the hotels operated by the company in the cities they are staying in regardless of which one they are actually sleeping in, throughout the duration of their hotel stay.
The company is believed to be the first hotel group to offer such a package in most of its establishments around the world through this City Connection offering, which spreads across the NH Hotel, NH Collection, nhow, Tivoli and Avani brands.
City Connection is certainly a pioneering service and a real plus for hotel guests, who will no longer need to rely on the hotel they are staying in as their only base; rather, they will be able to make the most of NH's locations to take a breather or organise their things.
When guests check in, they will be given a passport, which will explain which of the company's hotels offer this service, where they are located and how long they can make use of it.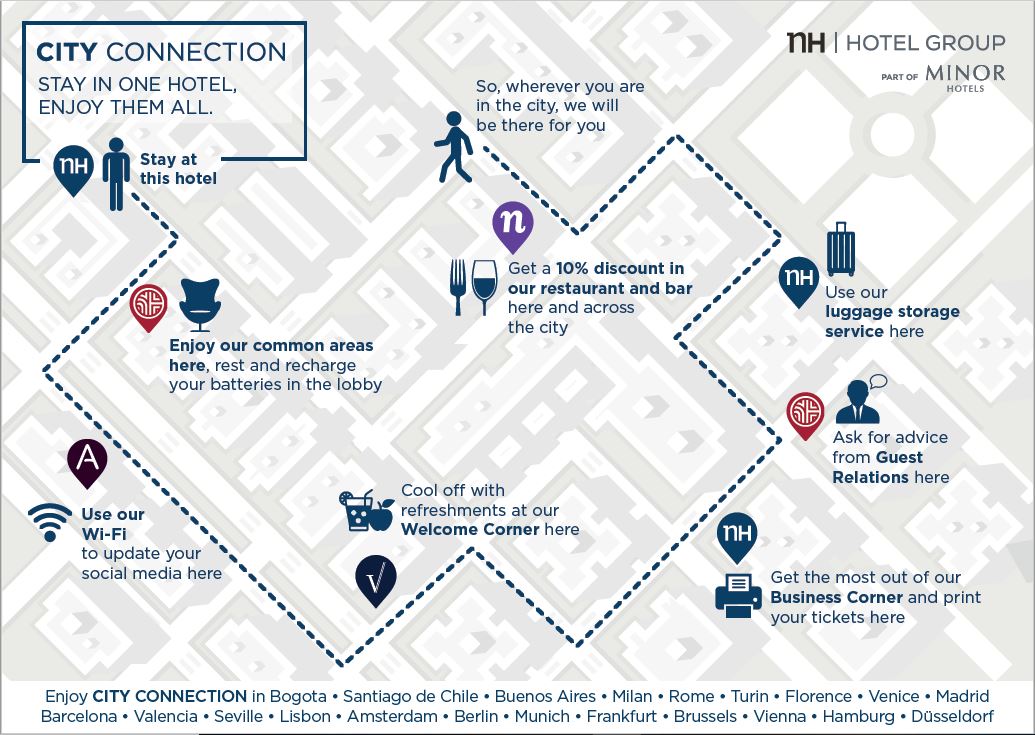 "With City Connection we aim to provide our guests a unique and tangible benefit in comparison with other types of accommodation. For NH Hotel Group, the key lies with delivering beyond what our guests need, beating their expectations before, during and after their stays," explains Isidoro Martínez de la Escalera, chief marketing officer, NH Hotel Group.
The services included in the City Connection initiative notably include the use of the establishments' common areas so that guests can rest and get a new lease of life in the hotel chain's lobbies, while making use of free Wi-Fi and freshening up in the Welcome Corners.
They can also ask the Guest Relations Manager for assistance and tips (available in NH Collection and nhow hotels only), store their luggage in the hotel that best suits them and use the Business Corner to organise their affairs.
Meanwhile, 'foodie' travellers can enjoy the Group's culinary offering, one of its best-known services, thanks to a 10% discount in the participating hotels' restaurants and bars across the properties.
This new value proposition will give guests access to crossover services in a total of 129 hotels in cities in Europe and Latin America. Those cities include top tourist and business destinations such as Madrid, Barcelona, Valencia, Seville, Lisbon, Milan, Rome, Turin, Florence, Venice, Amsterdam, Berlin, Munich, Frankfurt, Brussels, Vienna, Hamburg, Düsseldorf, Bogota, Santiago de Chile and Buenos Aires.
For corporate travellers especially, NH Hotels highlights numerous benefits from City Connection, which it describes as being developed in this sector "to assure that your business trips go as smoothly and efficiently as possible".
"Do you need to answer a few work emails while running between meetings? Use the Wi-Fi hotspots in our NH lobbies. Don't feel like carrying your laptop around the city? No problem. Make use of the computers at any of our Business Corners," it describes.
"Was your flight delayed, putting you on a tight schedule to make it to a meeting or conference? Leave your luggage in the NH Hotel where your conference is being held or one that's close by. You can also use our lobbies for impromptu and informal meetings," it adds,