---
Summary:
Stobart Group says it has become focused on airports and aviation services as it starts services at one UK airport and takes on the management of another;
It has a good track record at Southend which it has 'rebuilt' as a London airport option;
Its financial report shows that aviation still performs poorly compared to its energy division.
---
Stobart Group has seen its financial results fall sharply in the 12 months to 28-Feb-2019 to a GBP42 million loss after it was hit by soaring aviation costs. The group suffered particularly from a GBP15.5 million loss related to its discontinued operations, which included Stobart Air and its aircraft leasing business Propius, which were sold in Feb-2019, both to the Connect Group which also acquired Flybe in two simultaneous transactions.
As a result, Stobart Group has a 30% investment in Connect Airways, which will identify cost synergies between Stobart Air and Flybe, reset the cost base and develop a London connectivity strategy that will involve London Southend Airport.
That is Stobart Aviation's principal asset and saw a 33% year-on-year increase in passenger numbers in the period, occasioning an increase in EBITDA of 177% to GBP4.9 million on revenues of GBP39.4 million. A positive performance, but still a low margin of 12.4% - the margin on the energy division's activities was much higher at 29.5%.
easyJet alone flew around one million passengers at Southend in 2018. Ryanair services commenced in Apr-2019, that airline immediately becoming the second largest there by seat capacity, while Loganair services began in May-2019. The agreement with Ryanair is alone expected to bring more than one million additional passengers per annum through the airport from spring 2019.
Stobart Aviation took over Southend Airport in Dec-2008 from Regional Airports and has since made investments that have enabled the airport to grow from just 4,000 passengers in 2009 to 1.5 million in 2018, although the rate has been up and down like a rollercoaster ride, -18.3% in 2015 but +35.5% in 2018.
CHART – Traffic at London Southend has grown significantly this decade, but there has been notable year-on-year variation in passenger levels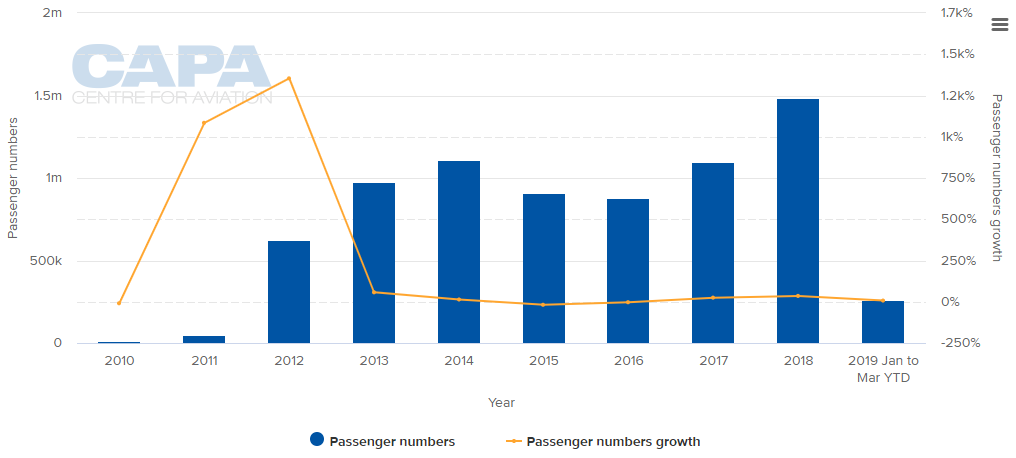 Source: CAPA - Centre for Aviation and UK Civil Aviation Authority
Those investments include a railway station (2011), runway extension (2012) and control tower (2011). According to the CAPA Airport Construction Database there are no projects in place momentarily but the intention is to extend the terminal building.
The runway extension and rail station jointly enabled a rapid expansion of flight schedules. The rail line feeds Liverpool Street station in the heart of the City of London and which will also be on the London Crossrail (Elizabeth Line) when it eventually opens. Liverpool Street is the same station that services the other Essex airport, London Stansted, and journey times (50-60 minutes) are similar.
Once London's third-busiest airport, Southend had fallen into severe decline before the Stobart takeover and its resurgence in recent years has been a considerable achievement. From 3Q2019 Stobart's attention will also switch to the development of Carlisle Lake District Airport in the English Lake District, a city that is the operational headquarters of the Stobart. Carlisle Airport was acquired by Stobart Airports in Jan-2009 for GBP10 million but launching scheduled services has been a troublesome task.
On 04-Jul-2019, the first commercial service for over 25 years is due to take off from there, but developing the airport from a passenger angle will not be easy. While it is situated at the top (northern) end of the UK's premier national park for incoming tourists there is a very thin population base to sell outbound services to and the area is already well served by Newcastle, Glasgow, Manchester and Leeds Bradford airports.
Elsewhere in the north of England, Stobart Aviation recently took over the operation of Durham Tees Valley Airport in the northeast as that facility returned to the public sector from Peel Holdings. It will invest a 25% stake in the new airport company which is expected to revert to its previous name of Teesside International Airport. This airport has also found the going to be hard for many years and you can't help but think it will be another challenge for Stobart.