---
Summary:
Stockholm Skavsta Airport is among Sweden's five largest commercial airports and hopes to take advantage of the strong population to the south of Stockholm to become a true alternative in the Scandinavian capital's airport system;
Traffic numbers were up +17.2% across Q1 2018 buoyed by expanded offerings from its LCC partners Ryanair and Wizz Air;
This summer Wizz Air is adding flights to Szczecin, while Ryanair will introduce connections to Edinburgh and Kiev during the winter 2018/2019 schedule. Wizz Air will also introduce flights to Vienna in Mar-2019;
VIDEO - exclusive interview with Peter Hoslin, director of business development at Stockholm Skavsta on network strategy, finding a hub airline partner and the value of ethnic VFR traffic.
---
A former military airfield, it opened to commercial operations in the 1980s and has grown to handle – at its peak – over 2.5 million annual passengers. This figure, achieved between 2009 and 2011 had slipped to less than 1.7 million by 2014, but has seen year-on-year growth since with annual rises of +9.3% in 2015, +11.9% in 2016 and +5.0% last year. It is on track to once again hit the 2.5 million passenger milestone in 2018 with traffic over the first quarter up a significant +17.2% versus the same period last year.
CHART – Passenger levels at Stockholm Skavsta were up by around one sixth during the first quarter of 2018 and could see annual flows grow to around the 2.5 million record seen in 2011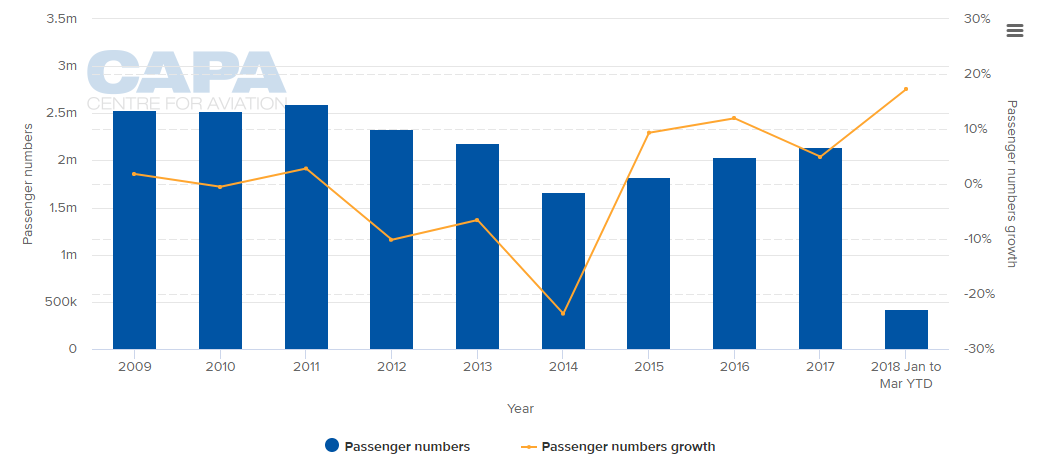 Source: CAPA – Centre for Aviation and OAG
The Q1 2018 performance has been bolstered by the expanded operations of Ryanair at Skavsta, which included new winter routes to Memmingen, Nis and Podgorica. While the budget carrier has moved in to the major airports in other European capital cities, it believes Skavsta delivers a product at a market that supports its business strategy and the goals of its 'always getting better' programme.
This summer Ryanair's summer Skavsta schedule is up +3.4% on last year, while Edinburgh and Kiev are new destinations already open for winter 2018/2019 operation. Stockholm Skavsta has scheduled flights to 39 destinations this week with Ryanair holding a 68.1% share of departure seats. Its other main operator is Central and Eastern European LCC specialist Wizz Air (31.9% share) with the latter adding flights in May-2018 to the Polish city of Szczecin, located close to the Baltic Sea and the German border, and to Vienna from Mar-2019.
CHART – Ryanair accounts for more than two thirds of the current seat capacity from Stockholm Skavsta, with Wizz Air offering a complementary network from the airport. In fact Gdansk is the market where the two LCCs directly compete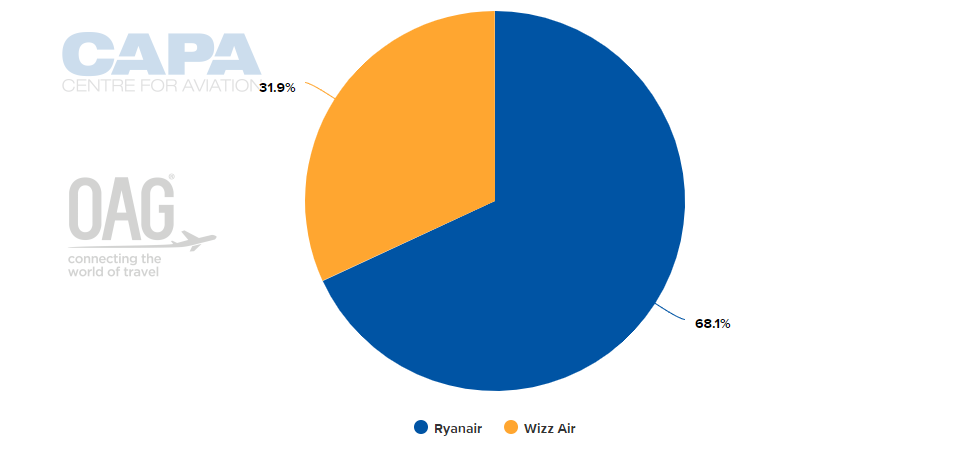 Source: CAPA – Centre for Aviation and OAG (data: w/c 30-Apr-2018)
Having been initially controlled during its commercial operations by the the council of Nyköping Municipality, the airport became part of Airports Worldwide, formerly ADC & HAS, the at-length operating arm of Houston Airport. In the past week, that 90.1% stake (the rest is still held by Nyköping Municipality), was sold to the fast-expanding VINCI Airports business.
Ahead of this change in ownership, The Blue Swan Daily spoke to Peter Hoslin, director of business development at Stockholm Skavsta Airport, on the sidelines of the recent AIRLINE Total Networking air service development forum in London to find out more about the airport's business proposition and how it is working to attract additional airlines and routes (and in particular secure a hub link), grow with its existing airline partners and targeting heavy and high yield ethnic VFR passenger flows.
Describing Scandinavia as a "fantastically dynamic market," Mr Hoslin, who formerly headed up aviation marketing departments at Abu Dhabi Airports Company and Oman Airports Management Company and most recently was regional director, Europe and new markets at the Hong Kong Tourism Board, said Stockholm Skavsta has an important role to play in supporting Stockholm, Sweden and Scandinavia's continued aviation development.
"We have a lot of room to grow. We have capacity to grow where other airports in the region may not have that capacity… We cater to our southern catchment in a way that makes sure the entire Stockholm aviation system works," he said. "This catchment is particularly attractive to airlines."
Alongside gaining passengers out from Stockholm, especially from the south of the city , Skavsta Airport includes a chain of four major towns down to the south of the capital within its immediate catchment and Mr Hoslin said "this very powerful industrial and transportation corridor that needs more [air] services."