The startup has already commenced recruitment for pilots, flight attendants and other leadership roles within the company, signed contracts and agreements with Jeppesen, Gallup, Comply365, TRAX and CarTrawler (among others), entered a definitive lease agreement for two Airbus A320s, rebranded itself, applied for authorisations from Canadian authorities, and has been awarded 10 daily slots at Vancouver International airport.
Overall, Jetlines was confident and excited for its launch on 17-Dec-2019. However, in Oct-2019, the startup indicated it was struggling to find financing to launch operations, and involved itself in discussions with various institutions in the hopes of finding sufficient funds to launch.
It also pointed out plans to convert such investor interest into financing commitments, but specifically stated it could make no assurances this would occur. Within the same month, SmartLynx and InHarv ULCC Growth Fund jumped ship, scrapping any commitment to invest in the business.
Jetlines has subsequently indefinitely postponed its launch date, and now plans to pay no additional deposits, meaning it will no longer receive the two A320s that were scheduled for delivery in Nov-2019. In addition, it will lay off most employees to conserve cash, put the majority of contracts which were signed for airline systems on hold, and endeavour to keep all manuals submitted to Transport Canada for an Airline Operators Certificate updated as necessary.
Javier Suarez, the startup's most recent CEO to resign, believed that Jetlines was "ahead" of Swoop and Flair Airlines. He argued the carrier's "from scratch" approach was a benefit over them, both of which would likely have to deal with "labour issues" and ticket price competition from Jetlines.
A month later, Mr Suarez said the startup would need to revisit its plans since the launch of Swoop in Jun-2018. According to CAPA's profile on Canada, there are seven LCCs out of the 126 airlines operating in Canada, featuring Air Canada Rouge, Jetlines, WestJet Encore, Flair Airlines, Sunwing Airlines, Swoop and WestJet. "At the end of the day, you are not only competing with the very high fares of existing Canadian airlines, but also with US LCCs flying from US secondary airports", Mr Suarez said.
CHART - As of Dec-2019, the startup's share price is the lowest it has ever been for the past five years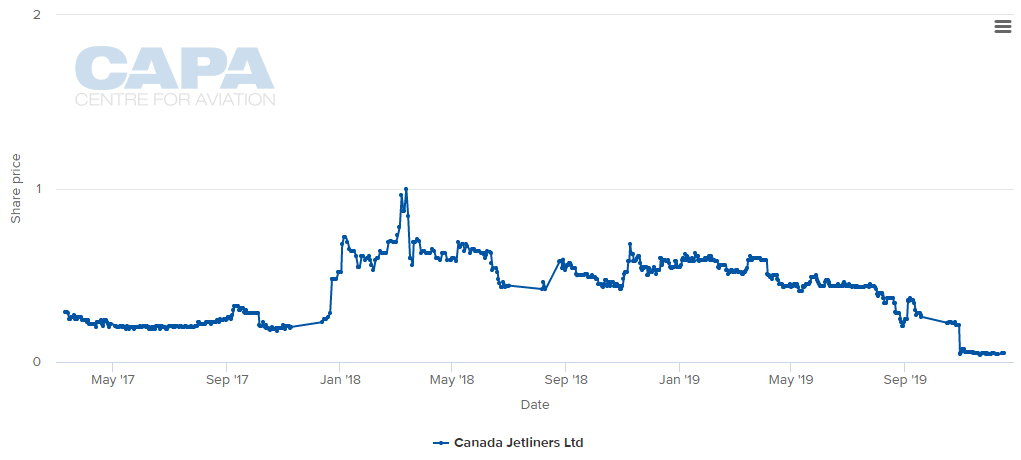 Source: CAPA - Centre for Aviation
Competition is a major contender for Jetlines. In Dec-2018, Flair Airlines president and CEO Jim Scott accused WestJet and Swoop of predatory pricing, identifying WestJet as "trying to keep a new player out of the marketplace". Canada's commissioner of competition Matthew Boswell said both Swoop and WestJet were engaged in "predatory anti-competitive practices" by "significantly decreasing" ticket prices to a level seemingly "below their avoidable costs".
The same month Jetlines lost its investors, it retained market analysis experts who concluded that Swoop was pricing below Jetlines' avoidable costs and was working to deter its entry on proposed routes. According to Jetlines, a principle concern which it encountered when trying to gauge investor interests was the belief that the startup would be greeted with a very aggressive reaction from existing dominant members in the Canadian market.
MORE INSIGHT…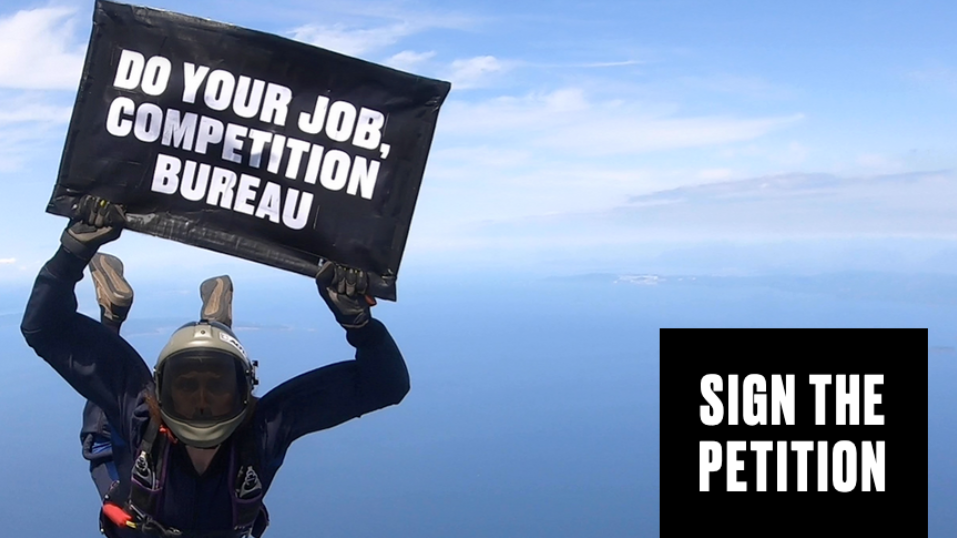 ULCC Canada Jetlines: casting a wide net to get airborne
But, there may be a bright light. This week however, and perhaps a little surprisingly, the startup has announced an LoI with Global Crossing Airlines (GLOBALX) to combine the two businesses. GLOBALX is a Miami based charter company that plans to operate a 121 charter carrier with A320-200s, but still awaits its own regulatory certification.
If combined as proposed, Jetlines and GLOBALX would initially operate charters with major tour operators from Canada to major US leisure destinations, with aircraft to be operated by GLOBALX but branded as Jetlines.
Jetlines said it believes the transaction would be a good opportunity to maximise its own value, describing the current domestic Canadian market as in a state of flux, with major carriers undergoing consolidation and approximately three planned entrants targeting the ULCC segment.
So, will Jetlines ever get off the ground and become a bird of the air in its own right? It's not looking great... as of Dec-2019, the startup's share price is the lowest it has ever been for the past five years. Maybe the underdog will eventually fight its way through the competition, but for that – it's going to need a bit more support.