United's unit revenue performance, which has been weak throughout much of 2012, continued to trail its peers during 3Q2012. On a consolidated basis, United's unit revenues fell 1.3% year-over-year, compared with growth of 3% at rival Delta Air Lines. United's mainline unit revenues fell 2% year-over-year, versus mainline growth of nearly 4% at American Airlines and a slight 0.5% decline at US Airways.
United select operating results: 3Q2012 vs 3Q2011 and Jan-Sep-2012 vs Jan-Sep-2011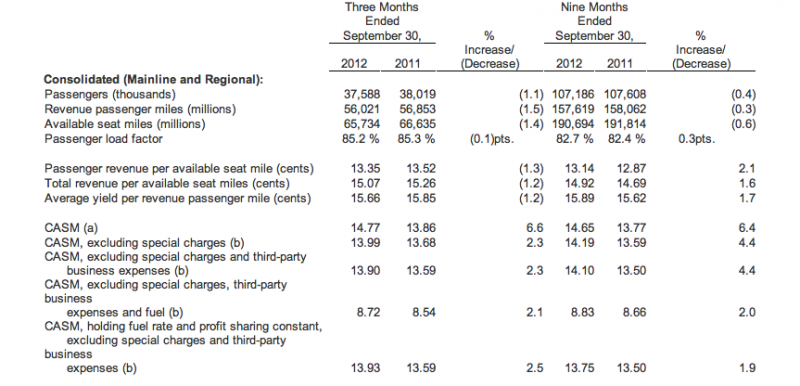 See related article: Integration challenges continue to plague United's financial performance
United chief revenue officer Jim Compton said United was not satisfied with its year-over-year unit revenue performance, and noted that while the airline industry as a whole faces largely the same global economic challenges, United's under performance was driven by unique merger integration issues. United and Continental merged in 2010, and during 2Q2012 and 3Q2012, Mr Compton stated the carrier converted major information technology systems (including its reservation platform) and undertook an aircraft redeployment project to better match aircraft gauge and route pairings.
Mr Compton admitted those changes stressed United's operational and financial performance. Between Jun-2012 and Aug-2012 United's on-time performance fell by 4.6ppt, 10.2ppt and 4ppt, respectively. Based on data reported to the US Department of Transportation (DOT), United in Jun-2012 reported the lowest on-time arrival rate of US carriers at 70%.
But Mr Compton and United CEO Jeff Smisek declared those operational problems have been resolved, evidenced by an 82% on time arrival rate for Sep-2012. While the operational disruptions appear to have ceased, United faces challenges in regaining consumer trust, as some corporate customers booked away from the carrier during its period of poor operational performance.
See related article: United seeks to combat merger challenges and shore up its balance sheet
Falling revenue and yields
Mr Compton remarked that even though some customers opted to travel on other airlines during the height of United's operational challenges, the carrier did record a modest increase in corporate revenues in 3Q2012. However, he did admit that the book-away by those customers did negatively impact the carrier's overall unit revenue results.
Yields and unit revenues fell year-over-year during 3Q2012 in all of United's geographical entities with the exception of the Pacific, where unit revenues grew by 10% and yields increased 7%. Within the region, China turned the best performance as United recorded 11% unit revenue growth on its Chinese routes and an increase in yield of 8%. Mr Compton also stated that Japan performed well, as unit revenues and yields in those markets increased 6% and 5%, respectively.
United unit revenue and yield performance by region: 3Q2012 vs 3Q2011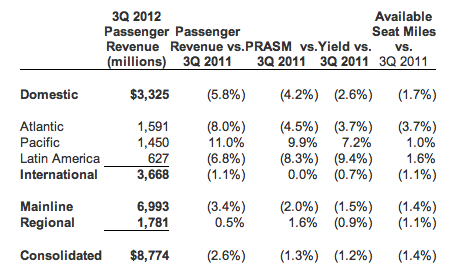 The Pacific was also the best performing entity for United's rival Delta, which posted unit revenue growth of 6% in the region and a 3% rise in yields. Despite turning a strong performance in the Pacific during 3Q2012, Delta's results lagged behind the industry. The carrier's management acknowledged some challenges as Japan's major carriers ANA and Japan Airlines have increased their capacity in the US-Japan market.
See related article: Delta's strong earnings performance remains clouded by unit cost pressures
United's worst performing entity during 3Q2012 from a unit revenue and yield perspective was Latin America. The carrier's unit revenues dropped 8.3% year-over-year while yields plunged 9.4%. Mr Compton explained that Untied faced difficult year-over-year comparisons in its Latin American performance in 3Q2012, noting that in 3Q2011 Latin American unit revenues and yields increased more than 20%. Comparing 3Q2012 to 3Q2010, unit revenues and yields in Latin America are up by 11% and 10%, respectively, he stated.
The economic slowdown in Europe pressured United's trans-Atlantic performance during 3Q2012, as its unit revenues decreased 4.5% and yields dropped 3.7%. Mr Compton noted that United plans a major capacity reduction in its European operations during 4Q2012.
United estimates consolidated capacity will fall 2.2% to 3.2% during 4Q2012, with 2% to 3% drop in international supply. Mr Compton remarked that the merger allows United to reduce capacity in weaker markets like the trans-Atlantic and redeploy the supply to stronger regions such as the Pacific.
United has already allocated some of its incoming widebody capacity to Asian markets. The carrier is deploying a portion of the five Boeing 787s it is taking delivery of at the end of 2012 into Asia, introducing the aircraft on service between Los Angeles and Tokyo Narita in Jan-2013 and Los Angeles-Shanghai in Mar-2013.
See related article: First tranche of United's 787s put aircraft's mission to the test
Anticipated cost pressure in 2013
United's unit costs excluding fuel and special items increased 2.5% year-over-year during 3Q2012. Rival Delta is in the midst of attempting to stave off a cost creep, and saw its unit costs rise 6% during 3Q2012, and the carrier does not foresee any relief in unit cost pressure until 2H2013.
United CFO John Rainey noted that United enjoyed some cost synergies during 3Q2012 from facility consolidation and harmonisation of engine and component maintenance programmes. However, he cautioned that United is prepared for its own cost headwinds during 2013, including the expense of negotiating joint collective bargaining agreements with United and Continental's various workgroups.
Softening economic trends throughout the remainder of 2012
During the last few weeks, Chicago-based United has openly voiced concern about a slowing economy, and has adjusted its capacity accordingly. Reiterating that assessment, Mr Compton stated that based on GDP revisions and general global economic conditions, he anticipates some softening of the economy during the remainder of 2012, "and the strength of any recovery in 2013 remains unclear". United expects flat unit revenue growth year-over-year in Oct-2012, but has not given revenue guidance for the remaining two months of 2012.
United faces the added challenge of winning back customer trust during the weaker economic conditions underlying the business environment throughout the rest of 2012. Even though the carrier stresses that its operational issues have been resolved, the lucrative corporate customers opting to travel with other airlines are not likely to come rushing back, and the competitors that secured those passengers will work hard to retain that business.
Some corporate travellers are simply waiting to determine travel spend until the US presidential election is over and uncertainty over the expiration of certain tax breaks clears. United faces a tough climb in attempting to restore the confidence of the corporate traveller, which could continue to detrimentally affect its revenue performance and cause it to underperform relative to its industry peers.
background info
United financial performance: 3Q2012 vs 3Q2011 and Jan-Sep-2012 vs Jan-Sep-2011