Growing concerns about environmental challenges have been put in the spotlight during the COVID-19 pandemic, but a global health crisis is obviously not the solution. Still, it has given us time to reflect on the impact of our activities on our planet – including the way we do business. Whether this is the need for conservation of natural resources or greater expectations around societal issues, the past 18 months have brought sustainability into the mainstream for consumers and organisations.
It's generally cheaper to buy a product that has a worse impact on its environment than the equivalent product that does less harm. But can we really put a price on safeguarding our future? As highlighted by Havard Business Review in a special sustainability paper, it is effectively "putting a price on the priceless".
Intelligence from the Capgemini Research Institute, the in-house think tank on all things digital for the consulting, digital transformation, technology and engineering services provider, has highlighted that sustainability impacts consumers purchase preferences and ultimately makes them happy.
Approaching two-thirds (64%) of consumer respondents to its Sustainability in Consumer Products and Retail Survey last year said buying sustainable products made them feel happy when shopping, more than half (52%) consumers felt an emotional connection with a product or organisation which is sustainable, while four in five (79%) consumers were changing purchase preference based on the social or environmental impact of their purchases.
There is a common misconception that putting resources into sustainability comes at a cost. Various studies from the World Economic Forum, among others, have already indicated a positive connection between eco-innovation and increased financial and other performance.
The Capgemini research also highlighted clear benefits for organisations to have a stronger sustainability focus with significant customer-facing and financial benefits derived from such an outlook, the research found. More than three quarters (77%) of executives said their sustainability approaches increased customer loyalty, over two thirds (69%) pointed to an increase in brand value, and (68%) an improvement in environmental, social and governance (ESG) ratings, while a similar level (63%) of organizations also said that sustainability initiatives helped boost revenues.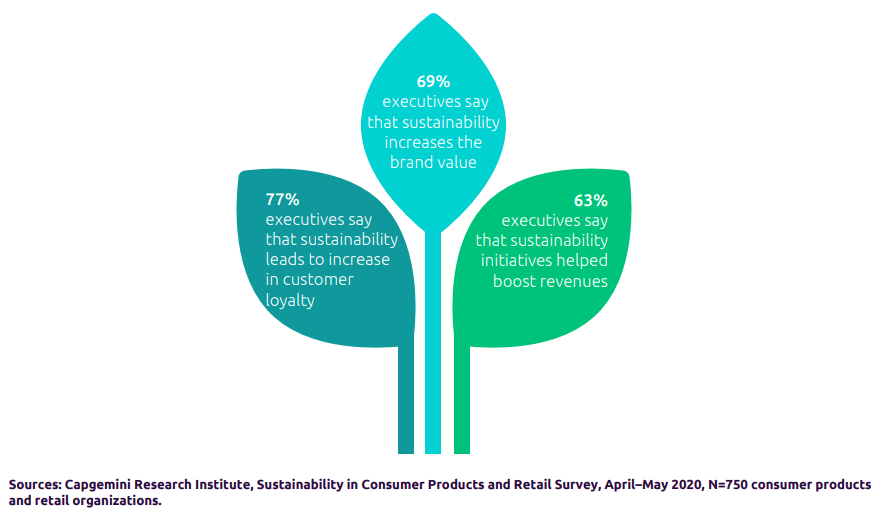 One real concern acknowledged by Capgemini's 'How sustainability is fundamentally changing consumer preferences' report based on the research though was that organisations were not aware that consumers do not necessarily associate sustainability with a price premium.
The findings illustrated that consumers expect sustainability and a clear corporate purpose to be the "new normal". Organisations associate and expect sustainability to come with a premium: 59% say consumers are willing to pay a price premium for the products/brands they perceive as sustainable.
However, consumers do not actually expect sustainability to come at a high price. Around two-thirds (65%) said that sustainable products do not need to be more expensive than similar products that are non-sustainable. Further, two in five (~40%) also said that have paid less than average price for products that they perceive as sustainable with nearly half of the younger demographic (18–35 years) having paid lower-than-average prices for sustainable products compared to other age groups.
In total, more consumers (57%) said they have paid higher-than-average prices for products that they think are sustainable, albeit two thirds only paid up to 10% more on average. This disengagement could ultimately hinder the efficiency of sustainability drives.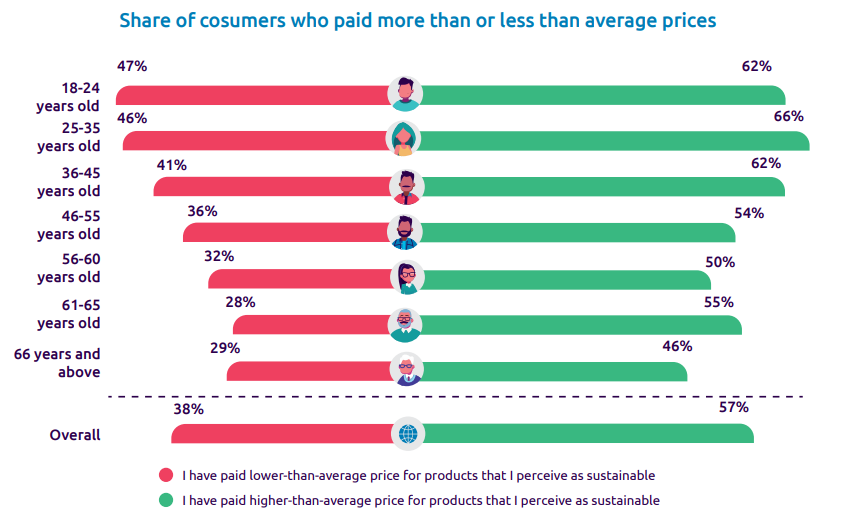 Similarly, the report identified that while organisation recognise the importance of sustainability, they are still yet to accept the fact that consumers will change their purchase preference based on sustainability factors alone. Just over one third (36%) believed that consumers are willing to change their choices/preferences based on social or environmental impact. In fact, the research showed more than three quarters (79%) of consumers have signalled an intention of changing based on social, inclusive, or environmental grounds – 42% having already changed and 37% planning to do so.
It is clear that sustainability is a topic that consumers and organisations are increasingly holding close to their hearts. Consumers feel an emotional connection with sustainability and their behaviour is shifting as a result. At the same time, many organisations are making sustainability a strategic priority.
But, Capgemini warns that "a disconnect is undermining these good intentions" and while consumers want to be sustainable, they are not always aware of the environmental footprint of the common products they purchase or enabled with sufficient choice to convert this intent into action. "Consumers think they practice sustainability, but do not always grasp the cold reality of a product's impact on the environment," it said.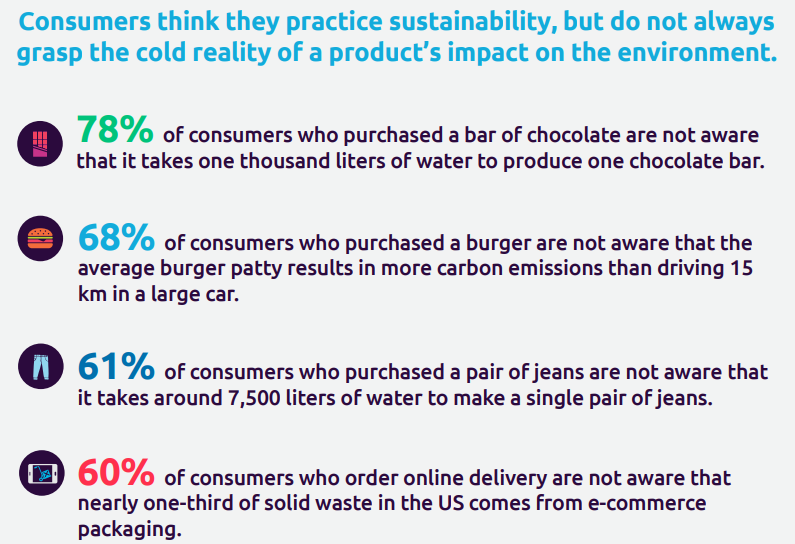 This highlights that education remains as important as ever and this could overcome any concerns like we have seen with greenwashing claims over organisations' environmental practices. The Capgemini research showed that around half (49%) consumers felt they did not have any information to verify the sustainability claims of products and 44% even said they do not trust product sustainability claims. Building trust will be critical for organisations, alongside educating consumers on the sustainability issues, if we are to really achieve the most from our sustainability aspirations.