The trend is explained, Swedavia says, by weaker Swedish and global economic growth, a weak Krona (SEK), climate debates, and Sweden's national aviation tax.
The company's president and CEO said, "Sweden is now losing a number of important routes, which are instead being moved to big airports nearby. This is something we should take very seriously since travel opportunities, cargo flows and competitiveness are adversely affected when Sweden's access is impaired. There is tough competition today between countries and regions to attract the establishment of company operations, investments in growth, events and tourism".
Swedavia's airports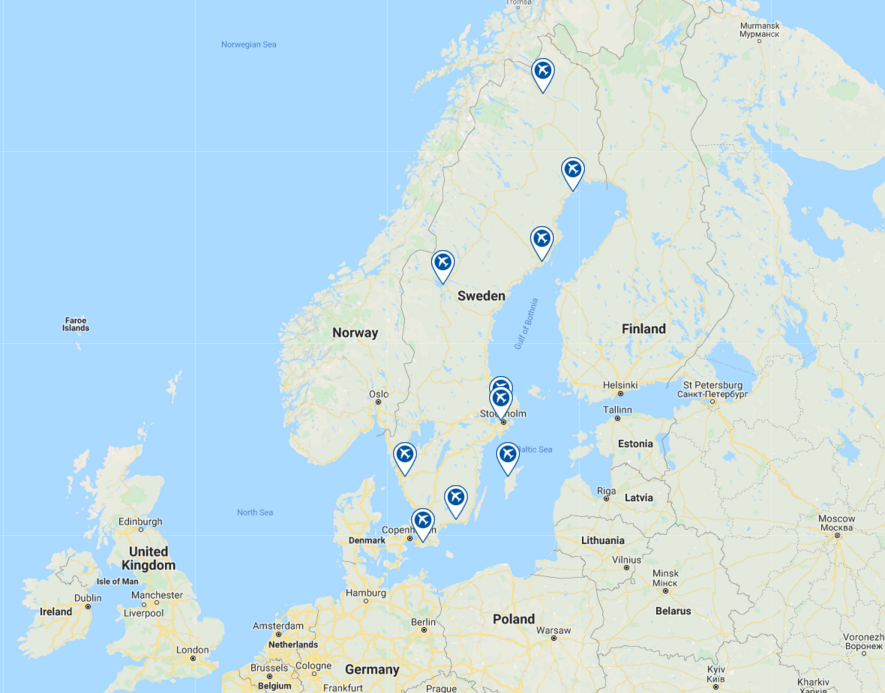 Source: CAPA Investor Profiles and Google Maps
It will not go unnoticed that two of the four identified causes are environmental ones: what it calls "climate debates" (the country is at the global epicentre of those), and the national aviation tax, which was introduced to discourage travel for environmental reasons.
Since Apr-2018 all flights departing from Swedish airports have had an added charge of between SEK60 and SEK400 (EUR6 to EUR40) applied, depending on the destination.
It seems to be clear that Swedavia really is up against it, and these losses are just the beginning. Contrary to popular belief, not everyone in Sweden is swimming in money.
While salaries can be high, taxes are higher. Moreover, such taxes can be a huge disincentive to foreign tourists, especially when travelling from countries where aviation taxes are also high – such as the UK and Germany.
And losses haven't been felt significantly in the international passenger segment yet.
The main winner, the big airport to which "important routes are being moved" is Copenhagen, capital of Denmark, a country that charged passengers airline tax from the late 1990s until 2007, when the provision was scrapped by the Conservative government, which said that the tax had had a negative effect on the economy. The current centre-right government in Denmark has said that it has no intention of reintroducing an aviation tax of this type.
And Copenhagen is milking its opportunity.
See https://corporatetravelcommunity.com/copenhagen-airport-has-lofty-long-haul-ambitions-and-is-not-afraid-to-steal-long-haul-routes-from-rivals-to-feed-its-own-hub/
The difference in passenger traffic growth during the last three years between Stockholm Arlanda and Copenhagen Kastrup airports is shown below.
While Copenhagen has succumbed to a small loss in 2019 to date (-0.1%) – probably brought about by economic circumstances, the loss of Primera Air capacity and the impact of SAS strikes in Apr- and May-2019 – the rot set in the year before at Arlanda.
Stockholm Arlanda airport, passenger numbers 2017 - 2019 January-September YTD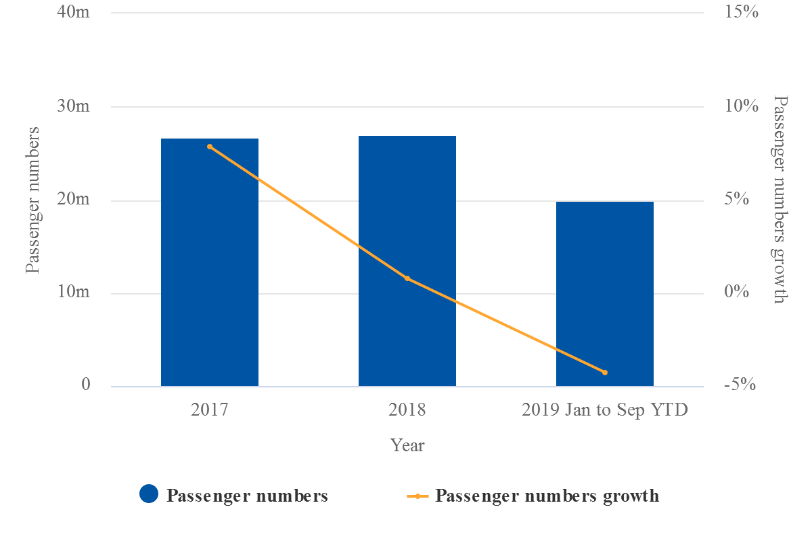 Sources: CAPA - Centre for Aviation, Swedavia, and Copenhagen Kastrup Airport reports
Copenhagen Kastrup, airport, passenger numbers 2017 - 2019 January-September YTD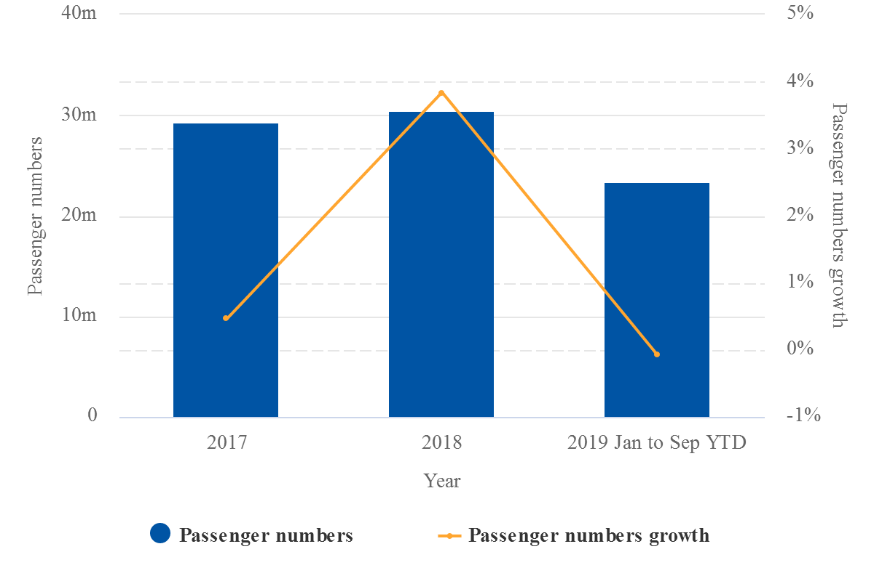 Sources: CAPA - Centre for Aviation, Swedavia, and Copenhagen Kastrup Airport reports
A similar situation is developing in Norway, where aviation taxes have also been introduced.
Swedavia's response has been an unusual one – namely, to launch a framework enabling the issue of 'green bonds', with the aim of financing investments and projects in climate change adaptation and sustainability.
The green bond is not a new development. It is a bond specifically earmarked to be used for climate and environmental projects. The bonds are typically asset-linked and backed by the issuer's balance sheet, and are also referred to as 'climate bonds'. Their purpose is to encourage sustainability and to support climate-related or other types of special environmental projects.
Green bonds come with tax incentives such as tax exemption and tax credits, making them a more attractive investment side by side with a comparable taxable bond.
In 2017 the issue of green bonds soared to a record high, accounting for USD161 billion worth of investment worldwide, according to the ratings agency Moody's, and issues are expected to exceed USD200 billion in 2019. As recently as 2012, the issue of green bonds amounted to only USDS2.6 billion.
The surge in 2016 was attributable largely to Chinese borrowers, who accounted for USD33 billion of the total, or more than a third of all bonds issued. But the interest is global, with the European Union and the United States among the leaders, too.
The World Bank is a major issuer of green bonds. World Bank green bonds provide finance for projects around the world, such as for India's Rampur Hydropower Project, which aims to provide low-carbon hydroelectric power to northern India's electricity grid. For that reason there is a strong likelihood that they will be used to finance solar power arrays at airports.
The framework enables Swedavia to issue green bonds under its existing medium term note programme, totalling SEK15 billion (EUR1.4 billion), and has been independently reviewed by the Centre for International Climate and Environmental Research. Bond proceeds will be used to fund investments and projects that support Swedavia's long term strategy, contributing to the UN's Sustainable Development Goals and the goals of the Paris Agreement.
However, this is still small beer. Swedavia has just reported that its investments totalled SEK2421 million (EUR225.5 million) in the nine months ended 30-Sep-2019, which was an increase of 6.8% year-on-year. EUR1.4 billion is just 0.6% of that.
Swedavia will have to issue a forest of green bonds and invest in many environmental projects before the government revisits its aviation tax policies.
In any case, it could easily be a matter of whether Swedavia cares that much. Despite Swedavia's loss of passengers, it still improved its operating profit by 8.3%, to EUR67.1 million, in the nine months ended Sep-2019, and improved its net profit by 21%, to EUR60.1 million.
That's because while operating costs per departing passenger increased by 4.6%, commercial revenue per passenger grew by 7.7%.