---
Summary:
Airlines are already cutting flights in Sweden just two months after the introduction of its controversial airline passenger tax;
The tax was implemented on 01-Apr-2018 by Sweden's Government in an effort to combat climate change by reducing the demand for air travel;
It demands charges of SEK60 (EUR6) per passenger on domestic routes and up to SEK400 (EUR39) on long haul routes;
The Government expects the tax will result in 2% less greenhouse gas emissions by reducing airline traffic in Sweden by 450,000 to 600,000 passengers per annum.
---
The tax was implemented on 01-Apr-2018 by Sweden's Government in an effort to combat climate change by reducing the demand for air travel. The Government expects the tax will result in 2% less greenhouse gas emissions by reducing airline traffic in Sweden by 450,000 to 600,000 passengers per annum. By blunting air passenger demand it does clearly have the environment at the heart of its process, unlike some other taxation systems that appear to be purely income generation tools.
Scandinavian airlines, including Norwegian, SAS and Braathens Regional Airlines, voiced strong criticism in the lead up to the implementation of the tax – arguing it would put the country's aviation growth prospects in jeopardy. The airlines promised they would strive to reduce greenhouse gas emissions through other, more effective means – including through the transition to more climate friendly, fuel efficient aircraft and greater use of biofuels on flights within Sweden.
IATA echoed the criticism, stating the tax would be "disastrous for the Swedish economy". IATA estimated the tax would reduce Swedish GDP by SEK5 billion (EUR485 million) and the competitive position of the Swedish economy would decline from 22nd to 78th in the World Economic Forum (WEF) Cost Competitive Index - worse than Finland, Norway, Denmark and the Netherlands.
Two months following the implementation of the tax it appears their prophecy is coming true. Norwegian recently announced plans to axe two long haul Stockholm routes to Oakland and Las Vegas blaming the tax. The carrier does plan to launch a twice weekly Stockholm-Orlando service in Oct-2018 but has promised minimal long haul route development at Stockholm Arlanda going forward. Norwegian commercial director Thomas Ramdahl stated the carrier will continue to develop its network in Sweden but "not to the extent that we had planned and wanted".
Norwegian director of communications Charlotte Holmbergh Jacobsson also confirmed the cancellation of Karlstad-Alicante service was a direct result of the tax and indicated Stockholm-Los Angeles frequencies may also be reduced due to the impact of the tax.
National carrier SAS indicated similar intentions to reduce long haul route development at Stockholm Arlanda when it announced plans to transfer five times weekly Hong Kong service from Stockholm Arlanda to Copenhagen Kastrup, effective 28-Oct-2018. SAS EVP commercial Karl Sandlund stated: "Obviously, it's sad that we're moving from Stockholm, but in this case, Copenhagen offers better long-term opportunities that will enable us to further improve the SAS customer experience". It's probable Norwegian will follow SAS's lead and begin to redirect long haul routes through Copenhagen and other European hubs.
The aviation tax is also in direct conflict with Swedavia's goal to establish Stockholm Arlanda Airport as the "gateway to Scandinavia". Swedavia is in the process of developing the airport to handle almost 40 million passengers by 2040 – compared to approximately 25 million currently.
It's possible the tax is already interfering with this goal. In May-2018 Stockholm Arlanda reported a slight decrease in passenger traffic – the first decrease recorded in 62 months according to the CAPA - Centre for Aviation Airport Traffic Database. Across Swedavia's ten airports a total traffic decrease of -1% was recorded.
CHART - Stockholm Arlanda Airport reported a -0.1% year-on-year decline in passenger demand in May-2018 and this year to date growth is the slowest it has recorded this decade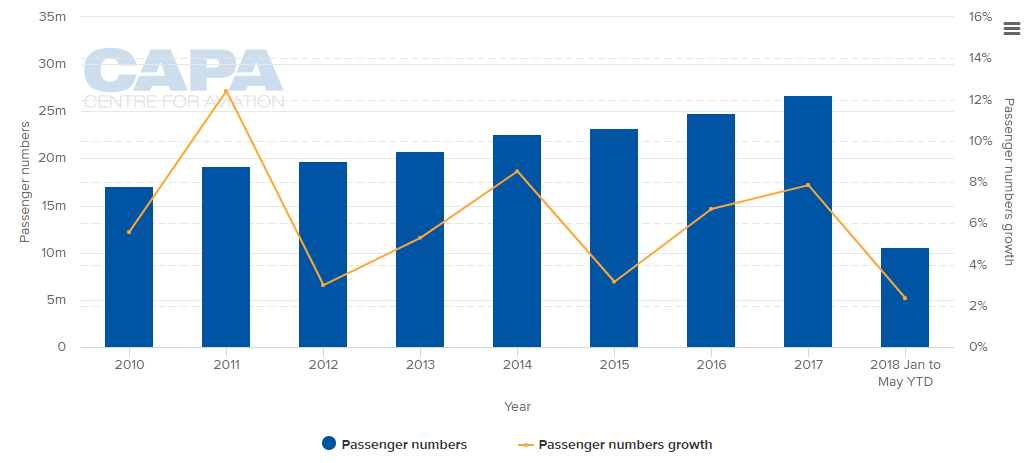 Source: CAPA - Centre for Aviation and Swedavia reports
Furthermore, Swedish Transport Agency recently lowered its forecast for annual air traffic growth in Sweden from +5.0% to +2.6% due to the aviation tax. Swedish Transport Agency maritime and air traffic director Gunnar Ljungberg stated: "We lower the passenger forecast for the next few years. The reason for this is that an air tax was introduced from 01-Apr-2018, which is expected to lead to higher fares".
So it would seem the Swedish aviation tax is bearing fruit just the way the government intended - by reducing the number of passengers flying - however it is directly at the cost of economic growth. While the tax may reduce direct carbon dioxide emissions from Sweden, the notion it will promote a decline in actual passenger demand seems unlikely.
We have seen previously that passengers have modified their journeys to avoid government taxes. In the Netherlands many passengers took ground journeys into Belgium when a previous tax was in operation. And it seems history could soon repeat itself with suggestions that the country's state secretary for finance Menno Snel reportedly plans to propose a national flight tax to the Dutch Lower House, due to doubts around the European Union reaching a consensus for an EU wide Emissions Trading Scheme.
Swedish travellers are likely to connect at hubs which are already experiencing a boost from the demand runoff at Arlanda - for example at Copenhagen. In this way, is a reduction of passengers via an aviation tax really the answer? Or should the industry pursue other methods widely considered more viable - such as advancements in aerospace, electric aircraft, biofuel and more efficient airspace routings?
Meanwhile, airlines and airports can remain hopeful the tax will be dissolved following the Swedish election in Sep-2018. If Sweden's Social Democrat party loses its majority, it's likely the tax will be discontinued, a move that will be clearly celebrated by airlines, airports and passengers in Sweden, at least!