Swedavia launched a new electric aviation strategy on 14-Feb-2020, with the aim of enabling all 10 Swedavia airports to handle electric aircraft and to be able to place the first commercial electrified route in service by around 2025.
For many years, Swedavia has been carrying out work to increase the use of sustainable bio jet fuel. Swedavia believes bio jet fuel is critical in a short-term perspective for driving the aviation industry's transformation in the face of climate change. But in the long term, electrification can also play a key role. Swedavia wants to take an active part at an early stage of this development and get an understanding of the conditions needed for electric aviation from an infrastructure perspective.
A testing venue for electric aircraft and drones is planned to be put into operation at Ostersund Airport, with tests to be carried out between Ostersund and Røros Airport in Norway during autumn 2020, in collaboration with a number of partners both in Sweden and Norway under the framework of the EU project 'Green Flyway.'
Ostersund is a Swedavia airport but Røros isn't. While it is in another country, the irony here is that the Swedish airports at which the electric aircraft concept is better-suited may not be under Swedavia's control. There are many smaller ones, operating independently but under the auspices of a separate organisation, the Swedish Regional Airport Association. On the other hand, while this may be a Swedavia project now it will certainly expand to include infrastructure that Swedavia does not directly control. It will have to, to be effective.
Swedavia CEO Jonas Abrahamsson said the company believes there is "good potential" for the first commercial electrified route in Sweden within five years. He added: "Longer term, the electrification of routes can be an important addition to today's scheduled traffic [and] can also lead to brand-new routes between regional centres, which would benefit access and regional growth as well as create a whole new business model for air transport". The operator aims to transition to fossil-free air transport for all services originating in Sweden by 2045. That includes international ones.
Like Norway, Sweden depends on air transport to bridge large distances between remote communities in the north of the country, some of them restricted by short runways. Electric propulsion might be a way of enabling some services to operate which cannot do so now, but just what the cost of all this will be is yet to be revealed. And the practicalities. How big will the batteries have to be? How long will it take to recharge an electric aircraft? How? Do you just plug it in, like a car? What is the back-up if the power fails?
MAP - Sweden is dependent upon efficient air travel connections both on the domestic front and to important European and global markets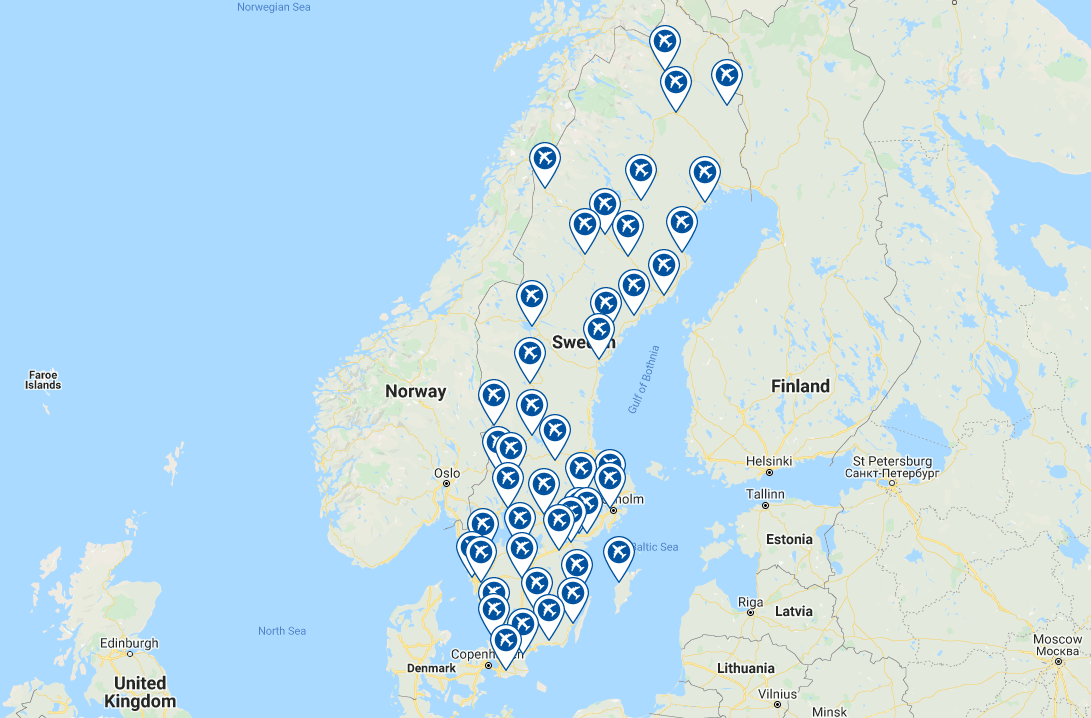 Source: CAPA - Centre for Aviation and OAG
In the long term, all ten Swedavia airports will provide infrastructure for handling electric aircraft. In addition to Åre Östersund, Umeå and Visby Airport are in the initial stages of developing electric aviation. Among other measures, Umeå is taking part in a project to consider the possibilities of electrified flights between Sweden and Finland.
"Given the possibilities, Swedavia welcomes the Swedish government's new initiative to study suitable measures to accelerate the introduction of electric aviation and the changeover to fossil-free air transport, which can contribute to Sweden's access and to regional development throughout the country," says Mr Abrahamsson.
For many years, Swedavia has carried out ambitious sustainability work. All ten of its airports will have zero emissions of fossil carbon dioxide from their own operations by the end of 2020. Swedavia also works actively to promote the industry's transition to bio fuel and has the goal that 5% of all fuel used to refuel aircraft at Swedish airports shall be fossil-free by 2025. Since 2016, Swedavia purchases bio jet fuel equivalent to the amount used for the company's flights for business purposes, about 450 tonnes of fuel a year.
Meanwhile, Swedavia's passenger traffic continues to fall. It was down by 5.6% in Jan-2020, with an 11% fall recorded in domestic passengers, with a similar drop in domestic air movements. The reduction as most noticeable at Stockholm Arlanda (ARN) and Gothenburg (GOT), but regional airports showed a positive performance, including Stockholm Skavsta (NYO), Halmstad (HAD), Växjö Småland (VXO), Örebro (ORB), Lycksele (LYC), Borlänge (BLE), Kramfors (KRF) and Kiruna (KRN).
Meanwhile, in Finland, Finavia, the equivalent of Swedavia, has joined the Network for Electric Aviation (NEA), a Nordic initiative to enhance and accelerate the development and introduction of electric aviation to the Nordics. Other NEA members include Air Greenland, Avinor, Finnair, Icelandair, SAS and Swedavia.