On the Boeing widebody the premium economy cabin will consist of 24 seats and has been developed for "economy class travellers seeking more inflight comfort," according to the airline. SWISS will be investing CHF40 million in installing the new seating class on the Boeing 777 fleet and introducing a product it describes as "a totally new air travel experience".
The new cabin will offer customers "substantially" more space, says SWISS, and will feature a newly developed seat "providing extensive legroom and movement". Tamur Goudarzi Pour, SWISS's chief commercial officer, says premium economy class travellers "will enjoy a substantially stronger sense of personal space".
The airline says the decision to introduce the new cabin is in response to a growing demand for an air travel product between economy and business class. It says the decision to offer the new seating class has also been "encouraged by the positive experiences" with similar products at Lufthansa and Austrian Airlines, SWISS's sister companies within the Lufthansa Group.
The new premium economy cabin will offer customers a 10% wider seat and a 25% greater recline versus the airline's standard economy product, as well as a 20% greater pitch. It is currently not clear if SWISS will introduce the new cabin by eating into current business class cabin or more likely simply modifying the first few rows of its existing economy space.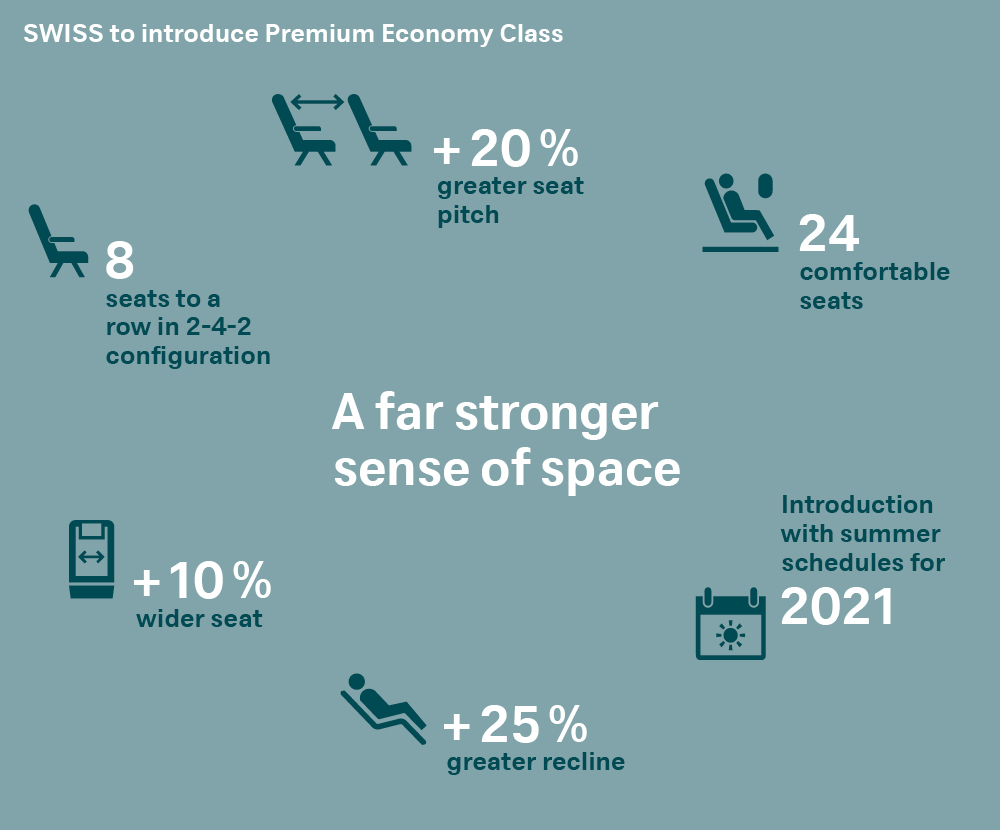 The premium economy cabin will encompass three rows of seats in a 2-4-2 arrangement. This compares to what is increasingly now becoming the industry standard 3-4-3 economy configuration on its 777-300ER fleet. There may also be some baggage allowance, check-in, boarding, in-flight entertainment and food and drink service benefits for travellers in the cabin, but details of these have not yet been defined.
SWISS will embark on the cabin conversion work during the winter 2020/2021 schedules and the new product will be available from spring 2021. According to the CAPA – Centre for Aviation Fleet Database, the airline has ten 777-300ERs with two additional aircraft due to arrive in 2020. In a second phase, the product will be extended to the entire SWISS long-haul operation by 2022, including its Airbus A330 and A340 fleets.
SWISS is investing heavily in improving the customer experience on its aircraft. The Blue Swan Daily reported earlier this month that the carrier had recently returned a first A340-300 to commercial operation after being refitted with its new business class product. It is part of a nose-to-tail cabin refurbishment that will see the type continue flying routes from its Zurich base long into the next decade.
https://corporatetravelcommunity.com/while-other-airlines-dump-the-a340-swiss-has-just-returned-the-first-of-its-refurbished-jets-to-the-air/
After a strong start to the year for SWISS saw traffic growth slow in Feb-2019. After delivering a +5.4% increase in demand in the first month of the year, year-on-year growth slipped to +1.2% in Feb-2019 as the airline transported 1,157,740 passengers. A total of 10,408 flights were operated during the month, up +4.0% on Feb-2018. System-wide capacity (measured in ASKs) rose 1.2% year-on-year, while traffic levels (measured in RPKs) were up +2.5%, boosting load factors 1.0 percentage points to 77.1%.