Now in its 12th edition, the GII is a respected global benchmark that helps policy makers better understand how to stimulate and measure innovative activity, a main driver of economic and social development. The GII 2019 ranks 129 economies based on 80 indicators, from traditional measurements like research and development investments and international patent and trademark applications to newer indicators including mobile-phone app creation and high-tech exports.
The GII 2019 also looks at the economic context: Despite signs of slowing economic growth, innovation continues to blossom, particularly in Asia, but pressures are looming from trade disruptions and protectionism. Sound government planning for innovation is critical for success, the report shows.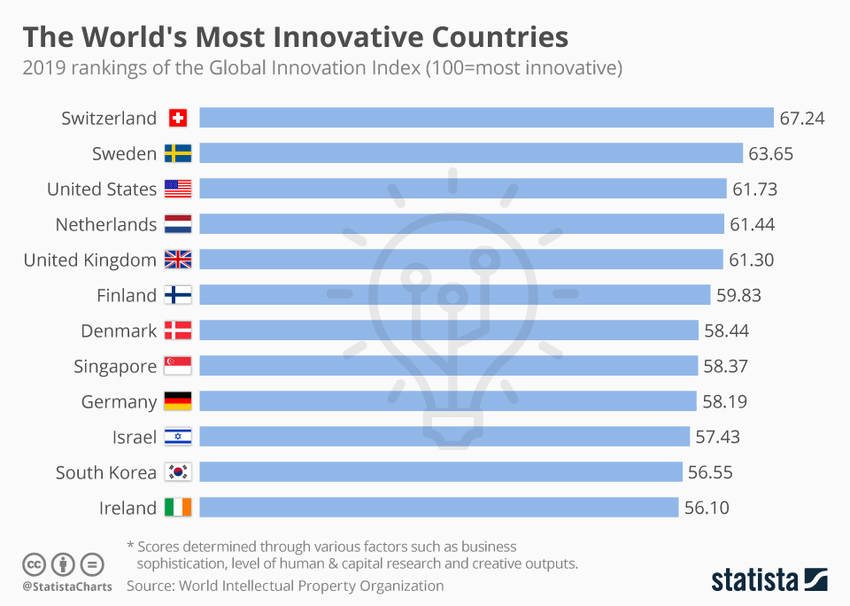 In the top echelon, Switzerland, Sweden and USA lead the innovation rankings, with the latter two moving up in GII 2019, one and three places, respectively. Other European nations, such as the Netherlands (albeit falling from second in 2018 to fourth this year) and Germany, along with Singapore in Asia, remain consistent members of the GII top 10. This year, Israel moves up to the tenth position, marking the first time an economy from the Northern Africa and Western Asia region has entered the top ten ranking.
In the top 20, the Republic of Korea edges closer to the top 10. China, continues its upward rise, moving to 14th (from 17th in 2018), and thus firmly establishing itself in the group of leading innovative nations and still the only middle-income economy in the top 30.
Notable moves in GII rankings this year include the United Arab Emirates (36th); Vietnam (42nd), and Thailand (43rd) getting closer to the top 40; India (52nd) getting closer to the top 50; the Philippines (54th) breaking into the top 55; and the Islamic Republic of Iran (61st) getting closer to the top 60.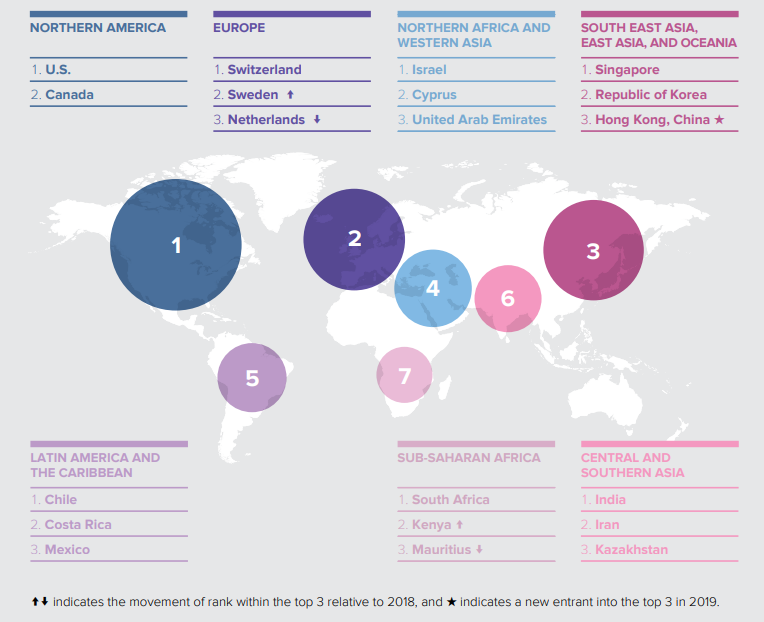 This year, again, the geography of innovation is changing, according to the report, shifting from high-income to middle-income economies. Nonetheless, it identifies, innovation expenditures remain concentrated in a few economies and regions. "Moving from a successful middle-income economy with innovation potential into an innovation powerhouse remains hard; an impermeable innovation glass ceiling exists that divides middle and high-income economies," it explains.
It would appear that most of the drive to break through that ceiling comes from China and to some extent India, Brazil, and the Russian Federation.
When comparing levels of innovation to the level of economic development, India, Vietnam, Kenya, and the Republic of Moldova stand out for outperforming on innovation relative to GDP for the ninth consecutive year - a record. Other economies also outperform in innovation relative to their GDP, catching-up with innovation leaders more quickly than their peers, identifies the report.
The report shows middle-income economies outperforming on innovation relative to their level of development include Costa Rica- the only example in Latin America and the Caribbean - South Africa, Thailand, Georgia, and the Philippines. Burundi, Malawi, Mozambique, and Rwanda stand out as thriving economies within the low-income group.