Also reporting significant month-over-month improvement, Singapore posted an Apr-2022 GOPPAR of USD45.56. That level was 54% of the pre-pandemic comparable after the market had reached just 37% using the same comparison in Mar-2022. Bangkok's GOPPAR was 27% of the 2019 comparable, up from 13% in Mar-2022.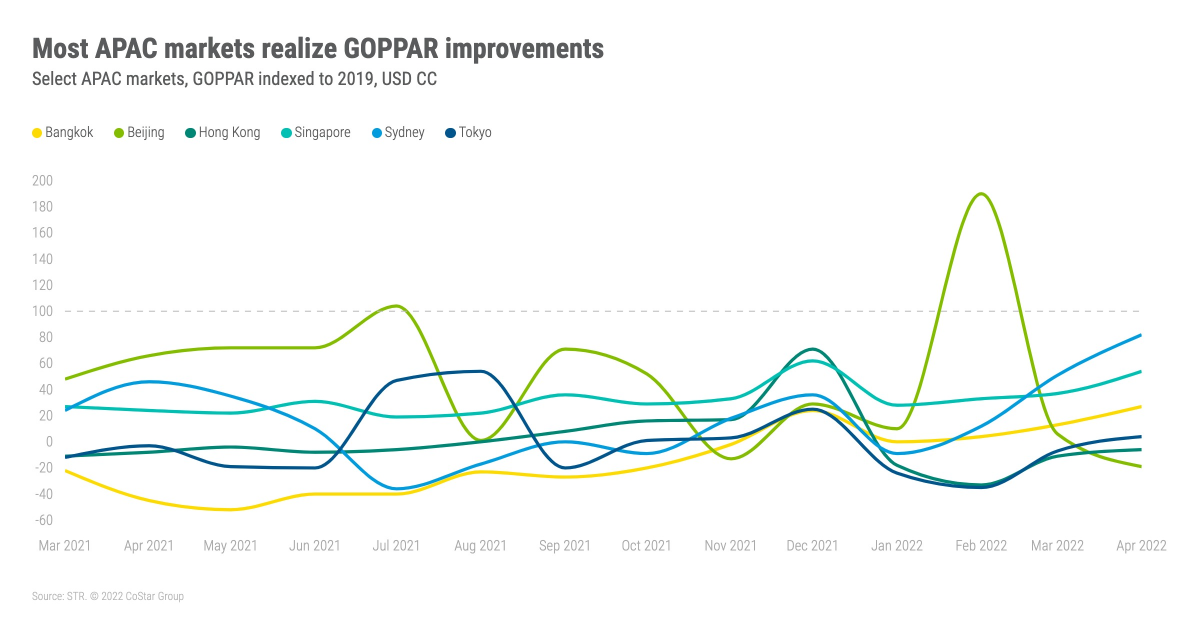 While improved, Hong Kong's GOPPAR remained in negative territory for a fourth straight month. Beijing was the only key market in the Asia Pacific region to show lower profitability from the prior month.
Abu Dhabi and Dubai hotels exceeded 2019 Eid al-Fitr performance
Elsewhere, STR reports the Abu Dhabi and Dubai hotel industries recorded occupancy and average daily rate (ADR) that exceeded the 2019 Eid al-Fitr comparables. When looking at the Eid date (02-May-2022) in the United Arab Emirates, Abu Dhabi's hotel occupancy reached 79.1%, which was +4.5% higher than 04-Jun-2019. Similarly, Dubai's occupancy came in at 75.4%, which was +19.7% higher than the pre-pandemic comparable.
This high performance is another sign of recovery and demand momentum for the Middle East," according to Philip Wooller, STR's senior director, Middle East & Africa. While these key markets saw higher occupancy levels, they also posted room rates that were in some cases nearly double what was reported in 2019.
"Dubai, for example, saw rates over AED700, which was up from AED400 in 2019. Leisure-oriented areas in the UAE such as Ajman, Fujairah, and Ras Al-Khaimah also experienced tremendous growth, with Ras Al-Khaimah posting room rates above AED1000 on 02-May-2022," reports Mr Wooller.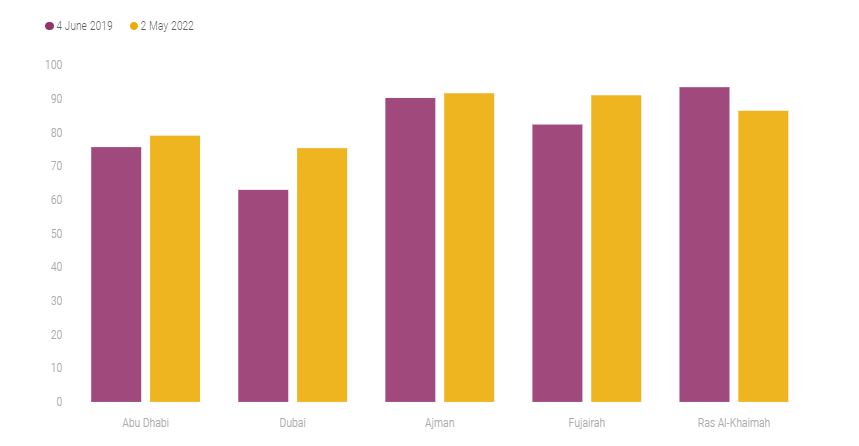 Ajman and Fujairah hotels surpassed 2019 occupancy levels, while Ras Al-Khaimah saw slightly lower occupancy levels than 2019. Despite the decline, Ras Al-Khaimah reported the highest ADR level among the aforementioned markets (AED1022.20) on 2 May, which was 47.7% better than the pre-pandemic comparable.
Canada hotel performance up again in Apr-2022
Canada's monthly hotel performance improved once again from the previous month and showed better indexed comparisons, according to STR's Apr-2022 data. Canada experienced its sixth wave of COVID cases in Apr-2022, but the lack of restrictions allowed hotel performance recovery "to remain strong and steady," according to Laura Baxter, director of hospitality analytics for Canada at STR parent CoStar Group.
Occupancy for the month was recorded at 57.6%, down -7.3% on Apr-2019, ADR was up +2.5% to CAD155.80, while revenue per available room (RevPAR) was down-5.0% at CAD89.72 versus the same month pre-pandemic.
Ms Baxter acknowledges that when looking at weekly performance throughout Apr-2022, the RevPAR index ranged between 85-98% of 2019 levels, "with many lagging segments starting to rebound". Weekend demand "continued to lead recovery, driven by leisure travellers," with demand pushing occupancy above pre-pandemic levels for the first time during the month, according to the executive.
Weekday results "still lag," though, according to Ms Baxter, but dramatic improvements are taking place, signalling the return of corporate travel.
"From Tuesday to Thursday, occupancy was roughly four percentage points ahead of the previous month. In urban locations, this growth accelerated to eight percentage points each of those days. Additionally, monthly group demand reached its highest level of the pandemic-era," she explains.
Among the provinces and territories, British Columbia recorded the highest Apr-2022 occupancy level (66.5%), which was -2.1% below the pre-pandemic comparable. Among the major markets, Vancouver saw the highest occupancy (75.5%), which was a -4.8% decline from 2019. The lowest occupancy among provinces was reported in Prince Edward Island (42.6%), down -24.3% against 2019. At the market level, the lowest occupancy was reported in Ottawa (-18.0% to 54.3%).
"The ADR outlook for 2022 is now much stronger and full recovery is expected in 2023 in nominal terms," says Ms Baxter. "The possibility of a recession will be a downside risk, but pent-up travel demand due to the lack of restrictions will bolster performance in the short term."
US hotel profitability surpassed 2019 levels for second consecutive month in Apr-2022
Meanwhile, US GOPPAR exceeded the pre-pandemic comparable for a second consecutive month, according to STR's Apr-2022 P&L data release. The GOPPAR of USD90.96, TrevPAR of USD218.40 and EBITDA PAR of USD68.37 were the highest for the country since Nov-2019. LPAR (Labour Costs) was USD64.22.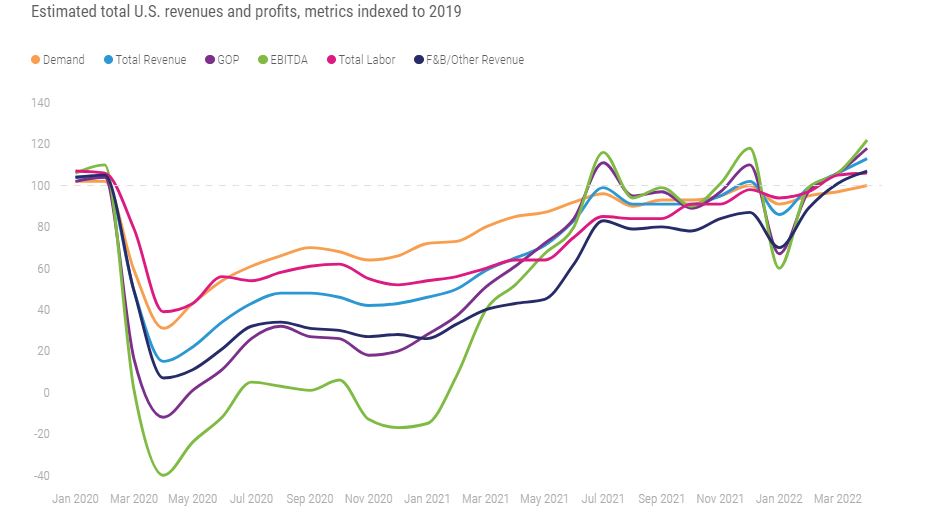 Raquel Ortiz, STR's director of financial performance says that as the top-line metrics continue to progress toward full recovery, it is no surprise that the bottom-line metrics are coming in better than pre-pandemic times. He notes GOPPAR and GOP margins "continue to show incremental improvements month over month," with the GOP margin of 41.6%, its third-highest level on record and the highest since Nov-2018.
He says the STR data shows F&B profits were up slightly from Apr-2019, mostly due to "lower group demand lowering the cost of spend on F&B as well as the influences of inflation". The Labour costs remain slightly under the 2019 comparable due to "lower employment levels and less available amenities".
More than a third of top US markets surpassed 2019 GOPPAR and TrevPAR levels in Apr-2022
Nine of US major markets realised GOPPAR and TrevPAR levels higher than 2019 comparables in Apr-2022.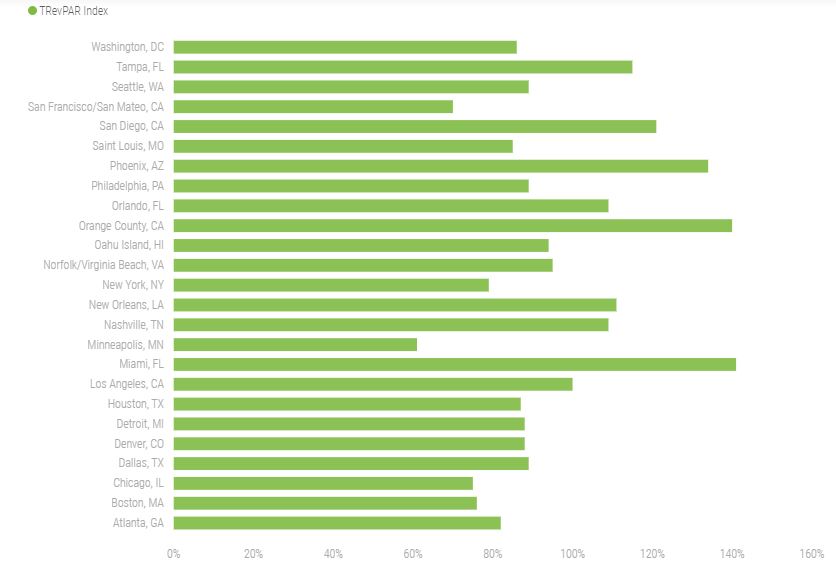 The STR data shows Miami continues to lead in both GOPPAR and TrevPAR recovery, hitting 178% of 2019 GOPPAR. On the other hand, San Francisco and Minneapolis remain near the bottom in both metrics. The GOPPAR level for the Top 25 Markets combined was the highest of the pandemic and only USD12 less than Apr-2019," according to Ms Ortiz.