Sydney WorldPride ADR up a quarter; RevPAR by a fifth
During the 17-day event, Sydney's highest occupancy levels were recorded on Saturday, 4-Mar-2023 (95.8%) and Saturday, 25-Feb-2023 (95.4%). Throughout the period, daily occupancy remained above 80% with only three days falling below that mark.
Sydney occupancy moves ahead of pre-pandemic levels (Sydney, weekly occupancy, 2023 compared to 2019)
STR's data shows that when compared with the matching 17-day period in 2019, Sydney occupancy was 2.3% lower while ADR (+25.7%) and RevPAR (+22.1%) were each up by double figures. In dollar terms, accommodation operators saw a room revenue lift of AUD43 million from 2019.
SydneyWorldPride boosts daily performance (Sydney, daily occupancy and ADR (AUD), Feb -Mar-2023)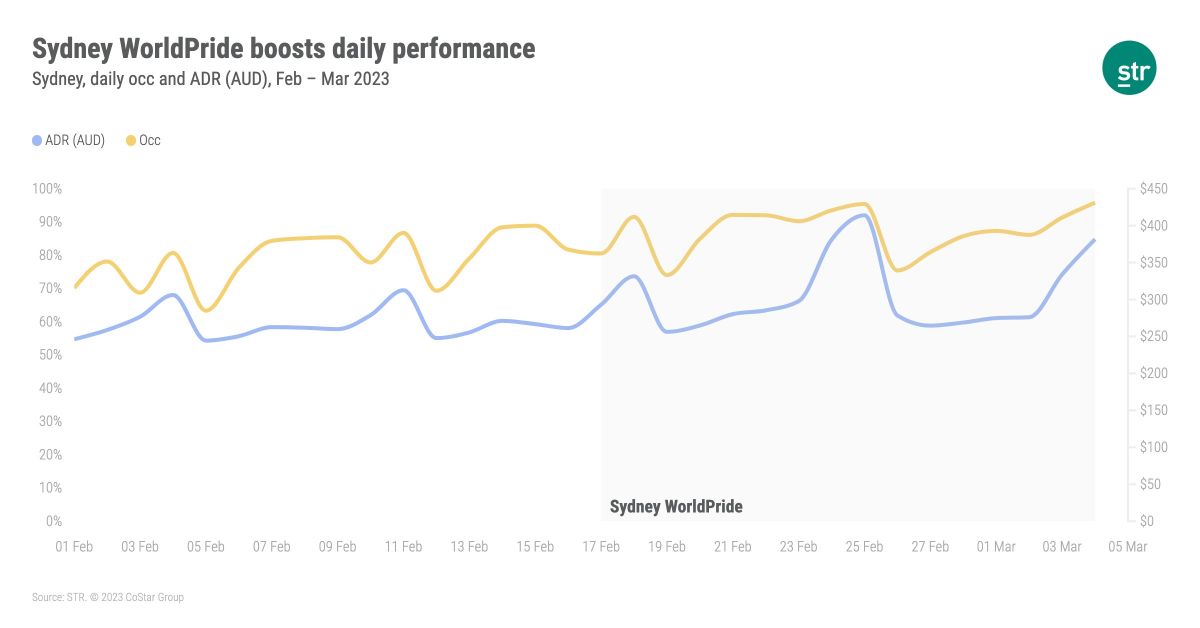 The room rate peak on 25-Feb-2023 was the day of the Mardi Gras Parade, with the metric coming in at AUD414. That night was always anticipated to produce a high occupancy level, with STR's Forward STAR data indicating a spike in occupancy on the books visible as early as Nov-2022, according to Mr Burke.
Tokyo international border reopening boosts ADR
The reopening of Japan's international border several months ago, along with the National Travel Support campaign, have helped boost Tokyo's hotel ADR beyond pre-pandemic comparables for two straight months, according to STR.
The rise in room rates was preceded by improving occupancy, which came in at 74.8% in Dec-2022 and dropped slightly in Jan-2023 (to 69.0%) due to seasonality. That Jan-2023 occupancy level was still 11.8% lower than the corresponding month in 2019, but ADR of JPY20,055.58 beat that pre-pandemic comparable by 14.7%.
Tokyo room rates surpassed pre-pandemic levels (Tokyo occupancy and ADR (JPY) indexed to 2019)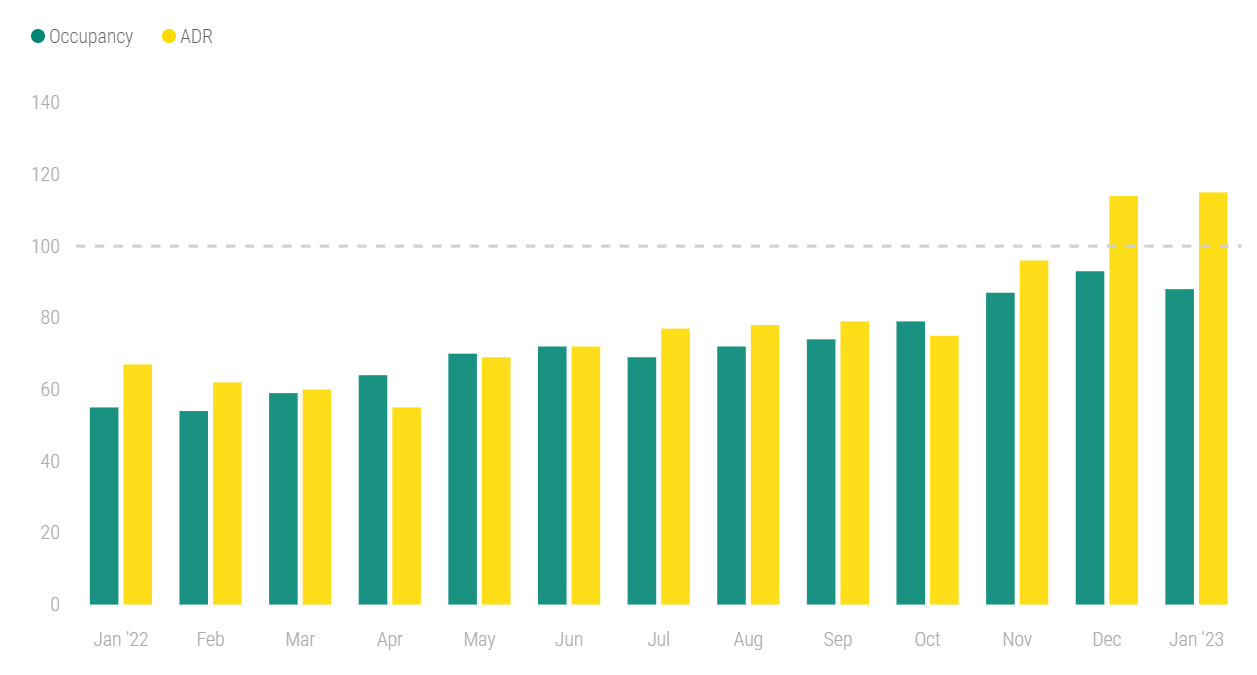 "The Tokyo hotel market is structured predominantly under leases, and hoteliers prioritize occupancy over ADR as the way to consistently drive performance and pay those leases," notes Shiori Sakurai, STR business development manager.
"Operators are cautious about achieving higher rates at the expense of occupancy and will often let occupancy growth lead before taking the steps to push ADR," he adds.
Tokyo was well below pre-pandemic levels in top- and bottom-line performance for much of 2022, but there has now been a clear upward trend since the fourth quarter of last year.
Riyadh hotels hit highest occupancy since 2008
In Saudi Arabia, Riyadh's Feb-2023 hotel occupancy was its highest for that month since 2008, according to preliminary data from STR.
Each of the three key performance metrics came in significantly higher than the pre-pandemic comparables from 2019. The occupancy of 75.5% was up +23.4%, ADR of SAR801.46 was up +34.0% and the RevPAR of SAR605.06 was up +65.3%.
According to daily data, the market recorded occupancy over 90% for three consecutive days from 6-Feb-2023 to 8-Feb-2023, helped by the International Conference and Exhibition for Science, observes STR.