Four months from now as we enter 2021 we will have a renewed optimism as 2020 is confined to the history books. It is a year that will not be remembered favourably by many, but there have been a few positives among the miscellany of bad news. Most air routes have been cut back, many have been culled temporarily, perhaps permanently, but there have been examples of airlines introducing new routes as they adapt to the new environment.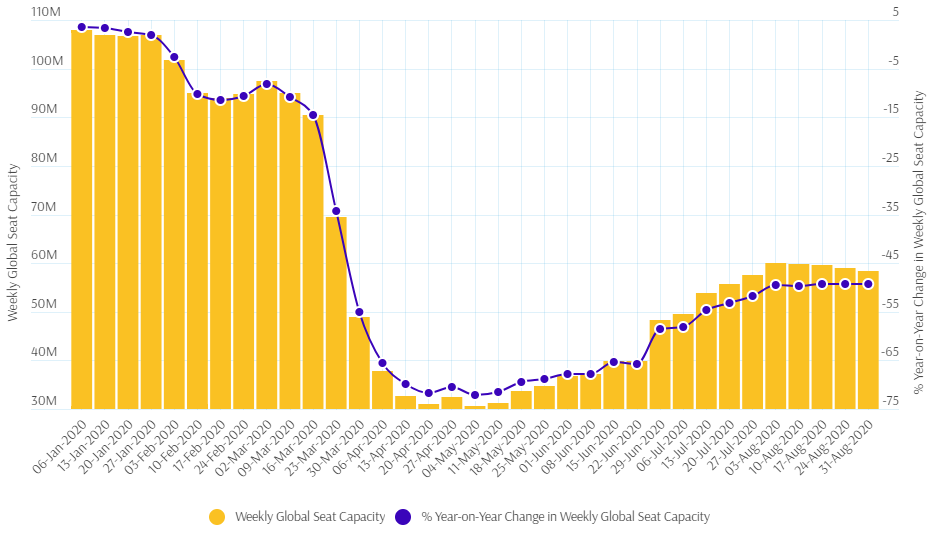 CHART – Global air capacity collapsed as the Covid-19 pandemic spread across the world. After an initial stabilisation stage we had until this month seen continued steps of recovery, but now a plateauing in capacity is becoming more evidentSource: The Blue Swan Daily and OAG (data: 31-Aug-2020)
One such example is in trans-Atlantic market where both British Airways and Virgin Atlantic plan to introduce flights linking Orlando International Airport to London Heathrow, the first time this major Florida market will have been served directly from the UK hub since the late 1980s. Virgin Atlantic's move follows its closure of its London Gatwick operation and the transfer of its existing service, while British Airways is reacting by moving one of its two daily flights that previously operated from Gatwick.
In other circumstances this development would have been wildly celebrated as for a couple years and following major success building connectivity, London Heathrow had been the number one target on the airport's long haul wish list and among its biggest indirect markets.
Within Europe, airBaltic was among the first flag carriers to emerge from the pandemic as its home Baltic States nations lifted travel restrictions. The carrier's air service development team have highlighted how they have had to adapt in the new environment. In an article in the carrier's Baltic Outlook magazine, they explain how from concluding schedules for a "record-breaking" summer schedule they were soon working from "a blank sheet of paper".
"Simply put, we all sat down around a table and took out a blank sheet of paper. That's literally what we did. But I think it was a good thing, starting from scratch," says Mantas Vrubliauskas, the airline's network development manager. A greater initial leisure focus was a completely different model for the airline meeting the then demand.
"Our gradual growth plan depended mostly on local regulations regarding where and when we were allowed to fly, as well as on the Covid-19 ratio of cases per 100,000 people. If the ratio exceeds 25, then we cannot fly to that destination anymore," explains Līva Ozoliņa, airBaltic's scheduling and slots manager. "We monitor the situation every day, and we have to make quick decisions about whether we can restart a route or even perhaps cancel one that we've already started if the Covid-19 ratio is growing".
Airline network decisions are data-driven. They usually spend a lot of time analysing passenger demand and route performance and base decisions on forecasts and business cases. But with Covid-19 they were entering the unknown.
"We were faced with a situation in which it was impossible to quantify the demand, and, even worse, it was impossible to know which countries would be deemed safe to fly to and when. We therefore had to learn to think completely outside of the box and make quick decisions even when full information was not available," says Mr Vrubliauskas.
There's a feeling of a new beginning within the industry as it reinvents itself to become safer, more efficient, and sustainable in the long run. In the India-UK market this has seen the arrival of new entrants, LCC SpiceJet and the Singapore Airlines-backed Vistara, the latter adapting its offering to maximise revenues while high-yielding business travel demand remain subdued.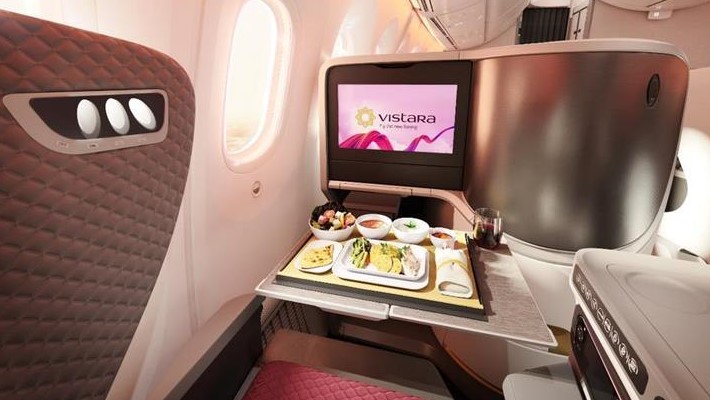 The airline's current flights on the Delhi – London route are charter services within the bilateral operational guidelines of the India – UK travel bubble, but it has ambitions to permanently serve long-haul markets such as this with its new Boeing 787-9 Dreamliners, a void that has remained since the collapse of Jet Airways.
With business travel expected to take longer to bounce back, and leisure travel becoming the clear recovery driver, Vistara has introduced a new upgrade programme that aims to leverage the higher capacity in superior cabins as an added benefit to their passenger experience. The Vistara Upgrades platform, a partnership with ancillary revenue and merchandising solutions provider Plusgrade, is an example of airlines expanding ancillary offerings as a way to offset revenue losses.
The system enables passengers to bid for upgrades or secure instant upgrades either from economy to premium economy or from either class up to business class. Vinod Kannan, chief commercial officer at Vistara believes the programme will play a major role in "building passenger confidence and loyalty in the long term" as travellers take advantage of the option to access "the personal space, comfort, privacy and high-end service that come with a Premium experience".
Virgin Atlantic also sees the value of the strong demand that supports the diaspora from the South Asian countries. The trans-Atlantic market has been its primary focus, especially as it has grown closer to Delta Air Lines, but with heavy restrictions still in place between the UK and the US and limited demand it is redeploying its spare capacity into markets with stronger current demand and short-term outlooks.
This will see the carrier add four times weekly London Heathrow - Lahore, three times weekly London Heathrow – Islamabad and four times weekly Manchester – Islamabad services from Dec-2020, its first ever scheduled flights into Pakistan.
Pakistan has the seventh largest diaspora in the world and the new services aim to respond to the large, fast-growing demand to visit friends and relatives (VFR) from the UK and the US, as well as capturing demand for business travel to the region as global economies gradually recover from the impact of the Covid-19 pandemic.
"With travel restrictions remaining in place for many destinations around the world, we're continually evaluating our network, looking at customer demand and where there are opportunities to launch new services," says  Juha Jarvinen, chief commercial officer, Virgin Atlantic. "Pakistan is an extremely exciting opportunity for us."
Airlines are needing to adapt to survive and that means being innovative and looking at any opportunity. The Irish Times reported this week that Aer Lingus has approached regional gateways in the UK to potentially operate its new fleet of long-range single-aisle A321LRs on trans-Atlantic flights from the UK while restrictions inhibit demand out of the Republic of Ireland. Right now, it appears that nothing is off the table, and that's good news for recovery!