A recent survey from travel management companies in the German Travel Association (DRV) found more than four in five (82%) respondents believed sustainable criteria important when booking business trips. Digitisation will certainly have an increasing impact on business travel as sustainability becomes a more central theme and there are already many businesses that are replacing travel with virtual meetings - 49% of business travellers say that virtual meetings are increasingly replacing company trips in their companies to curb emissions, according to the DRV survey.
We obviously won't see an end to business travel as personal meetings with business partners are still very important for business relations, but we will become increasingly thoughtful when we do travel. That could simply be foregoing printing documents for digital copies, connecting multiple appointments per trip, using public transport: there are many areas that sustainable choices can be made.
For travel buyers there will be an increasing pressure on selecting lodging, restaurants and travel service providers that have been recognised for their commitment to sustainability.
Business trips can be more resource-efficient and environmentally friendly with effective planning. Global corporate travel management specialist BCD Travel is acknowledged for its sustainable efforts says sustainable business travel planning takes into account the need for travelling, the most climate-friendly means of transport and accommodation and much more.
It has compiled an infographic based on the DRV survey's findings that provides some helpful tips for sustainable business trips with some eco-friendly options that could even deliver cost savings.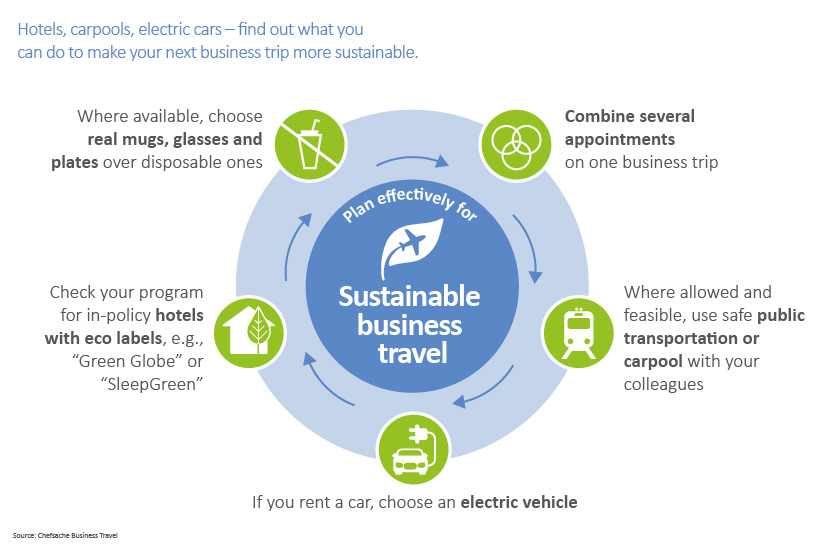 Now, The Duke of Sussex (aka the UK's Prince Harry) has announced a new global partnership aimed at improving conservation, environmental protection and expanding local community economic development by encouraging sustainable tourism practices across the travel industry.
Travalyst has been created to "mobilise the travel industry as a catalyst for good, aiming to transform the future of travel for everyone, " according to His Royal Highness, who has co-founded the initiative alongside leading service providers in the travel industry, Booking.com, Ctrip, Skyscanner, TripAdvisor and Visa.
This initiative brings together global businesses – those at the centre of connecting customers and operators in the travel market - to utilise their unique position to educate, raise awareness and promote positive change. It aims to explore and promote solutions that will make travel more sustainable.
Working with companies, consumers and communities, the partnership will initially explore and promote solutions that help drive sustainable practices and consumer choices in areas including; supporting local people, protecting wildlife, tackling climate change and environmental damage, and alleviating over-tourism.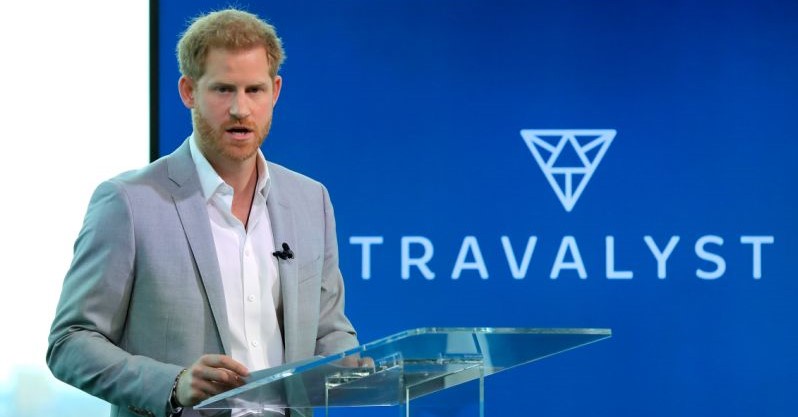 There is a growing demand from consumers to have easy and transparent access to a wider range of options to travel more sustainably. Travalyst wants to help companies meet that demand as well as use the platform to engage consumers about the importance of sustainable practices. This partnership will also prioritise working with local communities, engaging social entrepreneurs and promoting best practice.
Insights from the Travalyst partners show more than half of all travellers are more determined to make more sustainable travel choices this year than they were last year – but many do not know how. Barriers include a lack of knowledge, perceived extra costs and not enough availability or appealing options when trying to put this into practice. That being said, impact on the local community and environment is a primary consideration for many travellers globally.
The determination is clear. More than two thirds (71%) of global travellers told Booking.com that they think travel companies should offer more sustainable travel choices, and a similar number (68%) said it was important the money they spent on travel went back into local communities. Over the last 12 months, 10 million travellers using Skyscanner selected the lowest CO2 emission flight option, while 75% of Ctrip's partners are committed to Ctrip's 4R initiatives: to Reduce, Reuse, Recycle resources and Regenerate lives in the travel eco-system.